Credit Cards
3 Affordable Alternatives for Pampering Your Mom this Mother's Day
Mother's Day can be expensive, even after factoring in the many promotions and discounts. Fortunately, there are several ways to make her day special without compromising your monthly budget.
Mother's Day is widely considered one of the most commercialised holidays out there–however, this is by no means a drawback! It's easy to find special discounts on everything from flowers to fancy spa treatments. Nonetheless, many of us end up spending quite a bit even after applying these promotions. To help you truly save–and even earn rewards for your spend–we've identified 3 affordable alternatives for pampering your mom this Mother's Day.
1. Give a Lasting Gift like a Potted Plant Instead of Flower Delivery
With minimal time and effort, you can easily order flowers online to be delivered directly to your mother's doorstep. In fact, you can often request same-day delivery, in case you've waited until the last minute. This convenience may make the high price point (often S$60–S$200+) seem reasonable. Even more, flower delivery becomes a bit more accessible with holiday promotions. Perhaps this is why flower arrangements are one of the most popular gift options for celebrating Mother's Day–but are delivered bouquets actually worth the cost?
The quick answer is no–flower delivery is often costly both for the buyer and the recipient, even after factoring in discounts. First of all, promotions are often not all that they seem. While both credit cards and florists offer discounts, they often include purchase restrictions (including limitations on selection). In addition, discounted prices are still rather high. Spending S$71.90 instead of S$104.90 may feel like a great deal, but S$71.90 is still a sizeable sum. If you have a limited budget, this can mean emptying your pockets for a single bouquet, which may arrive late, damaged, or even with unexpected substitutions (allowed according to most florist terms and conditions).

Beyond purchase price, delivered flowers are also costly in terms of lifespan and maintenance. In fact, the average 'lifespan' of delivered flowers is about 1 week. This decreases quickly if the arrangement isn't watered, kept cool and away from the sun, pruned, and nurtured with a flower preservative mix. All things considered, such flowers have a high average cost-per-day and pass the cost of maintenance on to your mother.

An excellent alternative to delivery–which is far more cost-effective and requires little maintenance–is simply bringing you mother a potted plant. Orchids are a great choice, as they're easy to care for. In fact, orchids require just 1-2 tablespoons of water every 2 weeks. While some delivery florists charge S$60+, local growers tend to offer orchids for just S$10–S$30. At this rate, you may have room left in your budget to treat your mom to lunch, or buy her a small gift. Overall, there are plenty of low-cost potted options that are both beautiful and long-lasting, making for a low-maintenance and long-lasting gift.
2. Host a Potluck or a Picnic Instead of Making a Reservation
If you've opted for a potted plant instead of flower delivery, you may have room in your budget to book lunch or afternoon tea (especially if you have a credit card with special dining promotions). However, there are a few alternatives to consider–namely, hosting a potluck or planning a picnic.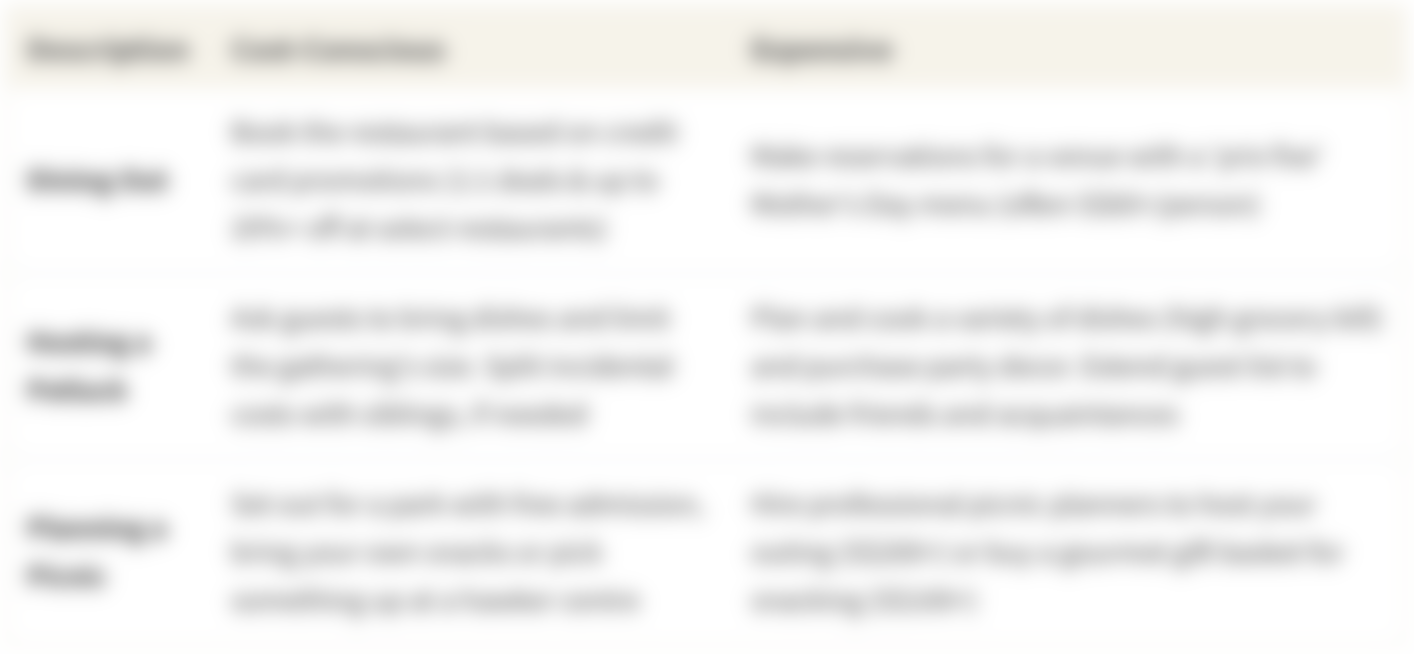 Hosting a potluck has a few benefits. Of course, you're bringing together family and friends who love and appreciate your mom, making for a great celebration. However, there are financial perks too. First of all, the cost of dining is in your hands. While restaurants often set prix fixe menus for Mother's Day, with prices of up to S$60+ per diner, you can easily save money by cooking at home. Don't forget that many credit cards reward grocery spend with cashback! If you're not the best chef, you can ask guests to bring dishes instead. Split expenses with your siblings, if you need to save further.
Coordinating a potluck takes time and energy. If you want to save money without the extra work, consider taking things outdoors. Planning a picnic can be an incredibly easy and thoughtful way to show your mom you care, without overspending. First of all, location is key. While there are several parks offering free admission in Singapore, one of the best options for picnics is East Coast Park. Not only are there plenty of pavilions to escape direct sunlight or bad weather, there's also a hawker centre nearby where you can pick up fresh food. If you're willing, you can alternatively put together a basket of fruit, crackers and snacks ahead of time. Either way, your costs are kept at a minimum and you can enjoy an affordable day out in nature with your mom.
It's important to mention, potlucks and picnics aren't always the cheapest options. For example, a large get-together can drive up your grocery bill and any decor you may purchase adds expense. Picnics can also become pricey if you want to prioritise convenience. Hampers and pre-made gift baskets can cost S$100+, and professional picnic packages cost S$200 or more. Overall, take care to review all costs before committing. A restaurant bill discounted by a 1-to-1 promotion may, in some cases, be cheaper.
3. Bring the Spa to Her, Instead of Travelling for Pricey Treatments
Spas are almost synonymous with luxury, so it may not be much of a surprise that treatments can be very expensive. A simple, 60 minute "Relaxation Massage" can run up to S$170 at the Ritz-Carlton Millennia Spa, and an "Age Repair Facial" costs S$285 at Fullerton Spa. If you happen to own a luxury credit card (like Standard Chartered Visa Infinite), you may have access to discounts up to 20% off treatments at such venues. However, for the rest of us, Singapore's top spas may be out of reach.
Instead, consider booking your mom's spa treatment through an online marketplace like Vaniday. This platform features a wide variety of local spas and salons with prices at a slight discount, with an additional 10% cashback on every booking. You can also save 50% off your first booking if you're a Maybank cardholder. Many credit cards also offer rewards for online purchases (including bookings). As you can see, savings can add up pretty quickly!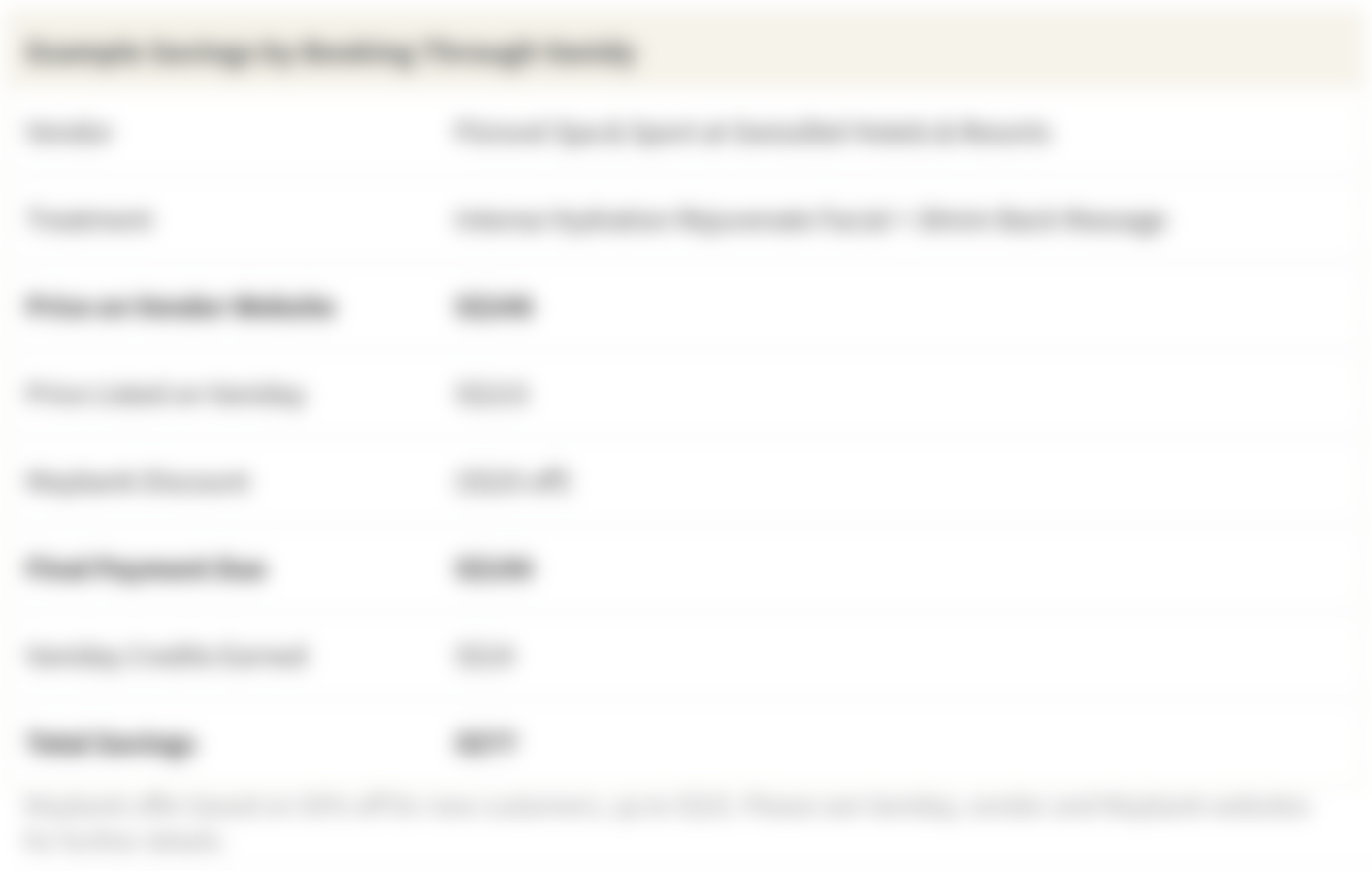 Affordable Pampering Can Still be Classy and Convenient
In many cases, these cost-effective alternatives require a bit more effort and coordination. In the long run, however, the savings may well be worth it. By spending less on any one item, you can treat your mom to a broader experience, while still staying in-budget. This Mother's Day, it may just be worth planning ahead in order to save.