Life Insurance
3 Things You Must Know About the New Dependants' Protection Scheme
The Dependants' Protection Scheme underwent some changes. Here's how it will affect your coverage.
When the main breadwinner in your family passes away, becomes terminally ill or permanently disabled, you may be wondering how you will be able to afford to pay your bills. To safeguard dependent family members against such a situation, Singapore provides a safety net in the form of the Dependants' Protection Scheme (DPS), which is available to all citizens and permanent residents who are members of the Central Provident Fund Board (CPF). This scheme provides a payout should the CPF member pass away, become terminally ill or totally and permanently disabled. To keep up with the cost of living, the DPS underwent changes in April 2021 and with it now being administered solely by Great Eastern, DPS members enjoy lower premiums and higher coverage, plus an option to enhance their coverage. To help the nearly 1.9 million people who are signed up for the DPS understand it better, we have outlined 3 important things you should know about this new scheme.
1. DPS Coverage Increased; Becomes Better Value for Money
The Dependants' Protection Scheme is a term life insurance plan that provides death, terminal illness, and total and permanent disability (TPD) coverage for all CPF members. Singapore Citizens and Permanent Residents over the age of 21 will be automatically covered after their first CPF working contribution, but you can apply for coverage any time through Great Eastern if you are between the ages of 16 and 65. Your premiums will be automatically paid using your CPF account, and either you or your beneficiaries will receive the pay-out should a claimable event happen.
In April of 2021, the DPS underwent an upgrade that included increasing coverage for CPF members up to age 59, from S$46,000 to S$70,000, to help keep up with the cost of living. The reasoning behind this sum is that it is equivalent to around 3 years of salary for a low-income member, giving dependants enough funds to take care of themselves for a few years. Members who are between the ages of 60 and 64 will also enjoy S$55,000 of coverage.
So, do you pay more for this increase in coverage? Despite a 55% increase in coverage, DPS premiums actually declined between 18% - 50% for all age groups, except for the 50–59-year-old group whose premiums increased by S$38. This means that the new DPS provides much better value for the money that you're paying.
Change In Dependants' Protection Scheme Premiums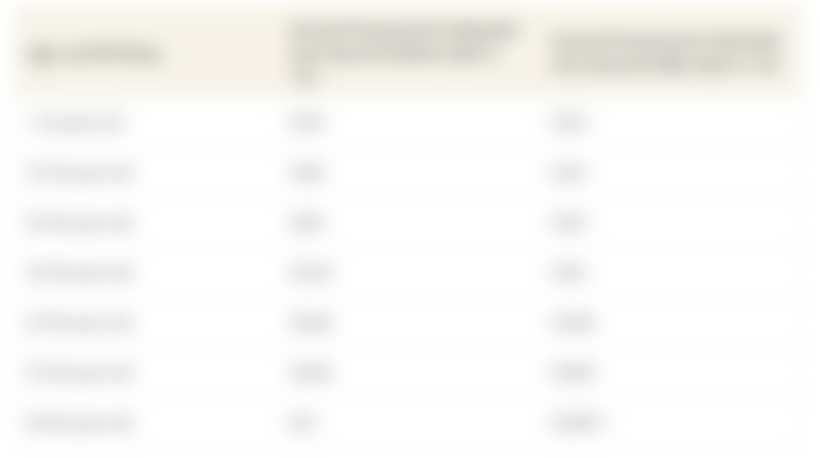 You should note that previous nominations made under NTUC Income have not been carried over to Great Eastern. However, you should have received a nomination form to carry over your nomination from NTUC Income. If you want to change nominations, you can reach out to Great Eastern directly to do so. Lastly, it's important to note that your nominations are not going to be the same as your CPF nominations, since DPS claim benefits are not part of the CPF proceeds. To ensure quick and easy pay-outs in the event of your death, we recommend nominating your beneficiary as soon as possible. This will avoid the lengthy process that is associated with the State disbursing the funds according to law.
2. DPS Coverage Isn't Mandatory, But There Aren't Many Reasons To Opt Out
Contrary to popular belief, DPS coverage isn't mandatory, meaning members can opt in and out of the scheme whenever they want. However, while there are cases outlined by the CPF Board where it could be fine for you to opt out, most people will not gain much by cancelling their coverage. For instance, if money is your concern, then you should note that you won't be saving any cash since premiums are paid with your CPF. Furthermore, the annual premiums are low enough (about S$1.50 per month for members younger than 34) that paying for the premiums via your CPF won't make a large dent in your future retirement savings.
Secondly, compared to other life insurance policies, DPS is convenient and low effort. You know exactly the coverage you're getting, and you won't be bogged down with complicated terms and conditions. Automatic premium withdrawal also means you don't need to worry about forgetting to pay your premiums on time and won't experience a lapse in coverage.
Another reason it might not be worthwhile to opt out is because of your changing health. If you are young and healthy, with savings and no dependants, you may scoff at the idea of needing a life insurance plan right now. However, your health and age make you the perfect candidate for life insurance. First, you become enrolled in DPS when you're young enough so that you don't have pre-existing conditions that could be excluded from coverage. As you age, any health conditions you develop will be covered provided you are still insured. Furthermore, if you were already covered under NTUC Income's DPS, then your pre-existing conditions would still be covered if your coverage was transferred to Great Eastern. However, in both cases if you choose to opt out of coverage and then change your mind, you will need to undergo a new health assessment and any conditions you developed during the period of being uninsured may not be covered.
3. You Can Enhance Your DPS Coverage and There Are Good Reasons To Do So
Another new feature for DPS members now is enhanced coverage available through Great Eastern's GoGreat Term Life plan. GoGreat Term Life is a term life insurance plan that is available exclusively to DPS members age 40 and younger and provides up to S$500,000 of death, terminal illness and TPD coverage up until you turn 65. Purchase is done entirely online and you don't need to undergo a health assessment to get coverage, which makes this a great hassle-free option. Do note that unlike DPS which is paid via your CPF, premiums for GoGreat Term Life can only be paid using E-banking, AXS, cash or cheque.
What are the merits of GoGreat Term Life and term life insurance in general? For one, term life insurance is important because it offers you and your dependents a financial lifeline if you develop a terminal illness, become totally and permanently disabled or die. It's also a more affordable option compared to whole life insurance and can even be a better value for people looking for simple coverage. For instance, although term life insurance does not carry any cash surrender value or interest returns, the amount of coverage per dollar of premium paid is much higher.
In GoGreat Term Life's case, it is a useful add-on for young couples who currently have DPS as their primary life insurance coverage and underwent major life events that increased their liabilities, (e.g., having children or getting a mortgage). You should just be sure to make a nomination under GoGreat Term Life, as your DPS nomination will not carry over to GoGreat Term Life.
How Much Term Life Coverage Should I Get?
If you are looking to upgrade your term life insurance coverage, then you will need to consider your assets (savings, investments), liabilities (debt) and the amount of cash you would like to leave your beneficiaries or for yourself as a safety net. Imagine one couple who recently purchased a home and had a child. The following is an example of how much coverage they would need to get:
Child's fund for university expenses: S$20,000
Mortgage expenses: S$400,000
Current credit card debt: S$5,000
Emergency fund for beneficiaries: S$25,000
Total Required Coverage: S$500,000
Why You Shouldn't Delay Enhancing Your DPS Coverage
While the Dependants' Protection Scheme has improved in coverage, there are a few good reasons you may need to enhance your coverage with GoGreat Term Life. If you are under 40 who just experienced major life milestones, you will benefit most from enhancing your coverage. Even if you are a few years into your career and currently have no major liabilities, enhancing your coverage may be worthwhile when you are still in the pink of health. Furthermore, the S$70,000 coverage offered under DPS will most likely not be sufficient for long-term care of total and permanent disability, or terminal illness. That said, you should note that life insurance is a long-term commitment. Thus, it is imperative that look over your finances to make sure you can afford your premiums to avoid losing coverage and money. You can learn more about the Dependants' Protection Scheme and GoGreat Term Life at http://sg.gelife.co/daggtl2.