AIG Travel Insurance: Is It Worth Your Money?
AIG's suite of travel insurance plans tend to feature average coverage and high prices, though they could be a possible option for sports and golf enthusiasts.
AIG Travel Insurance: Is It Worth Your Money?
AIG's suite of travel insurance plans tend to feature average coverage and high prices, though they could be a possible option for sports and golf enthusiasts.
Pros
Great golf and sports equipment benefits
Above average baggage loss and delay benefits
Cons
Can be pricey
Not the best value plans on the market
AIG is one of the biggest and best-known insurers in Singapore. Reputation, however, does not always guarantee quality. Our team at ValueChampion is dedicated to providing objective analysis of the travel insurance market in Singapore to ensure that you are armed with the information you need to make educated decisions regarding your personal finances. Below, we evaluate the value of AIG's three travel insurance plans, bringing to bear in-depth knowledge of the Singapore insurance market to inform our review.
AIG Travel Insurance Details
Standard
Superior
Supreme
Most expensive plan on the market for most kinds of trips while tending to offer merely below-average to average coverage
Provides some coverage for golf & sports equipment
Table of Contents
AIG Travel Insurance: What You Need to Know
AIG offers three travel insurance policies: the basic "Standard" plan, the mid-tier "Superior" plan and the premium "Supreme" plan. Our study of dozens of travel insurance plans in Singapore found that each of these plans tend to be the most expensive on the market, occasionally challenged only by Chubb's plans for title of "priciest." It would be one thing if AIG's travel insurance plans coupled their high prices with market-beating coverage, however, we found that at best, these plans offer only average coverage. Most of their unique coverage and benefits are for the Enhanced and Supreme plans only, as is the option to purchase annual plans.
Of the three, the entry-level Standard Plan offers the least value for your money, providing substantially less coverage in many important areas like medical expenses and trip inconvenience than high-value standouts like the Allianz Global Assistance Bronze Plan while costing significantly more for all kinds of trips to all destinations. Furthermore, AIG fails to include an option for annual/multi-trip policies for its Standard Plan, making it difficult for budget travellers who take more than 3 to 5 trips out of Singapore a year to find an economical solution for their travel insurance needs.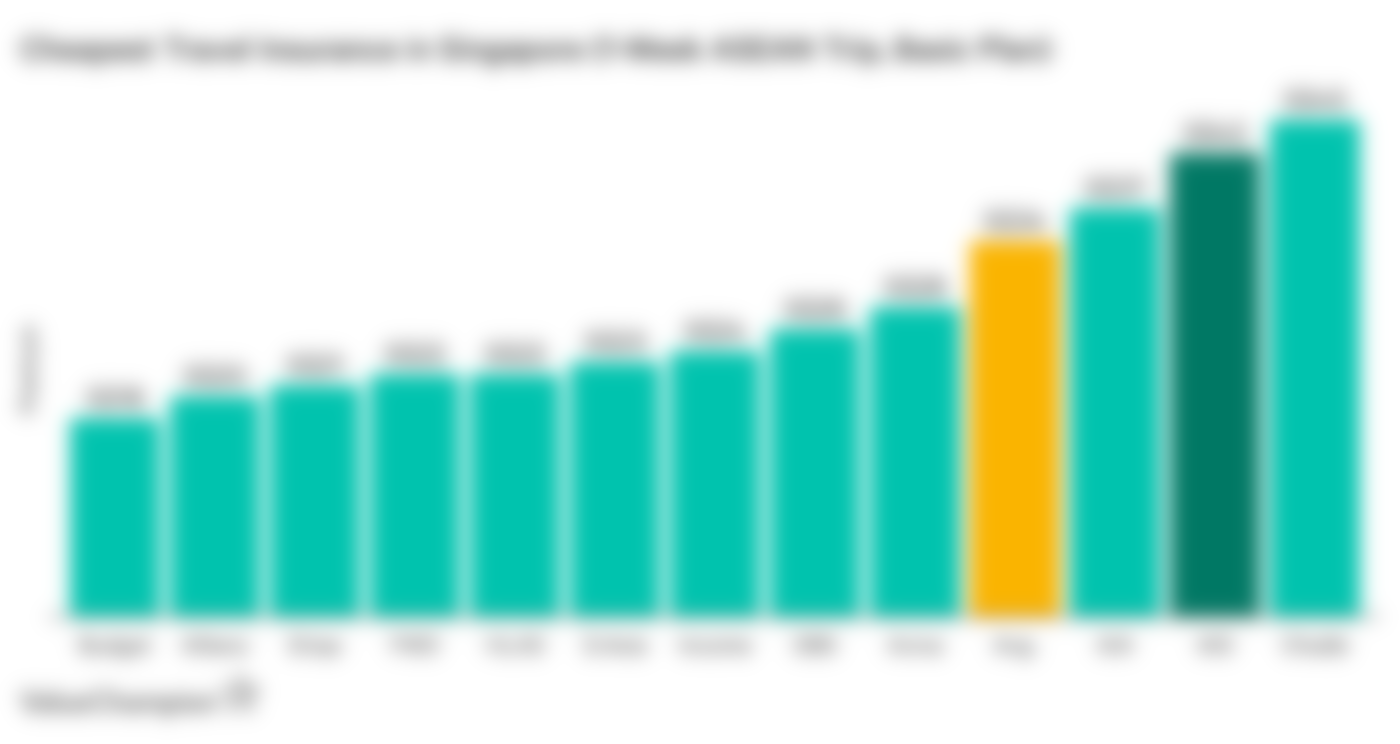 Better value can also be found among other alternatives to AIG's mid-tier and premium-tier plans, the Superior and Supreme plans. Allianz Global Assistance's Silver and Gold, as well as Aviva's Travel Plus and Travel Prestige, both offer great coverage for much lower prices than AIG's plans and would be a better choice in terms of coverage even if money was no object. And while golfers and sports enthusiasts may be slightly mollified to learn that AIG's Superior and Supreme plans do cover sports and golf equipment along with some other golf-related benefits, Aviva and American Express tend to offer similar or better coverage for less.
Notable Exclusions
AIG has standard exclusions including extreme sports (potholing, hunting trips, expeditions and ocean yachting, snowboard tricks), pre-existing medical conditions, travelling against the advise of your doctor, illegal acts, war and pre-existing medical conditions (unless its concerning repatriation of mortal remains or funeral expenses). The table below summarises some of AIG's common exclusions.
| Medical Exclusions | Trip Inconvenience Exclusions |
| --- | --- |
| Medical Expenses for pre-existing conditions | Engaging in sport for compensation |
| Pregnancy-related events | Items taken by customs officials |
| Suicide and mental illness | Baggage sent separately or items left unattended |
| Cosmetic or elective surgery (unless necessitated by injury) | Fragile articles, skis, snowboards |
| Travelling when you are medically unfit | Inability to travel due to business or contractual obligations |
Sports Coverage
AIG includes coverage for golf and sport equipment if you purchase either their Supreme or Enhanced plans. The maximum coverage per item is S$500. You can also participate in any sport that is accessible to the general public and does not pose serious health risks.
| Golf Coverage | Basic | Standard | Enhanced | Supreme |
| --- | --- | --- | --- | --- |
| Golf Equipment | N/A | N/A | S$1,000 | S$1,500 |
| Hole-in-One | N/A | N/A | S$250 | S$250 |
| Loss of Green Fees | N/A | N/A | S$250 | S$250 |
| Sports Coverage | Basic | Standard | Enhanced | Supreme |
| --- | --- | --- | --- | --- |
| Loss of equipment | N/A | N/A | S$1,000 | S$2,000 |
Claims Information
AIG has a fairly straightforward claims process. To file a claim, you can either call their claims hotline or submit your claim and all of your supporting documents online.
| | Contact Information |
| --- | --- |
| Customer Service | (65) 6419 3000 |
| 24-Hour Emergency Assistance | (65) 6733 2552 |
| 24-Hour Claims Hotline | (65) 6224 3698 |
| Address | AIG Building, 78 Shenton Way #07-16, Singapore 079120 |
| Claims | Online |
Summary of AIG Travel Insurance Coverage and Benefits


We hope this review has helped you decide if AIG offers a travel insurance plan that will meet your needs. Below, you will find a table summarising AIG's premiums and coverage, as well as how it compares to the industry's averages. If you're interested in learning more about other alternatives on the market, we have compiled a guide to our picks of the best travel insurance in Singapore.
| | Basic | Standard | Enhanced | Supreme | Industry Average |
| --- | --- | --- | --- | --- | --- |
| 1-Week ASEAN | S$36 | S$42 | S$59 | S$84 | S$46 |
| Annual ASEAN | N/A | N/A | S$283 | S$358 | S$248 |
| 1-Week Asia | S$52 | S$60 | S$75 | S$102 | S$56 |
| Annual Asia | N/A | N/A | S$283 | S$358 | S$264 |
| 1-Week Global | S$56 | S$91 | S$111 | S$130 | S$78 |
| Annual Global | N/A | N/A | S$404 | S$501 | S$355 |
| 1 Week ASEAN Value Ratio | 0.04 | 0.39 | .80 | 0.92 | 1.00 |
| Annual Global Ratio | N/A | N/A | 0.99 | 1.00 | |
| Coverage Benefits | Basic | Standard | Enhanced | Supreme | Industry Average |
| --- | --- | --- | --- | --- | --- |
| Personal Accident & Death | N/A | 100,000 | S$200,000 | S$300,000 | S$329,300 |
| Medical | S$100,000 | S$200,000 | S$1,500,000 | S$2,500,000 | S$781,000 |
| Emergency Evacuation & Repatriation | S$50,000 | S$500,000 | Unlmtd | Unlmtd | S$1,043,000 |
| Trip Cancellation | S$5,000 | S$5,000 | S$10,000 | S$15,000 | S$12,900 |
| Trip Delays | S$200 | S$1,000 | S$2,000 | S$3,000 | S$1,300 |
| Baggage Loss Damage | N/A | S$3,000 | S$5,000 | S$10,000 | S$5,700 |
| Baggage Delay | N/A | S$1,000 | S$1,200 | S$1,6000 | S$1,100 |
Read Also: