Home Loans
Average Cost of Housing in Singapore 2023
Are you in the market for a new flat or are you looking to sell your flat? Below, we break down the current housing prices for HDBs, condos and landed properties to help sellers and prospective buyers get a sense of the current housing market.
Find the Cheapest Home Loans in Singapore
Table of Contents
Average Cost of Homes in Singapore
The average cost of a home currently on the market in Singapore is S$2,080,533. HDB properties are the cheapest forms of housing available, costing an average of S$532,768. HDB's cost 70% less on average than condo properties and 80% less than landed properties. The median prices were between 7-24% lower, indicating that there are some exceptionally high-priced homes available that tend to skew the average positively. The greatest discrepancy between the average and the median listing price was from the landed property category, with a median listing price 24% lower than the average.
| Housing Type | Average Price | Median Price | Average Price/Sq. Foot | Average Size (sqft) | |
| --- | --- | --- | --- | --- | --- |
| HDB Average | S$532,768 | S$495,000 | S$507 | 1,067 | |
| Condo Cost Overall | S$1,780,051 | S$1,467,778 | S$1,731 | 1,053 | |
| Landed | S$5,063,507 | S$3,850,000 | S$1,462 | 4,244 | |
Average Cost of HDB Flats
Because HDB properties are subsidised by the government, they are the most affordable type of housing available. The average cost of an HDB property listing is S$532,768 or S$507 per square foot. Smaller flats, such as 2 and 3-room flats typically cost between S$300,000 and S$450,000. Medium-sized 4-room HDB flats are considerably pricier, costing 34% more than 2 and 3-room flats. However, if you are looking to upgrade to a larger HDB flat like a 5-room or executive flat, then you can expect to pay 20-44% more.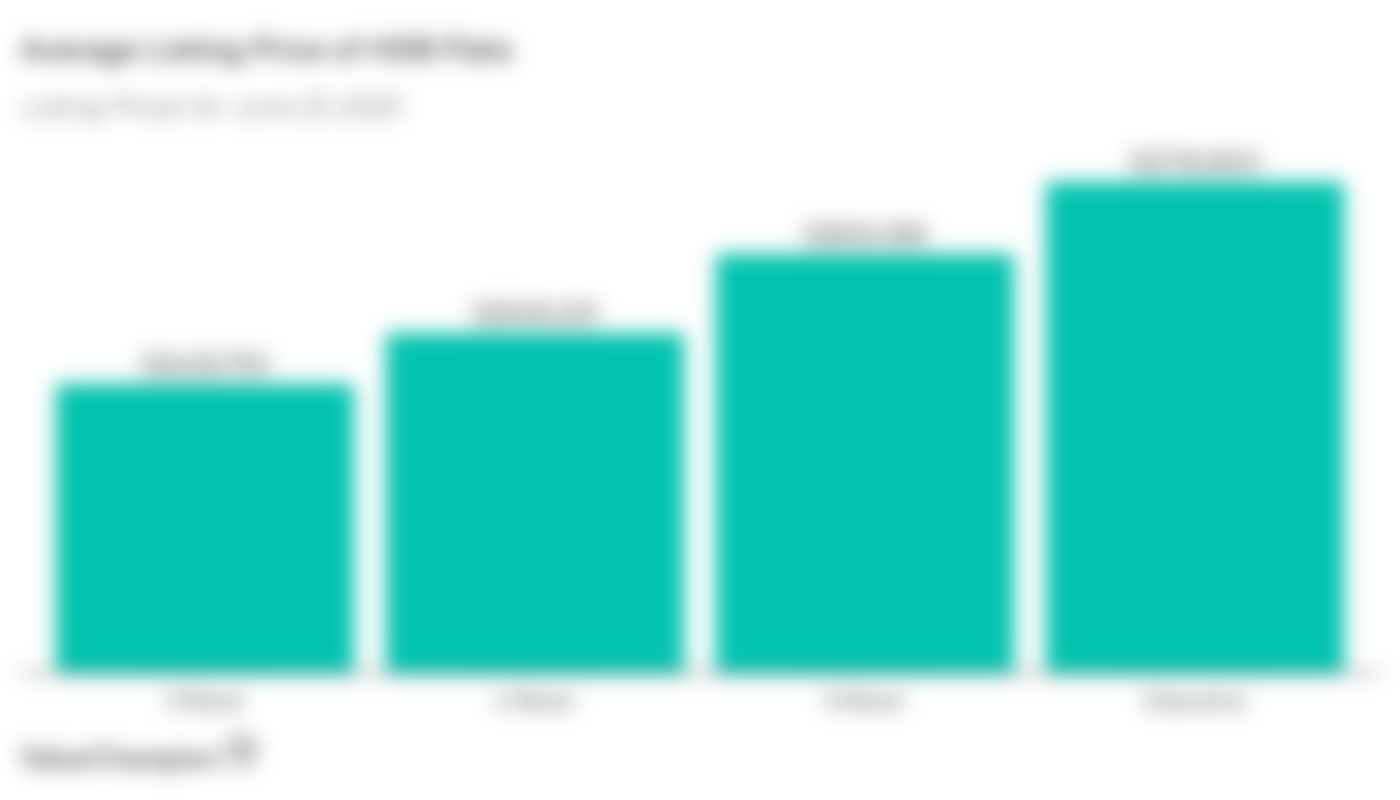 However, it is also important to look at the median prices since the average price may be skewed due to outliers that can skew data one way or the other. The median listing prices of HDB flats are actually 7-14% less than the average listing price, indicating that there are some outliers that were listed with high enough prices to positively skew the average. The only exception is the executive flat, where the median is around the same as the average.
These median listing prices are similar to the resale prices that the Housing & Development Board reported from Q1 2021 to Q1 2022. During that time period, resale flats for 3-rooms sold for an average price of around S$367,237, 4-room flats sold for an average price of S$541,621 and 5-room flats sold for an average price of S$680,059.
Cost of HDB Resale Properties by Town (Q1 2020)
HDB prices also vary by the neighborhood. The cheapest HDB resale flats were in Jurong West, Sembawang, and Woodlands, with Jurong West offering the cheapest rates across the largest range of HDB flats. Jurong West had the cheapest resale flats for 3-room and Executive HDB flats, while Sembawang had the cheapest 5-room flats and Woodlands had the cheapest 4-room flats.
Flat Size
Town
Median Resale Price
3-Room
Lowest Price
Jurong West
S$316,664
Toa Payoh
S$319,987
Woodlands
S$321,468
Highest Price
Central Area
S$435,283
Pasir Ris
S$437,803
Queenstown
S$405,763
4-Room
Lowest Price
Sembawang
S$434,392
Woodlands
S$424,074
Yishun
$S436,059
Highest Price
Bukit Merah
S$713,572
Central Area
S$866,802
Queenstown
S$762,004
5-Room
Lowest Price
Woodlands
S$505,115
Sembawang
S$504,491
Jurong West
S$519,507
Highest Price
Central Area
S$1,053,599
Bukit Timah
S$863,859
Queenstown
S$925,680
Executive
Lowest Price
Sembawang
S$577,415
Jurong West
S$619,680
Sengkang
S$627,906
Highest Price
Bishan
S$979,548
Bukit Timah
S$1,060,937
Queenstown
S$1,110,000
Average Cost of Condos in Singapore
Condominiums in Singapore are built by private property developers and aren't subsidised. They range from simple condo flats with basic amenities to luxury flats in new developments that provide their residents with a plethora of amenities like pools, gardens and event spaces. The average listing price of a Condo in Singapore in the Outside of Central Region as of of the first quarter 2021 was around S$1,100,000.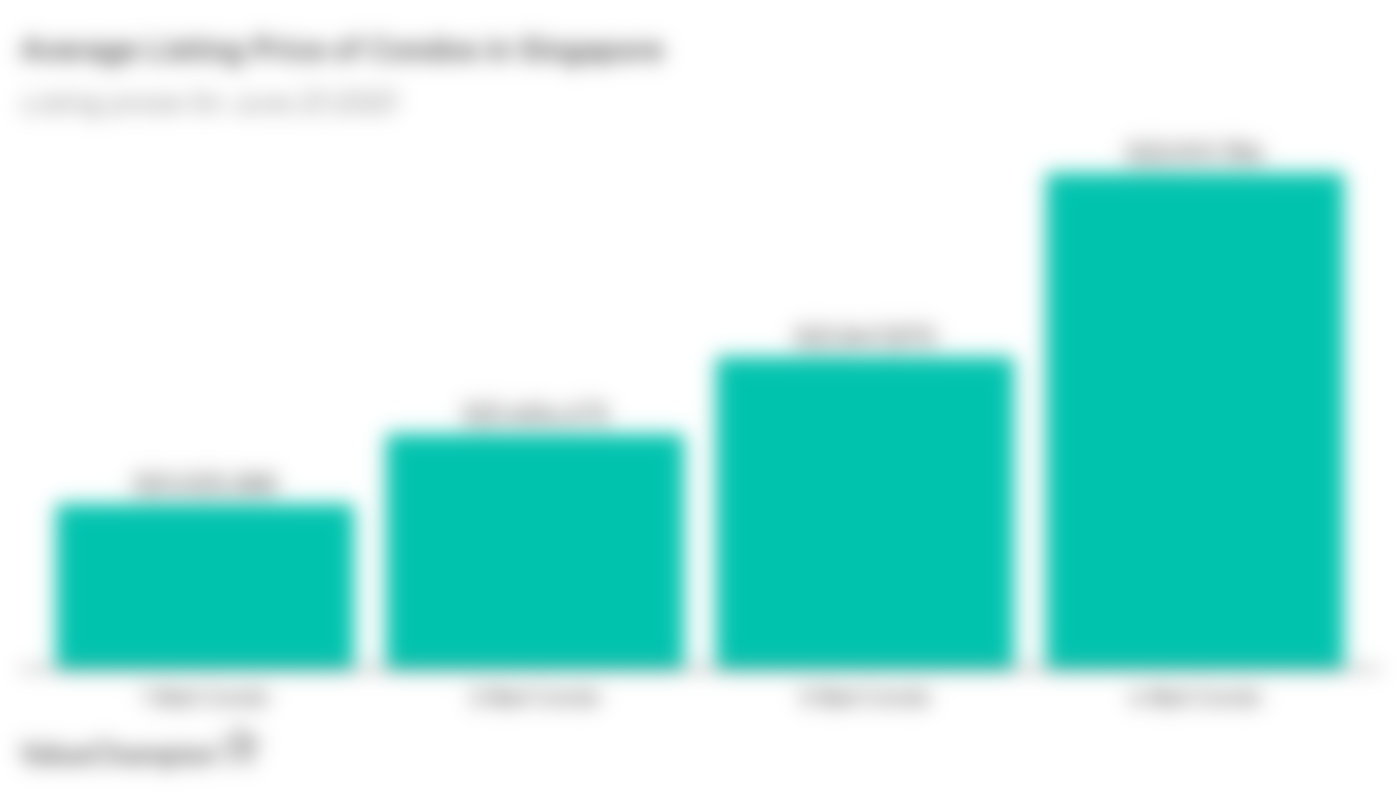 A 1-bedroom flat in a condominium currently goes for an average listing price of S$1,025,386. A 2-bedroom costs 42% more on average. Those looking for larger condos that have 4 bedrooms can expect to pay slightly over S$3,100,000—or 74% more than the average condo price. However, just like HDB listings, condo listings have skewed averages. In fact, condos tend to skew much more positively than HDBs (meaning the median is smaller than the average), with some luxury condos priced high enough to skew the average away from the median by 11-27%. Take into consideration The Nassim, a recently built private development that has some apartments listed for over S$10,000,000.
Average Cost of Landed Properties in Singapore
For many, landed properties are the ultimate achievement of financial success. The privacy and space that comes with landed properties are coveted in land-locked Singapore and have thus become luxury features. Because of these features and the relatively small supply available, landed properties are the most expensive type of home on the market.
The average listing price for a private property was S$5,063,507, or S$1,319 per square foot as of June 2020. Terraced houses are the cheapest landed properties, with an average listing price of S$3,168,077. Terraced houses are the smallest type of landed property and you may end up having to share a wall on both sides of the property or a shop on the ground floor. Bungalow homes are the most expensive, with a current average listing price of S$9,566,667. Bungalow homes used refer to homes built during the colonial period, although the definition evolved to mean any standalone home. These are the largest homes and can cost well into the many millions. Similar to HDBs and Condos, the overall median price was slightly less than the average listing price, with median prices ranging between 1-8% below the average. This indicates that landed property prices are fairly evenly distributed with few significant outliers that are either very cheap or very expensive.
How Have Housing Prices Changed Overtime?
Housing prices depend on a number of factors. From the supply side, we need to consider the supply. This includes how many new flats are available and how many new developments are being built). From the demand side, we need to consider affordability, speculative demand, availability of mortgages (and whether people want to take out mortgages), interest rates, economic growth and even global factors like pandemics. You can see how housing prices in Singapore changed over time by looking at the residential price index. The residential price index seen below uses a hedonic regression model, which uses a set of values (proximity to schools, size, construction, location, etc.) to determine the price of a property.
Using the Private Residential Price Index, we saw that housing prices reached a peak in 2013. After 7 rounds of government measures to cool the overheated property market and a weaker economic climate, property prices started to steadily decline up until 2017. Currently, we are back to an almost near all-time high at the end of 2019/2020, with non-landed and landed properties costing just 0.54% and 4.81% below 2013 prices.
Quarter
Property Type
Price Index
% Change from Previous Quarter
2018-Q1
Landed
155.8
1.90%
Non-landed
141.6
4.42%
2018-Q2
Landed
162.2
4.11%
Non-landed
146.1
3.18%
2018-Q3
Landed
165.9
2.28%
Non-landed
146.1
0.00%
2018-Q4
Landed
162.6
-1.99%
Non-landed
146.8
0.48%
2019-Q1
Landed
164.4
1.11%
Non-landed
145.2
-1.09%
2019-Q2
Landed
164.2
-0.12%
Non-landed
148.1
2.00%
2019-Q3
Landed
165.8
0.97%
Non-landed
150.0
1.28%
2019-Q4
Landed
171.8
3.62%
Non-landed
149.6
-0.27%
2020-Q1
Landed
170.3
-0.87%
Non-landed
148.1
-1.00%
Data Source: Urban Redevelopment Authority
In the short-term, we are seeing that COVID-19 had a rather small effect on property prices. For instance, non-landed property prices dropped just 1% in 2020 Q1 compared to 2019 Q4. Furthermore, prices were still up 2-3.6% from the same quarter in 2019. The small drop can be attributed to the COVID-19 circuit breaker measures that took place wherein consumer confidence fell, the real estate market was stalled and Singapore's economy took a hit from global markets reeling from the pandemic. However, prices didn't drop as drastically as they during other pandemics and recessions, such as the 2008 recession, where we saw prices drop by 24.9% over 4 consecutive quarters. This was in part due to Singapore's past property measures that focused on keeping buyers financially prudent and current circuit breaker property measures, like loan deferments, that allow for financial leeway to avoid defaults and sell-offs.
How to Save Money When Buying a Home
The listed price of a home does not always mean you will end up purchasing it for that price. You should always take a tour of the home (virtual or otherwise) and prepare a list of questions about the property. You will also need to consider the neighborhood, the vicinity of schools, stores, medical offices and transportation options. Furthermore, if you believe you'll need to do extensive renovations or there is clear damage in the flat, you'll need to take that into consideration as well. All of these features can be used as bargaining tools and you'll be able to knock the price down if you believe the listing is overpriced.
When you have settled on a property, you should then make sure you get the best mortgage loan. A mortgage loan with a low interest rate can save you hundreds to thousands of dollars in interest over the course of your loan. To find the best rate, you should compare rates from different banks—remember, you are not obligated to lock into the first mortgage loan you are offered.
Alternatively, you can use our handy tool below to find the best mortgage loans available on the market today:
Find the Cheapest Home Loans in Singapore
Methodology
We used current listing prices and historical prices to get a sense of the average cost of purchasing a home in Singapore. We gathered data from over 900 listings to find out what current homes are selling for. These listings were separated into type of home (HDB, condo, landed) and the size of the home (number of rooms and bedrooms). For HDB flats, we also used available resale data from the Housing & Development Board to see how listings differed from the actual resale prices. We used both average and median to find the distribution of the home prices and how skewed the average prices were due to outliers such as luxury condos and bungalow homes.
While we tried to maintain accuracy as much as possible, there were some limitations that should be acknowledged. First, real estate listings are not always accurate. To combat inaccuracies, we excluded any duplicate listings and made sure that HDB flats were organised by the number of bedrooms and bathrooms stated on the HDB site. However, it was not possible to determine the accuracy of the listing price or size of the flat. It is also worth noting that it was difficult to find the true difference between the listing price and the final transaction price due to date differences and apartment availability. Thus we looked at median price changes as an aggregate.
Read More: