Personal Finance
Average Cost of Laundry Services in Singapore 2023
Compared to most living expenses, laundry may seem like a relatively insignificant cost. However, some laundry can actually get very expensive depending on the service required. To give consumers a better idea of how much they should expect to pay for various laundry services in Singapore, we've collected and analysed pricing data from 15 coin laundries, laundry services and dry cleaners.
Table of Contents
Average Cost of Laundromats / Coin Laundries in Singapore
Laundromats are the cheapest laundry service available in Singapore and offer a significantly more affordable option compared to laundry wash & fold and dry cleaning services. In addition to being relatively inexpensive, many laundromats offer the benefit of 24-hour operation, 7 days a week.
| Washer & Detergent (per kg) | Dryer (per 25 min) |
| --- | --- |
| S$0.47 | S$5.00 |
We estimate that the average cost of one 11 KG load of self-service laundry at a coin laundry is approximately S$10.13. This includes the cost of the washing machine, detergent and 25 minutes in a drying machine. Of course, this calculation does not incorporate the cost of one's time, and those that are very busy may assign a high value to the convenience of other laundry services. Therefore, despite their relative affordability, laundromats are not the most cost effective option for all Singaporeans.
Average Cost of Wash & Fold Laundry Services in Singapore
According to our research, the average cost of wash and fold laundry services in Singapore is approximately S$5.24 per kg. Based on this estimate, an average load (11kg) of laundry would cost about S$57.61. While this price may seem high, it is worth noting that several laundry companies offer free delivery for orders over a certain price. Therefore, these services offer consumers a convenient alternative to washing their clothes at home or at the laundromat.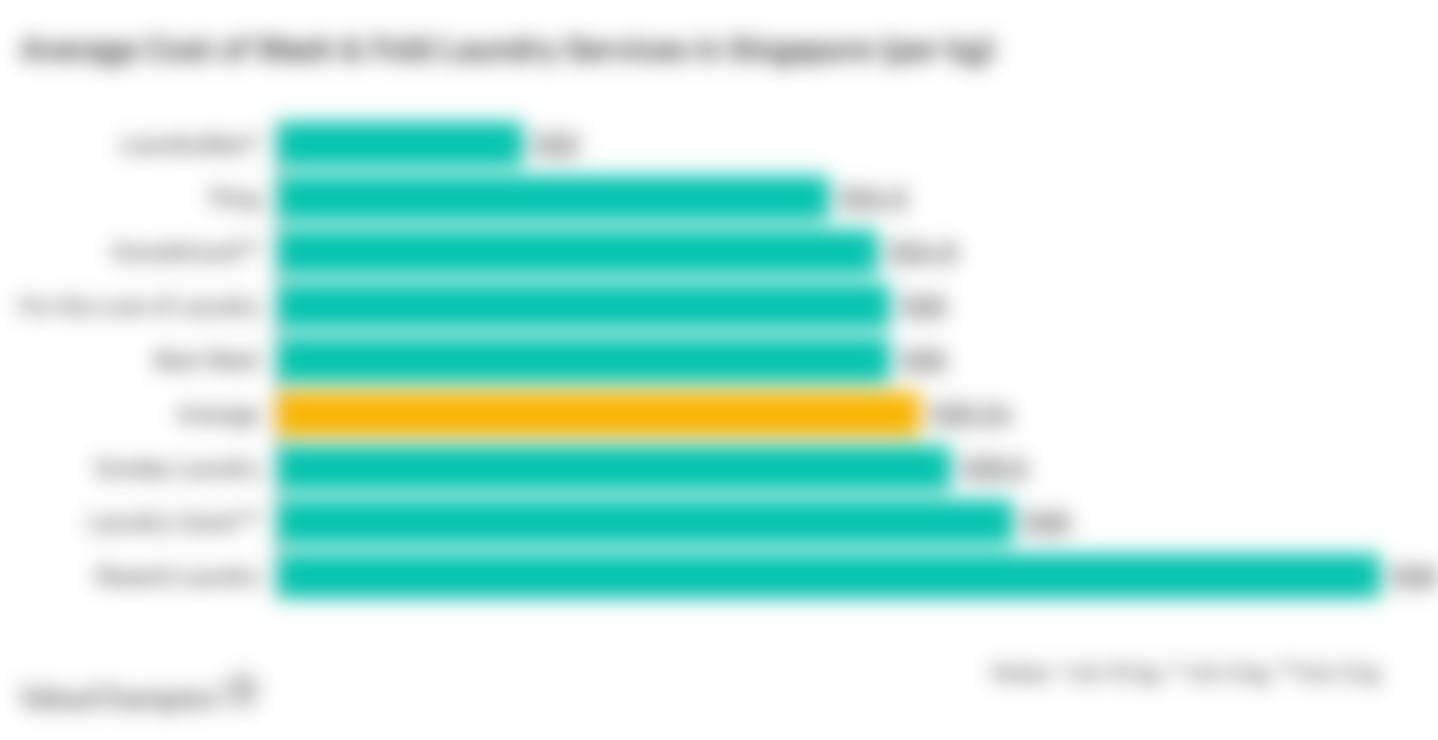 Average Cost of Dry Cleaning in Singapore
The average cost of dry cleaning services in Singapore varies greatly depending on the type of clothing that needs to be cleaned. We found that 2-piece suits (jacket + pants) cost about S$14 on average, while Punjabi Suits and Sarees tend to cost about S$16 on average. Finally, the average price of dry cleaning an evening dress starts at about S$23 at most dry cleaners. We also found that some dry cleaners offer premium services for an added fee. These include expedited, 1-day delivery or environmentally friendly cleaning products.
| Dry Cleaner | Suit (2-Piece) | Punjabi Suit/Saree | Evening Dress |
| --- | --- | --- | --- |
| Astoria | S$15 | S$18 | S$25 |
| Best Wash | S$19 | S$18 | S$20 |
| Cloudstory | S$12 | S$16 | S$16 |
| DryCleaning.com.sg | S$12 | S$16 | S$15 |
| For the Love of Laundry | S$16 | N/A | S$35 |
| KnockKnocK | S$15 | S$16 | S$25 |
| Laundry Cares | S$14 | S$16 | S$20 |
| LaundryMart | S$13 | S$16 | S$16 |
| Mr. Dobi | S$12 | S$12 | S$20 |
| Piing | S$15 | S$15 | S$33 |
| Reward Laundry | S$17 | S$20 | S$35 |
| Sunday Laundry | S$14 | S$12 | S$16 |
| Average | S$14 | S$16 | S$23 |
How to Save on Laundry Services
Consumers that are interested in using a laundry service, but are overwhelmed by the costs listed above, it is important to be aware of a few simple ways to reduce the cost of these services. First, it is possible to save on free deliveries by scheduling dry cleaning runs with wash and fold services in order to meet the minimum requirement for free delivery. Additionally, a few laundromats even allow customers to use their credit cards, so consumers can earn various rewards for their laundry costs.
Methodology
In order to calculate the average cost of coin laundries, laundry services and dry cleaning services, we gathered pricing data from the websites of 15 companies located in Singapore. We used base price data for a number of items of clothing and laundromat options as to make our analysis between companies comparable. With that said, many laundry companies offer add-ons for features such as special detergents or for washing more extravagant items of clothing. Finally, our analysis is meant to be illustrative of approximate average costs and should not necessarily be viewed as a current pricing guide for each specific company or any of their locations. Instead, by illustrating the cost of several common services, we aim to help consumers gain an understanding of market prices for services that they may choose to utilise.
Read More: