Beginning of the end for Pokémon Go?
Pokémon Go has been a global phenomenon since the day of its launch. Technologists welcomed it as a symbol of a new era of virtual and augmented reality. People of all age, genders and backgrounds began to play the game obsessively, and many were sighted going on Pokémon hunts armed with battery packs. Some people even quit their jobs to travel the world in search of the rarest Pokémon. 
The game was obviously a big success. It pretty much dominated the top position in app store rankings in every country for both download and gross revenue. On the back of this hype, Nintendo's stock (the company only owns a portion of the game) rose more than 100% almost overnight. Given the amazing success of the game, one must wonder: will Pokémon Go continue to be this popular? 
Declining Download Rankings
Since its launch, Pokémon Go has enjoyed the #1 spot in terms of download and gross (revenue) rankings in the Apple App Store for pretty much in every single country. While this trend seemed to be sustainable forever, something interesting happened in the middle of August: Pokémon Go's download ranking began to fall.
We surveyed the data in various countries across East Asia, SE Asia, Europe, US and Latin America (the game does not seem to be available in Africa or Middle East). Beginning in August 15th, the game's ranking began to slide in all of the continents where the game is available. The downward trend began in Japan, UK and Germany. Slowly, it began to slide in other regions like Hong Kong, Taiwan, Singapore, Italy, France, and Brazil.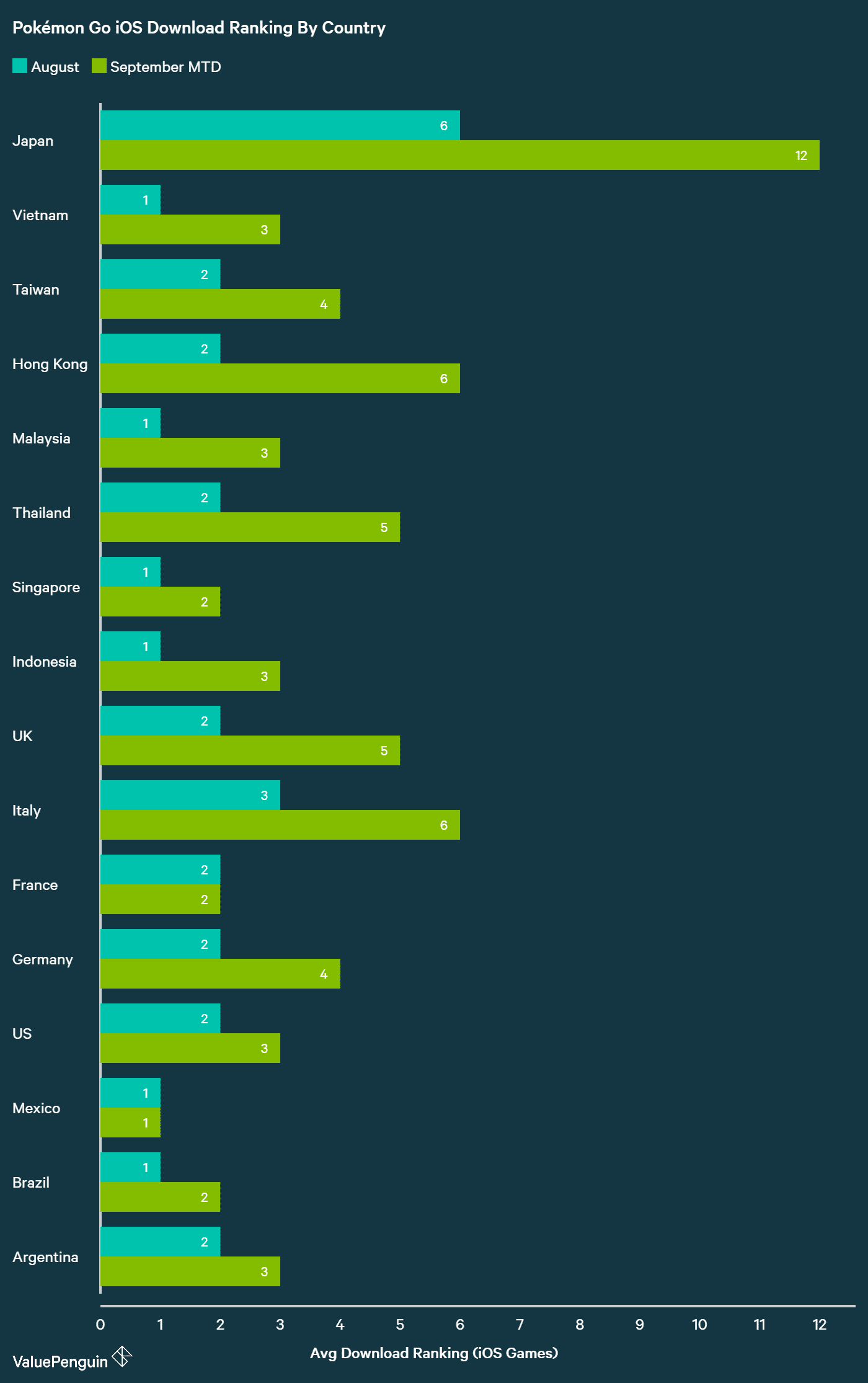 Download As a Leading Indicator of Revenue
While the game's gross ranking continues to be at the top of the chart, the decline in download ranking is definitely an indicator of weakness. Perhaps gamers are growing tired, or perhaps they have "beat" the game by collecting all of the Pokémons available. Whatever the reason, the game definitely seems to be growing less popular. While this trend has not yet affected the game's revenue yet, if history is any indicator, declining download usually precedes declining revenue eventually. If its developer wishes to maintain its top spot in the mobile game world, they need to introduce meaningful updates to the game and reengage its user base.