Credit Cards
Can a Destination Wedding Actually Save You Money?
The average cost of weddings in Singapore has been on the rise for over a decade–could planning a wedding overseas actually end up saving money?
The average cost of weddings in Singapore has been steadily rising for more than a decade, currently ranging from S$30,000–S$50,000. Since 2011, the average price of banquets has increased 50%–more than 6 times the rate of inflation! While total cost is highly dependent on size, venue, and selection of vendors, opting for a destination wedding may help you save, regardless of these differentials. Here are several cases in which marrying outside of Singapore may actually reduce your overall wedding costs.
You Want an Upscale Hotel Wedding, Minus the Big Guest List
Singapore's hotels are quite popular for wedding banquets. Unfortunately, they can also be expensive and limiting–especially if you want a small wedding or need to stick to a budget. In fact, to book a hotel ballroom, you'll almost always need to fill 8-10 tables as a minimum requirement. Each table accommodates about 10 people, so your guest list will need to include at least 80-100 attendees. And, considering the average cost-per-table is S$1,340 for a weekend dinner, the hotel banquet alone may cost S$10,720 at the least. While this sum may seem manageable, contingent expenses may rise due to the increased number of required guests.
This S$1,340 average cost-per-table is exactly that–an average. If you want to have your wedding at a high-end hotel, prices increase dramatically. Many of Singapore's 5-star hotels have even higher minimum table requirements. In fact, the Ritz Carlton Millennia's minimum requirement ranges as high as 50 tables for a weekend dinner package (Grand Ballroom). Because the actual cost-per-table is also much higher at upscale hotels, total cost can reach over 10 times the average discussed. So, even if you're willing to invite more guests to your wedding, it's nearly impossible to book a top hotel unless you have money to spare.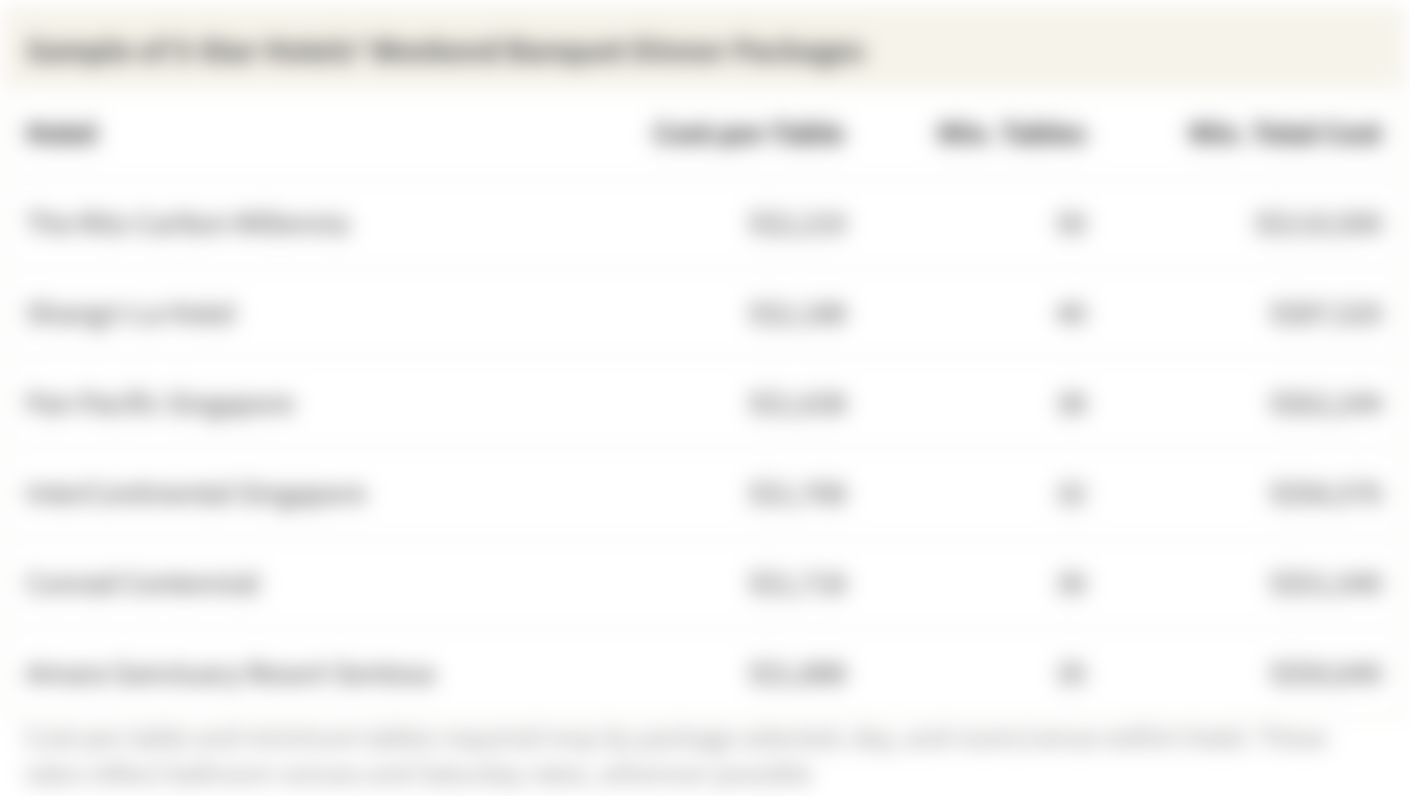 Fortunately, there are still ways to enjoy 5-star quality at a smaller wedding. Many high-end hotels and resorts throughout Southeast Asia offer destination wedding packages that are specifically tailored to smaller gatherings. In fact, the smallest packages cater to 2–10 guests, and some packages even limit attendees to 120 or less. It's worth mentioning that this is more common in countries like Thailand and Vietnam; upscale hotels in Indonesia and Malaysia mirror Singapore in mostly offering ballrooms with minimum table requirements.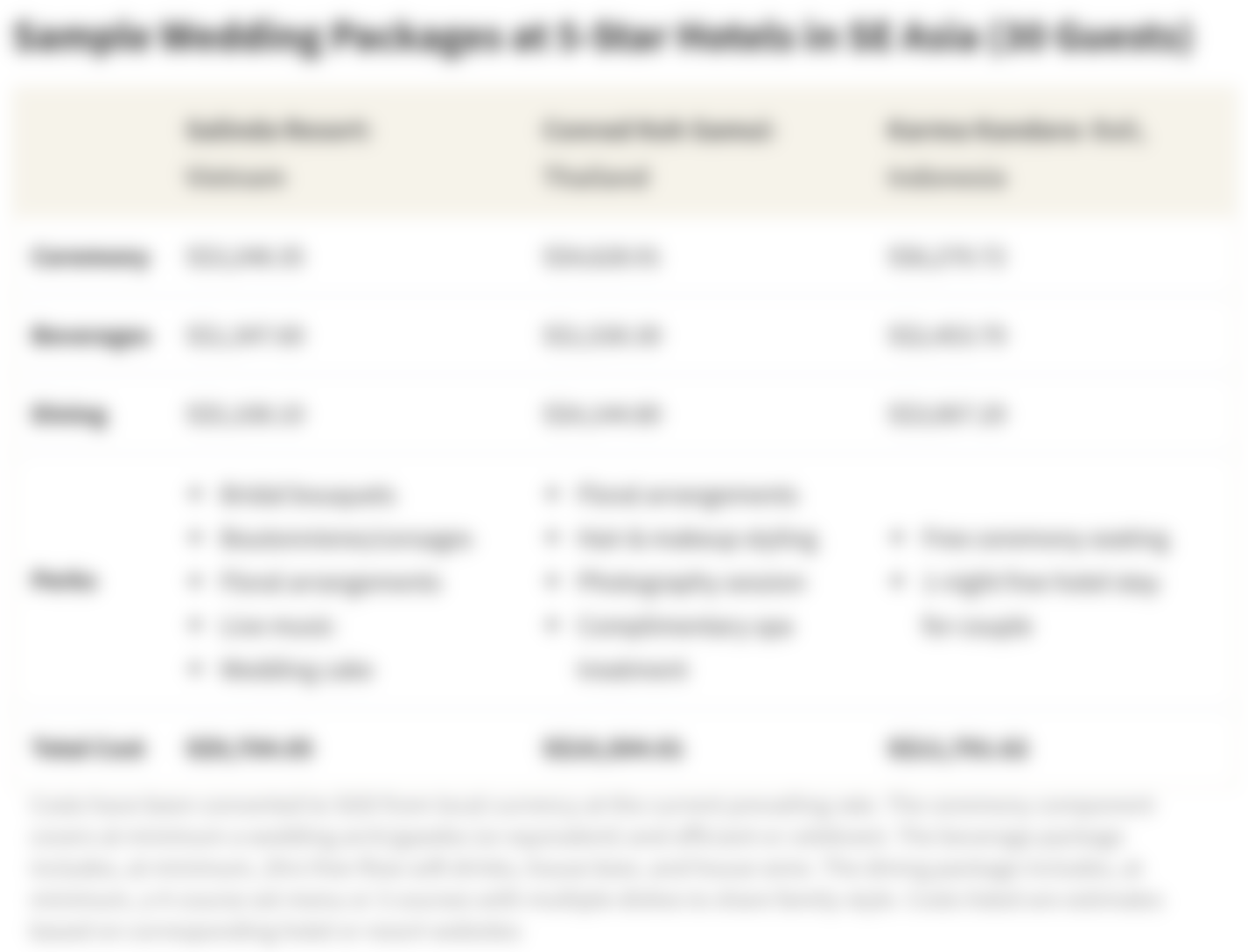 Overall, it's quite possible to afford a luxury wedding overseas on a budget fit for just an 'average' event in Singapore. If you're looking to limit the size of your wedding, but still want top-notch services and an exclusive venue, it's worth looking at a few regional alternatives.
You Prefer a Weekend Evening Reception to a Weekday Luncheon
In almost every scenario, weddings are more expensive on weekends and on evenings than during the week or in the afternoon. This is simply a function of demand; weekend evenings are more desirable because most people are free and can easily attend. Assuming you'd like all your invitees to make it, you may be tempted to pay more to secure a desirable time slot.
Unfortunately, this dream can quickly fade when facing actual costs. Not only does cost-per-table often increase–so too does the minimum table requirement. Changing the day and time of your banquet can, in some cases, nearly double the cost!

Destination weddings, on the other hand, are far less likely to vary package prices according to day or time. Perhaps this is because many guests need to take time off to travel to the event–regardless of the day it's held–which diffuses some of the convenience that drives weekend demand.
Alternatively, this flexibility in booking may also reflect the venue's priorities. Singaporean venues, catering to locals, are most likely to gain by booking the ballroom itself. Destination resorts, however, profit immensely from hotel bookings made by wedding guests–and are therefore incentivized to fill every room, rather than drive competition.
In fact, some resorts charge S$600+/night and require a minimum number of room bookings as part of the wedding package. These costs are not included within the package cost, and may be covered by guests who need somewhere to stay. This takes some of the financial burden off the bride and groom–unless they plan to stay at the hotel for their honeymoon regardless. Wedding packages sometimes offer a free 2-night stay to the couple, which could actually relieve them of all accommodation costs.

All things considered, a destination wedding could be a better option if you're interested in a weekend getaway and want more flexibility in booking.
You Don't Mind Linking the Ceremony and Reception
In Singapore, the cost of a solemnisation ceremony often ranges from S$1,000–S$5,000, and is held separately from the banquet reception. Destination weddings, however, bring these two elements together, which may reduce costs and make coordination easier. In fact, destination wedding packages provide most of what you'd need for a lavish solemnisation, often including everything from flowers to photography. Here's a list of commonly included elements:
Welcome refreshments
Wedding officiant/celebrant
Decorated gazebo or arch
Bridal bouquets
Groom corsages
Floral arrangements
Make-up & hair styling
Photography session
Live music
These features are highly dependent on the 'tier' of wedding package selected, and vary across resorts and countries. While some packages already include perks like hair styling, photography and music, others charge extra fees for them–so it's vital to read the fine print.
The ceremony then leads into a reception, similar to a Western style wedding. Beverage (bar) and dining packages are customised and selected for the reception, and all components (ceremony, beverages, and dining) are bundled up into the final package cost. Guests can seamlessly move from the vow exchange to a cocktail hour and then subsequently, to the sit-down dining reception. While the venue may change (beach to indoor setting, for example), it's very easy to navigate and keep everyone together.
It is worth mentioning that ceremonies at destination weddings are rarely legally binding, though you can register beforehand according to the country's requirements. For the most part, registering is fairly easy and inexpensive, and the marriage is also legally recognized in Singapore.
You Have a Credit Card with Hotel Perks & Miles to Spare
One of the biggest drawbacks of destination weddings is that they often require travel, which can be expensive. In fact, the combined cost of flights and hotels–alongside the wedding package–can sometimes exceed that of a local Singaporean wedding! This doesn't need to be the case, however; there are several opportunities to avoid or reduce such travel costs.
First, consider your credit card. If you have a travel card, you've likely been accumulating miles for spend; now is a good time to apply them. Additionally, many air miles cards offer impressive sign-on bonuses. Citi PremierMiles Visa Card, for example, is an affordable option that offers 21,000 welcome miles–more than enough to cover a roundtrip flight to Bali. Alternatively, if you're a frequent traveller and don't mind paying a high annual fee, you might want to consider Standard Chartered Visa Infinite Card, which offers 35,000 welcome miles.Travel credit cards also often offer hotel perks and memberships to elite loyalty programmes, offering discounts and free upgrades.
Finally, it's worth considering this–if you're planning on getting married in a 'vacation' destination, you can easily extend your stay and make the trip into a honeymoon. This way, you'll still be spending the same on airfare, as you're just booking one round trip. In addition, brides and grooms usually receive free nights or discounts at the hotels where they get married, which can help to save. And, after the special day, you can always book a more reasonable hotel for the duration of your stay.
Conclusion: In the End, It Comes Down to Preference
It's definitely possible to save money with a destination wedding–as long as you have a certain set of preferences. Smaller gatherings, for example, can enjoy greater luxury than would be possible in Singapore at the same price point. However, couples with a longer guest list, or with elderly family not fit for travel, may be better off with a local wedding. Ultimately, planning a cost-effective wedding comes down to your personal needs and preferences.