Travel Insurance
Considering Going on a Cruise? Here's How Much It'll Cost
Thinking of going on a cruise on your next vacation? Here's what you should expect to pay.
With Royal Caribbean's Quantum of the Seas making headlines with its decision to dock at Singapore for 6-months, cruising may start becoming a much more popular form of leisure travel for Singaporeans. Currently, less than 1% of Singaporeans have tried cruising. However, Royal Caribbean International's President, Michael Bayley, sees a bright future for the Southeast Asian cruise market and hopes this move will attract more repeat customers within the Asian market—and why shouldn't it? Cruises offer an easy and comfortable way of exploring new places without having to worry about food, room and flight expenses (if sailing locally). There are activities onboard for every type of traveller from spas to sports to activities for children. If you are interested in going on a cruise for your next vacation, read on to find out how much you should expect to pay.
Regional 1-Week Cruises
Singapore's convenient geography makes it a prime stop for cruise ships. It is especially convenient for Singaporeans since shorter cruise trips have a starting and ending port in Singapore. Stops usually include ports in Thailand, Malaysia and Vietnam for a 7-day trip. Sampling from the three largest cruise ship companies (Royal Caribbean, Norwegian Cruise Line and Princess Cruises), we found that you can expect to pay around S$1,130 per person for the cheapest ocean view room and around S$1,520 for the cheapest balcony room. Norwegian came out as the cheapest (20% below average) and includes dining and drinks such as select cocktails, wine and beer as well as juice, soda and water. Royal Caribbean was priced in between Princess Cruise Line and Norwegian, making Princess cruises from Singapore the most expensive of the three.

Regional 2-Week Cruises
If you are looking for a two-week cruise getaway, you can expect to pay around S$2,500 per person for an ocean view room and S$3,050 per person for a balcony room. While Norwegian Cruise Line is the cheapest, it is only by around 5% on average, so your decision will really come down to which cruise line you prefer depending on their dining experience, excursion package and activity/entertainment options. However, you should keep in mind that if you are looking for a longer cruise, you will most likely have to fly either to the initial port or fly back to Singapore from the departing port. Usually, longer cruises in Asia include trips to China, Japan, South Korea and Taiwan.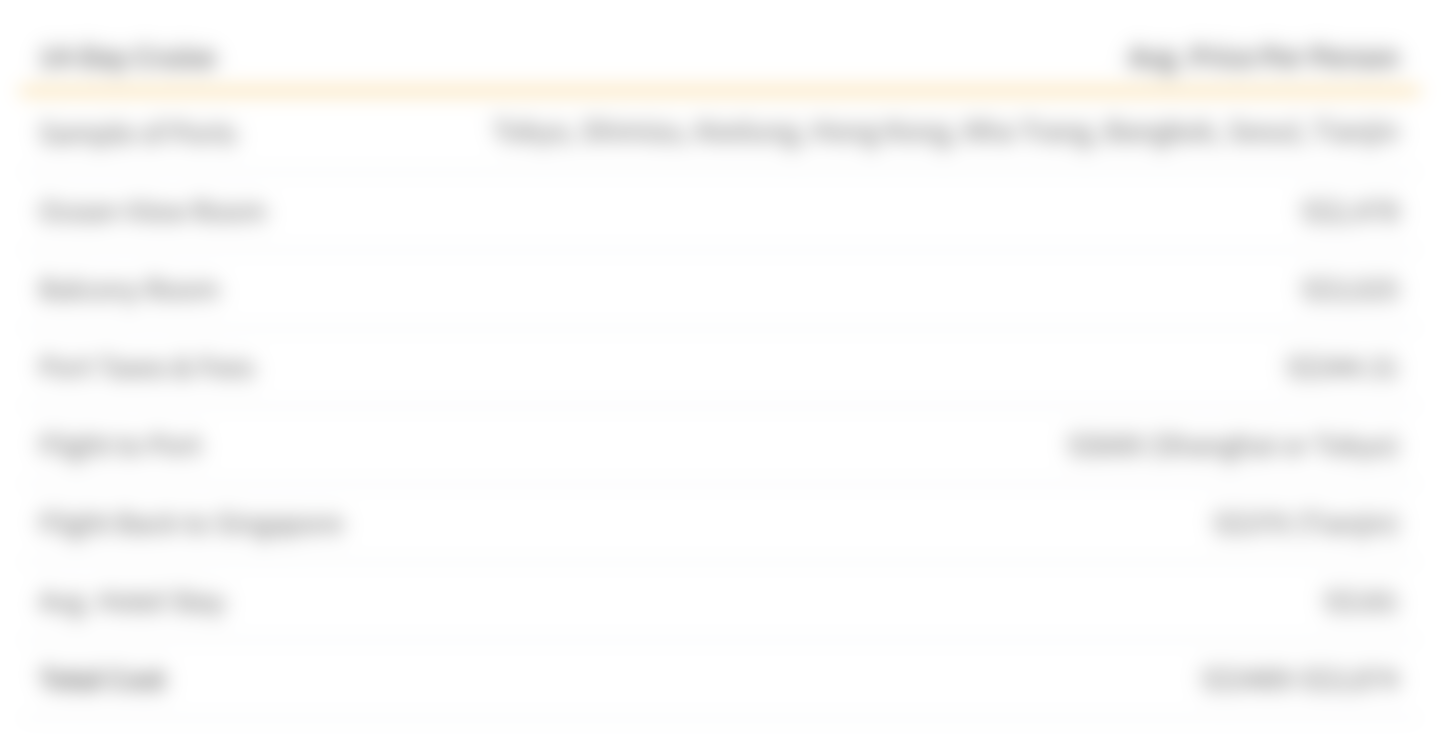 For these longer cruise lengths, there are some things you should keep in mind. First, it is good practice to arrive at the departing port a day before your departure date. This will help account for delayed flights as well as give you time to find where you're supposed to go without rushing. Secondly, you may get to enjoy extended stays at certain ports. This can give you a chance to explore the city more so than you would during one-day stops. Before you book your cruise, you should check to see which ports will have extended stays and whether or not it will be a destination you're interested in exploring for a few days.
International Cruises in Europe
If you've always wanted to go to Europe but have a limited amount of time to see all the cities you want to see, cruises in Europe are a great way to see multiple destinations in one go. A 7-day cruise can include stops in Italy, Spain, Portugal, Greece, France and the United Kingdom. The average cost for an ocean view room for a 7-day European cruise is around S$1,670 per person, with roundtrip flights from Singapore costing another S$1,333.
As you can see from the table below, longer European cruises are quite expensive. Though you will see around 3-5 more cities compared to a 7-day cruise, you should be prepared to spend around S$3,131 per person for an ocean-view room. In this case, if you are looking for a trip to Europe on a budget, you might be better off flying to a country, and then getting a train pass or rental car to drive thru different countries. You can get a 5-trip train pass to visit any country of your destination for around 1,243 USD with airbnbs in the same port countries totalling you an average of S$93 per night (for a total of S$1,302 for 14 nights). This comes out to be around S$1,000 cheaper than a 14-day European cruise (food and excursions not included). Nonetheless, if you like the convenience of cruising and the luxury of included meals, free entertainment and set scheduling, the difference in price may be worth it.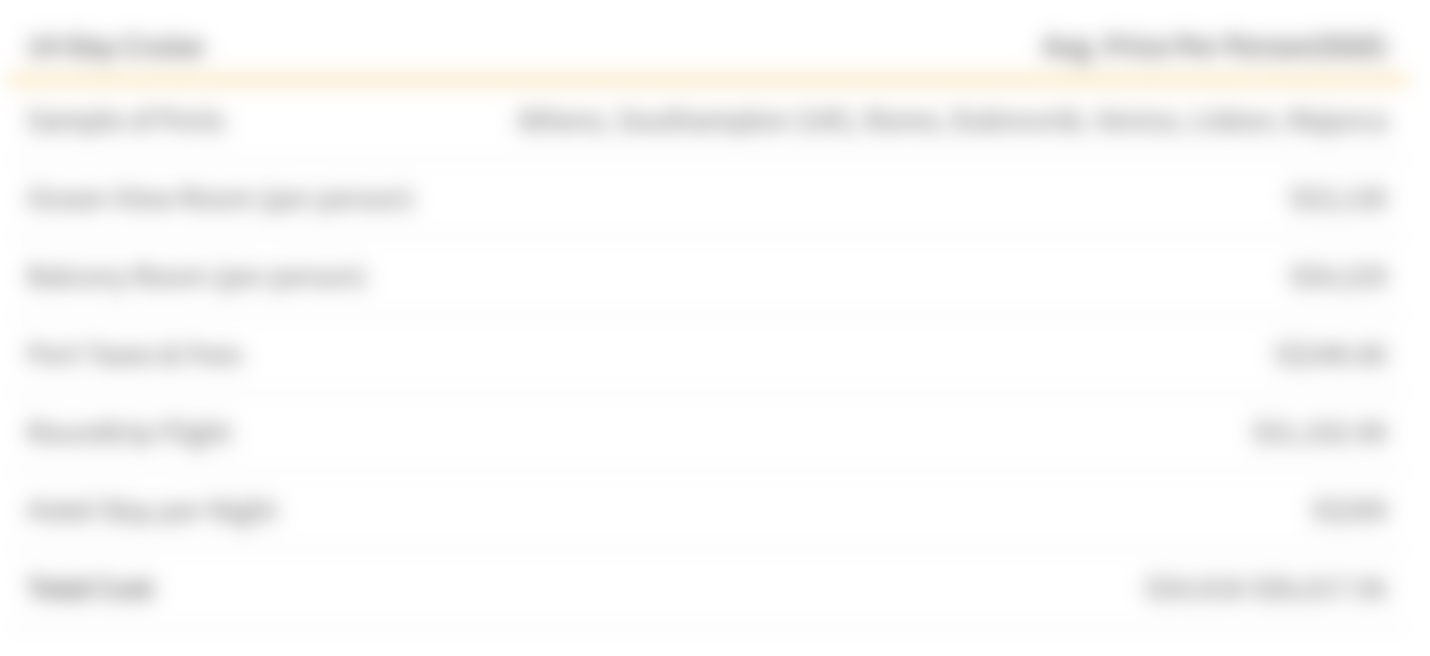 Ways to Save on Your Cruise Trip
There are several ways to save on your next cruise vacation (especially for the longer ones). The first way is to look at cruise liners calendars and see which dates are the cheapest. While you want to avoid dates that are cheap due to departures during unfavorable seasonal weather, you can save up to 30% just based on the date you book (this particular price difference came from choosing a date in early June as opposed to late June for a Europe cruise). Also, booking with a good miles credit card can help you shave roughly 10% of the cost by earning you points that you can redeem for future trips.
Secondly, you should check your cruise liner for onboard credits, free excursions and free wifi packages. At the same time, you should be aware of the value you're getting for certain packages such as unlimited drink packages that can cost up to S$60 per day. Unless you're a very heavy drinker, in most cases these packages will not be worth the cost and some cruise liners actually include drinks for free. Additionally, you should resist buying necessities like toiletries, sun screens or clothing aboard the ship—there is usually a high mark-up on these prices and it could be cheaper buying them at your next port.
Last, but certainly not least, you should arm yourself with a comprehensive travel insurance policy. Cruise liners are notorious for being strict in their cancellation policies and since you are booking far in advance in some cases, changes to your schedule are bound to happen. Travel insurance can help cover the cancellation costs or postponement costs as well as help you onboard your cruise with emergency assistance and coverage for lost/stolen baggage or items.