Credit Cards
Could Holding A Wedding In Phase Two Be A Blessing In Disguise?
Couples getting married in Singapore can now host 50 guests at their wedding ceremony. Admittedly, that still doesn't offer much space on the invite list. However, could a 'forced' intimate wedding be a blessing in disguise? We explore the potential cost savings below.
As the Singapore government eases more restrictions in the ongoing Phase Two of the country's reopening, couples getting hitched can now look forward to inviting 50 guests for their marriage solemnisation and ceremony–an increase from just 20 previously. That said, for many sociable and well-connected couples looking forward to a big celebration (which typically involves 200 to 400 guests) with friends and family in a grand hotel ballroom, the number of attendees allowed may still seem inadequate. However, if you're amongst those who've groaned at the newly revised 50-pax guest count, it may be time to change your perspective. Below, we explore how holding an intimate wedding can actually help you save quite a significant sum of money.
Current Wedding Regulations Under Phase 2
Marriage solemnisations and wedding receptions are now allowed to take place with 50 persons (including the couple, but excluding the Solemniser and vendors) for the entire event. However, the upper-limit for attendees is still determined by a venue's capacity limit based on safe management principles (i.e. fewer than 50 attendees will be allowed if a venue is too small).
To elaborate, guests should be split into fixed groups of up to 5 people, with no intermingling or mixing between groups (where the only exception is for the core 'wedding party' of up to 20 people). All groups must stay 1 metres apart at all times. All attendees are also to wear masks, with the exception of bride and groom (face shields). Also, self-service buffets, live performances, or activities involving singing or talking or shouting are not allowed. Solemnisations at home, the Registry of Civil and Muslim Marriages (ROM/M) building, and designated areas at the National Museum of Singapore operated by ROM will continue to take place with up to 10 persons as these venues tend to be smaller.
Save Tens Of Thousands Of Dollars With A 50-Pax Ceremony
While the long list of rules and regulations may seem like a downer, they're actually great news for your wallet, especially in these uncertain economic times. For instance, you won't have to spend money on live bands, performers, dessert tables, and even photo booths as these aren't allowed under the current rules and regulations. You'll also save on the cost of decorating the venue (e.g. fresh flowers ,which can cost anywhere between S$500 to S$2,000). Not to mention, many vendors are now specially customising 50-pax packages to suit these regulations.
Venue Discounts for a 50 Guest Wedding in Singapore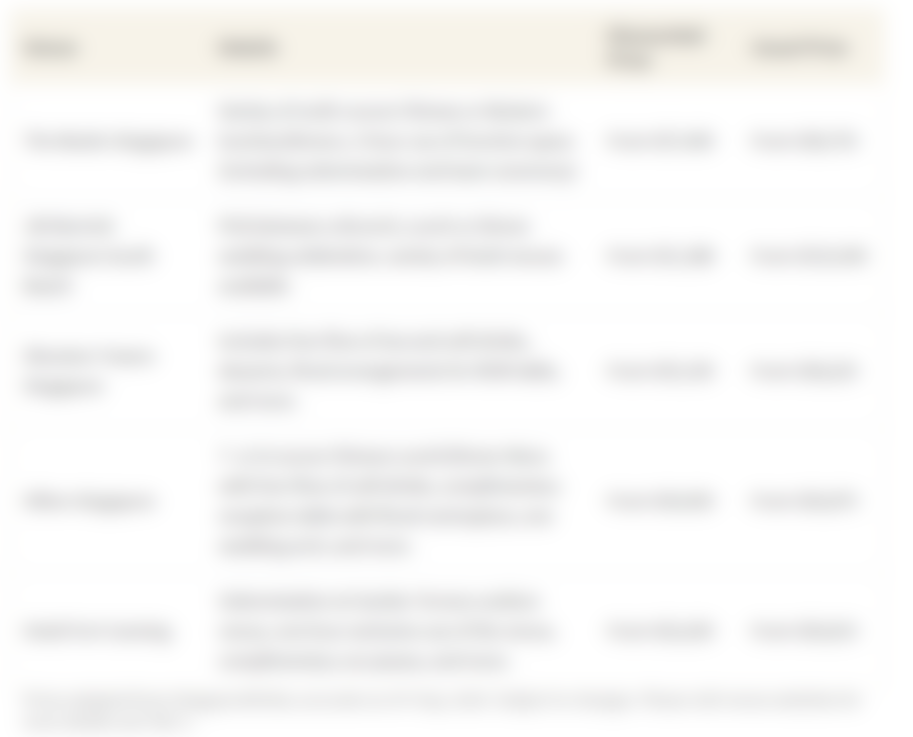 Due to the no-frills nature of the packages, they're typically lower in price than you would have had to pay for the same number of guests. The cost savings can be significant, especially when you take into account the fact that an average wedding banquet in Singapore costs S$29,000.
Host Additional Attendees Virtually
As the number of coronavirus cases in Singapore appears to be stabilizing, it's only natural to expect restrictions to lift in a few months. However, you should still make plans according to the latest regulations since you can never predict what's going to happen.
One of the ways to do this is to cater to additional attendees virtually. Companies like Chere, Rosette Designs & Co, and Masterpiece offer virtual wedding packages, which often feature an emcee for the online stream, in addition to an emcee for the actual event. For an additional fee, you can also opt to send a wedding kit to guests watching from their homes (a small bottle of champagne, an invite, a link to watch the live-streamed ceremony, and a QR code for e-hongbao payments) to make them feel more part of the reception.
While the 50-pax restriction may feel limiting if you were expecting a large number of extended family and friends, giving guests a virtual attendance option can actually be a good idea in this climate. The freedom to choose how to attend your wedding makes it easier for guests to decide whether they want to play it safe and attend your wedding virtually or if they feel comfortable attending in person. Since attending weddings can get quite costly for guests, the option to attend the wedding virtually can also help relieve some financial stress for your guests.
Financial Prudence Is Key In These Uncertain Times
With the downturn of the economy, it definitely pays to be more cautious about your spending and celebration scale if you're looking to get married during this period. As stepping into a new stage of life with debt in tow isn't wise, finding ways to cut costs whenever you can should be a priority. Besides taking advantage of current venue discounts, you can also consider a cashback card with unlimited rewards to increase your savings even more.