Personal Loans
How to Avoid the Rise of Financial Scams in Singapore
Scammers are becoming more savvy and persuasive in their attempts to lure money and personal information from consumers. What can individuals do to protect their privacy and hard earned funds?
Singapore has an excellent reputation as being one of the safest countries in the world, and was once described by CNBC as a city where "shops don't even lock up". However, despite a decrease in violent and serious property crime, scams increased by 54% in 2019. Not only were these scams more prevalent, they were costly: amounting to S$168 million in 2019, up S$23 million from 2018. In this article, we provide insights to help consumers avoid falling victim to a costly scam.
E-Commerce & Loan Scams Most Common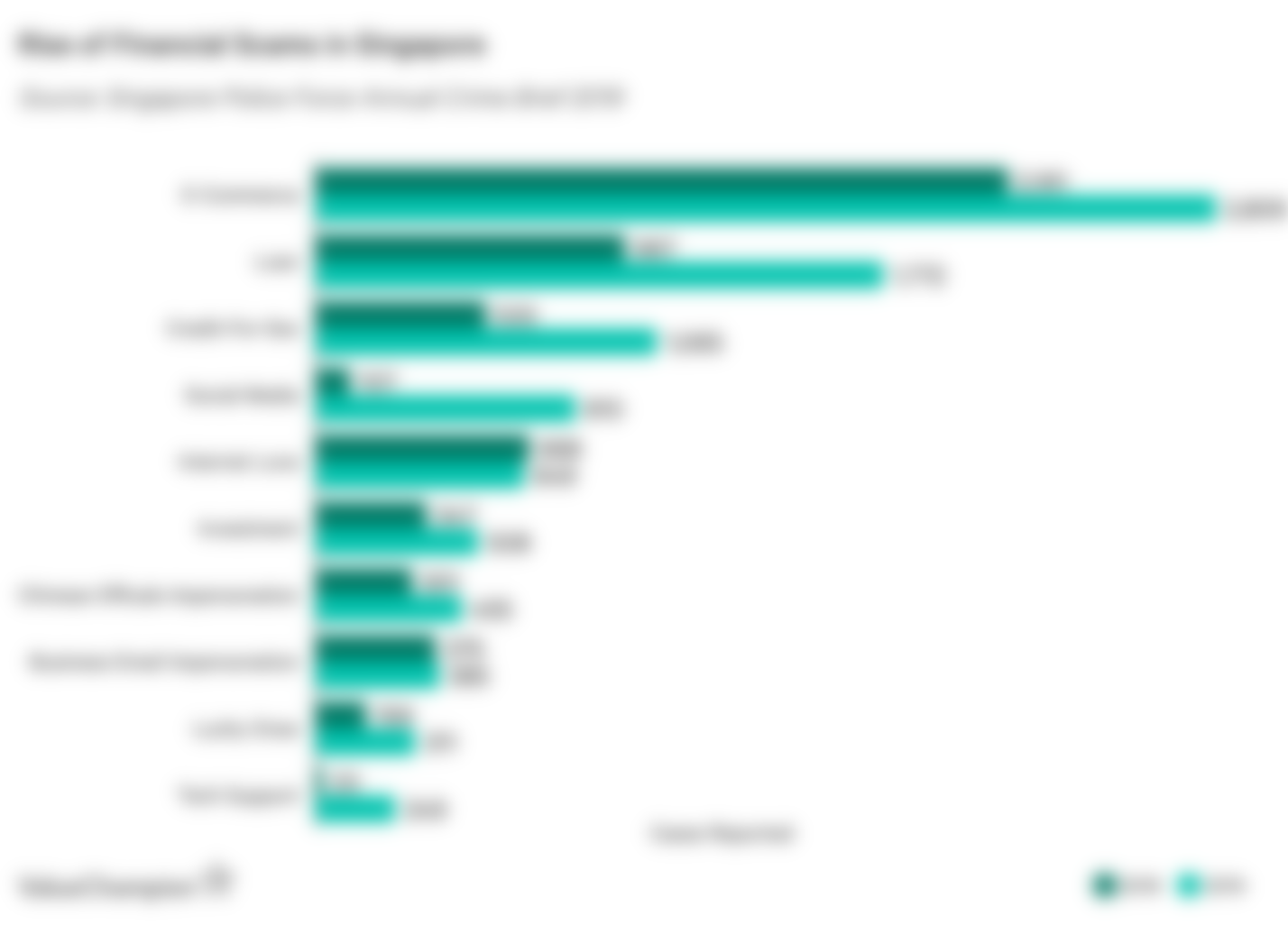 More than half of the reported scams in 2019 fell under the categories of e-commerce or loan scams. In many of these cases, victims are presented with an enticing "good deal". These offers hooked them into thinking that meeting the monetary demand of the initiator is only a small price to pay for the premium deals they are about to receive. Consumers may also be tricked into scams on platforms that they know and trust. For example, 86% of e-commerce scams took place on platforms such as Carousell, Facebook, Instagram, Shopee and Lazada.
How to Stay Safe from Financial Scams
The rise of scams may seem overwhelming, but with some prudence and due diligence, consumers can ensure that they remain unharmed from scammers. Here are a few tips for individuals that are worried about falling victim to a scam.
Don't Shop with Unfamiliar Online Retailers
There was a 30% increase of e-commerce scams between 2019 and 2018, and this is likely linked to the growing trend of online shopping globally. By some estimates there are as many as 24 million e-commerce websites in the world, and online sales are projected to cross US$4 trillion by the end of 2020. Therefore, it is no wonder that scammers are eyeing this lucrative market.
Before buying from any online sellers, check their track records and reviews. These days, most reputable online shops will offer product reviews and customer service contact for enquiries. By getting more information and making enquiries with the service team, you will get a clearer idea of the authenticity of the sites. Also, it can be useful to check the domain name of these sites for spelling errors or unusually naming format (e.g. Asos vs As0s) Some fraudulent sites will attempt to rip off reputable sites to entice shoppers.
Don't Wire Money to Strangers Who Claim to be Licensed Moneylenders
Loan scams totalled S$6.8 million in 2019. These scams often employ the tactic of offering an enticing loan amount via SMSes or WhatsApp messages to random users. The scammers will claim to be a licensed moneylender and advise interested parties to provide their personal information and subsequently transfer a deposit to them before the loan can be disbursed to their account. Of course, the victims will never hear from the scammers again, after the deposit is forwarded.
Unknown to many, licensed money lenders are not allowed to advertise their services on social media and messaging apps. They are only allowed to advertise their services through business directories or their own websites. If you really need a loan, it is best to compare the rates on a site like ValueChampion, which analyses loan terms and rates to help you save money. Finally, if you are unsure whether your ideal lender is legitimate, visit the Ministry of Law's site to review a full list of licensed money lenders in Singapore.
Be Careful About Disclosing Personal Information
Handing out personal information to strangers is an invitation for trouble. Scammers often use this information to harass or extort victims for payment. In many cases, scammers will email or call individuals, claiming to be a financial institution, retailer or government agency and request for sensitive financial information.
To avoid scams, it is best to never provide your personal, financial details, NRIC, contact numbers, Singpass details or bank account numbers to random callers or email enquiries. If you receive a call, make sure to research the caller and their organisation before releasing any information. If it is an online purchase, be discerning about what kind of information is necessary for your transaction. If the site is requesting more information than necessary, perhaps you should consider shopping at a site that can give you better peace of mind.
Don't Lend or Transfer Money to Online Acquaintances
While many may think that they are too clever to be outsmarted by scammers, one's discernment can dip significantly when emotions get involved. Each year hundreds of Singaporeans fall victim to "internet love scams", where an online acquaintance leverages their relationship to persuade the victim to remit funds. Scammers may also encourage potential victims to purchase gift cards such as Alipay Purchase Cards and iTunes cards in exchange for a meet-up or date or sexual favours. In 2019, the largest sum cheated from an internet love scam was S$4.6 million.
To avoid falling prey to an online love-related scam it is important to exercise caution when faced with a request for urgent financial assistance. If someone you've only met online requests that you send money, it is best that you do not oblige. If you suspect that you are being scammed, get in touch with an officer from Scam Alert Anti-Scam Helpline and they will point you in the right direction.
What to Do When Faced with A Scam
With most things in life, anything that seems too good to be true, probably is. Make sure to take a deep breath and step back from any situation that is pressuring you to disclose personal information or remit funds immediately. If you suspect that you have been scammed, you can file a police report. Make sure to provide documents, screenshots and relevant evidence to the police for further investigation. If you need advice for any scam related matters, call Scam Alert's Anti-Scam Helpline at 1800-722-6688 and the officers will share important information that can help you get out of tricky situations.