Life Insurance
The Most Important Insurance Policies Every Young Adult Should Have
As you move out and enter the workforce, you will start to realise how many financial obligations you have. Your mortgage, bills, loans and other necessities will start taking a large chunk out of your monthly paycheck. This can lead to stress that if something were to happen to you, you may not be able to make ends meet. To mitigate the risk of financial ruin, many turn to insurance policies that will protect them should an event like a terminal illness diagnosis or accident happen. To help you make the best insurance purchases for your needs, we outline which policies are crucial to have as a working adult and why.
Health Insurance
Health insurance is one of those things you should never skimp on. Healthcare in Singapore is becoming increasingly more expensive and there may be times when your MediShield Life coverage may not be enough. This is especially the case if you are hoping to stay in A/B1 wards or private hospitals, where daily rooms can cost up to S$9,800 per day. Integrated Shield Plans aim to cover that protection gap by offering full coverage for hospitalisation stays, surgery and other medical needs (provided it is within your plans annual limit).
| Average Benefits | Standard Plan | Ward B1 | Ward A | Private Hosp. |
| --- | --- | --- | --- | --- |
| Annual Limit | S$150,000 | S$300,000 | S$550,000 | S$1,025,000 |
| Cancer Treatment | S$5,200/session | As Charged | As Charged | As Charged |
| Kidney Dialysis | S$2,750/month | As Charged | As Charged | As Charged |
| Inpatient Psychiatric | S$17,500 | S$10,200 | S$91,643 | S$174,167 |
| Daily Ward Treatment | S$1,700/day | As Charged | As Charged | As Charged |
| Pre-Hospitalisation Benefits (Days) | N/A | 90 | 120 | 150 |
| Post-Hospitalisation Benefits (Days) | N/A | 90 | 180 | 273 |
You should get Integrated Shield Plans as early as possible because premiums tend to increase with age. For instance, buying an Integrated Shield Plan when you are still in your 20's with no pre-existing conditions will cost you S$218 per year for private hospital coverage. On the other hand, waiting until you are in your 40's to get private health coverage will cost you almost 3 times more per year. Furthermore, you may encounter more health conditions as you age, making your premiums potentially more expensive. Thus, to avoid coverage gaps for any pre-existing conditions, your best option is to purchase a hospital plan for the ward/hospital type you want as early as possible.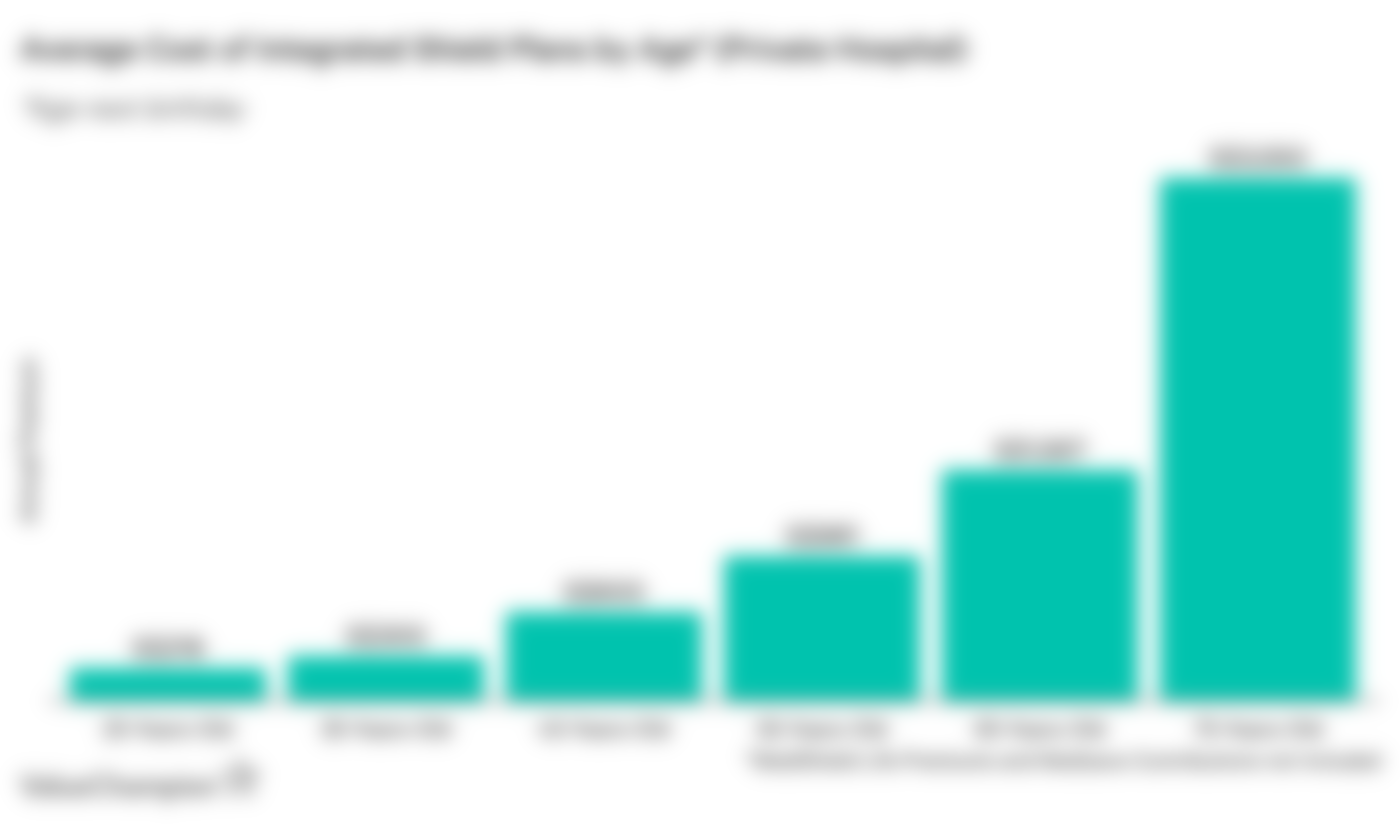 Life Insurance
Life insurance is another insurance policy all working adults should consider. While it may seem like life insurance is necessary only for older generations who have families, life insurance may benefit younger adults as well. Besides providing a lump sum payout for your dependents (or anyone else you named as a beneficiary) if you die, you will also receive a lump sum if you were diagnosed with a terminal illness or suffered a total and permanent disability. Life insurance can be a good way to ensure that you or your family will have enough funds to cover outstanding debts and bills if you are no longer able to work.
Life insurance takes many forms and different plans will benefit different people. For young working adults, a simple term life insurance policy, such as a Direct Purchase Insurance plan, may be the best fit. It is affordable compared to whole life, you have a choice of how long you want coverage for and you can always convert the policy to a more comprehensive whole life policy if you experience any life changes (i.e. you get married and have children). Furthermore, buying it when you are young will save you money in the long run. Since payments will be fixed unless you renew your policy, you will pay around 30% cheaper rates if you buy your policy in your 20's than if you bought the policy when you were in your 30's. The general rule of thumb for life insurance is to get a sum assured that is between 10-15x your salary. However, this is just a guideline and doesn't take into consideration your individual expenses. To get a better understanding of how much coverage you should get, you have to consider the following:
Living Expenses: How much does it cost to maintain your lifestyle per month? If you have dependents, how much will it cost to keep them financially secure? Multiply this number by 12 to get the annual coverage needed and then multiply that by the number of years you want them to be covered for.
Outstanding Debts: How many debts do you have? Are you single with just a student loan or are you a parent with education loans, car loans and a mortgage? You should add up all your outstanding debts to make sure they will be paid off if you were to lose your income or pass away.
Lump Sum Benefits: If you are looking to cover funeral expenses, donate something to your favourite charity or leave something as a gift to your beneficiary, you should add these amounts to your total sum assured.
Assets & other coverage: Keep in mind how much current assets you have and whether or not you have other insurance schemes that will provide additional income. You can use this figure to subtract from the debts, living expenses and lump sum benefits to get a tailored estimate of your coverage needs.
Critical Illness Insurance
Critical illnesses include strokes, heart attacks, and heart disease. These illnesses are growing in incidence in Singapore, both among the young and the old population. Once diagnosed with a critical illness, your health expenses will increase as these conditions take longer to treat and may require expensive surgeries. To protect against the financial ramifications of getting these diseases, you can consider getting critical illness insurance. Unlike health insurance—which covers your hospital stay, or life insurance—which covers death and terminal illness, critical illness insurance provides a lump sum payout if you're diagnosed with one of the 37 critical illnesses. The payout you receive from a critical illness policy can be used for whatever you want, meaning you can use it to keep pay for daily necessities while you recuperate or use it to pay off outstanding debts.
Recommended Critical Illness Coverage Based on Income Deciles (Annual Salary, Excluding CPF)

As with the other policies on this list, the reason why it is a good idea to get critical illness insurance when you just start working is to save money and to have the policy in-force before you get sick. First, getting the policy either as a standalone or an add-on to a life insurance policy when you're in your 20's will cost just S$52-S$80 per year. Waiting until you are in your 40's increases your premiums to S$145-S$186 per year. Furthermore, coronary artery disease and high blood cholesterol may be hereditary, meaning you will have a hard time preventing these diseases if your family has them. If cancer, heart disease, diabetes or other conditions are common in your family, your risk of inheriting these illnesses will be greater. To avoid getting denied coverage for conditions you may not be able to avoid, you should consider purchasing a plan as early as possible.
Avoid Coverage Gaps to Have a Secure Financial Future
The most important policies are the ones that will cover you for the most devastating yet unforeseen events. Since you can't predict when an accident will happen or an illness will occur, protecting yourself with the policies mentioned above will ensure you will at least be able to support yourself and your family financially. While these are the core policies we recommend everyone having as soon as they enter the workforce, there may be other policies that will also suit you. For instance, you may find endowment plans or personal accident plans as valuable additions to your insurance portfolio. At the same time, you may find certain insurance policies to be unnecessary for your needs and lifestyle. Due to this, we strongly recommend fully understanding what each insurance policy provides before committing to a plan, either by speaking to a financial advisor that you trust or by doing your own due diligence.