Travel Insurance
Planning a Road Trip to Malaysia? 5 Ways to Stay Within Your Budget
Thinking of going on a road trip? Read on to find out how to get the most out of your next journey.
Road trips can be a great alternative to traditional travel. You can stop whenever you wish, discover hidden gems and even save cash along the way by camping or staying in local towns. Furthermore, taking a road trip can be suitable for everyone from the lone traveller to a group of friends or even a family. However, as with any type of trip, it is easy to get carried away and end up spending way more than you anticipated. To reduce frivolous spending and unforeseen expenses, we explore 5 ways to make the most out of your next road trip.
Plan Your Route in Advance
Even though part of a road trip's appeal is coming across unexpected destinations, it is prudent to plan your route in advance. Planning ahead can help you not only ensure you'll know how to get to where you want to go, but it will also help you avoid overspending. Take into consideration accommodations. While it could be fun to play it by ear, you may end up paying more for accommodations if you have to find something last minute. For instance, travelling during Malaysia's peak season means lodging will be sold out in advance and you may end up having to settle for accommodations either outside of your budget or desired location. Furthermore, price comparisons won't be so easy when you're on the road and you may unwittingly pay more for accommodations that were on sale before your departure.
Advanced planning is also beneficial because you can consider when and where to stop for breaks. Breaks during long stretches of driving are especially important to consider because sleepy drivers can be at serious risk of accidents.
Save on Gas with a Petrol Card
Thanks to a plethora of saving opportunities when it comes to fuel, it is easy to save money on petrol expenses on a road trip. As an example, let's consider the fuel savings of someone looking to do a trip around the West Malaysian coastline. The entire drive from Singapore, up the west side and back down the east side of West Malaysia will span approximately 1,783 kilometres. Depending on whether you fill up in Malaysia alone or Singapore and Malaysia, you can expect to pay between S$74 and S$163 (respectively) in fuel if you are driving a typical sedan. With a petrol card, you could get up to a 25% discount on your petrol expenses. That can amount to up to S$30 off a full tank of gas if you fill up in Singapore.
Calculating Fuel Cost for Road Trip Around Malaysia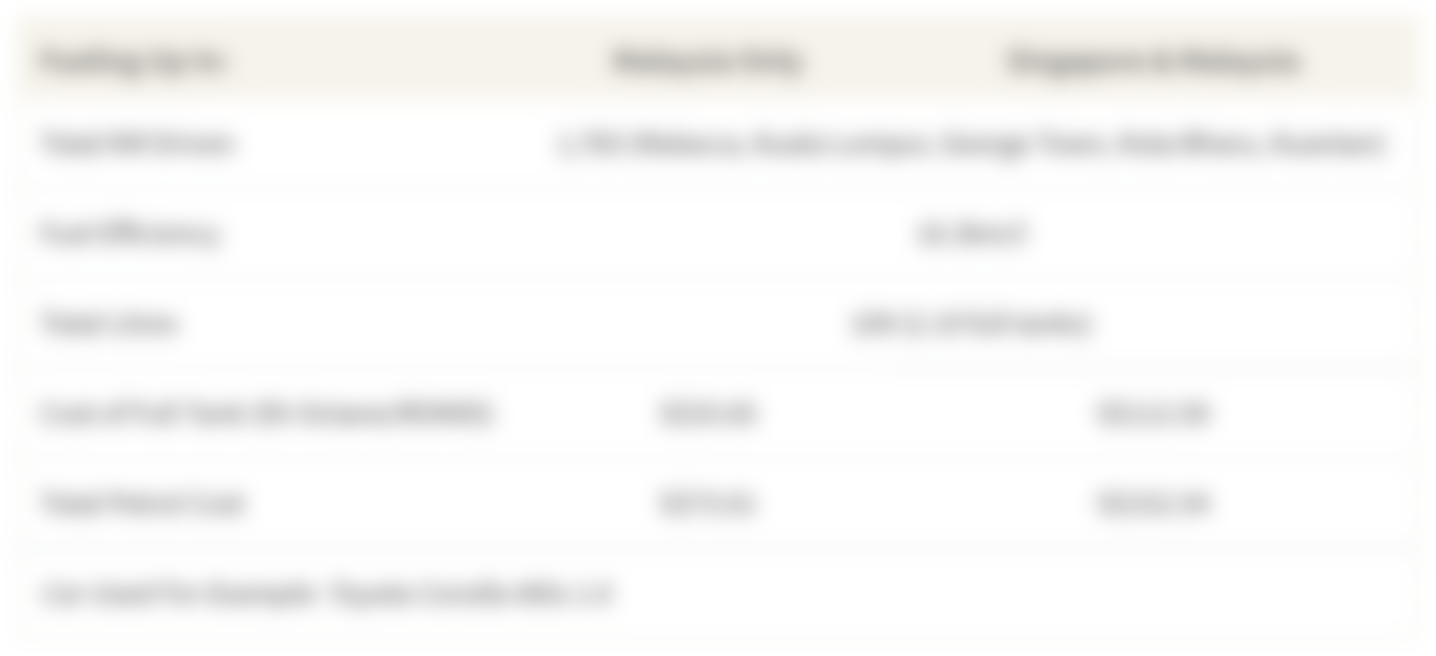 However, it is worth pointing out that these cards most likely won't provide a discount in petrol stations in Malaysia or Thailand. Even though this is the case, we still recommend crossing the causeway and filling up your first full tank in Malaysia. With the average Malaysian fuel prices in 2019 being RM2.05 (S$0.67) for RON95 petrol, you can save 45% by purchasing fuel exclusively in Malaysia for your trip. Even if you get the full petrol discount in Singapore, you will still save 27% by sticking to buying fuel abroad.
Pack Smartly
It could be tempting to pack your entire life into your car when getting ready for a road trip, especially if you are travelling with small kids. However, packing too much can lend itself to an assortment of problems. First, overpacking means you can start to lose track of your items along the way, leading to lost toys, books, or worse, expensive handheld electronics. Instead, you should consider packing only a couple of things that will keep your child occupied during long stretches of highway: an iPad full of their favourite shows or movies, a long book or whatever portable hobby they're into at the moment. Sticking to just what you need can also keep your car mess-free and make for a more enjoyable ride.
Second, you should avoid spending money on frivolous things on your drive. For instance, to reduce unnecessary detours to pharmacies, you should remember to pack the little things such as a first aid kit and pain or stomach medication. Furthermore, instead of buying a bunch of snacks before you depart, you can make some cheap snacks at home, such as granola or veggie chips with vegetables already in your fridge.
Make Sure Your Car Will Handle the Trip
The last thing you want on your road trip is for your car to break down. Before going on a multi-day road trip, we recommend you get your car serviced and replace any faulty parts. Drivers who take conduct routine maintenance on their vehicle most likely won't need to do this, but if your tune up is due soon, then it's better to get it checked out before you depart. Furthermore, you should check your car's smaller components, such as its brake pads and air filters. While seemingly insignificant, these car parts can lead to issues like engine problems and decreased fuel efficiency.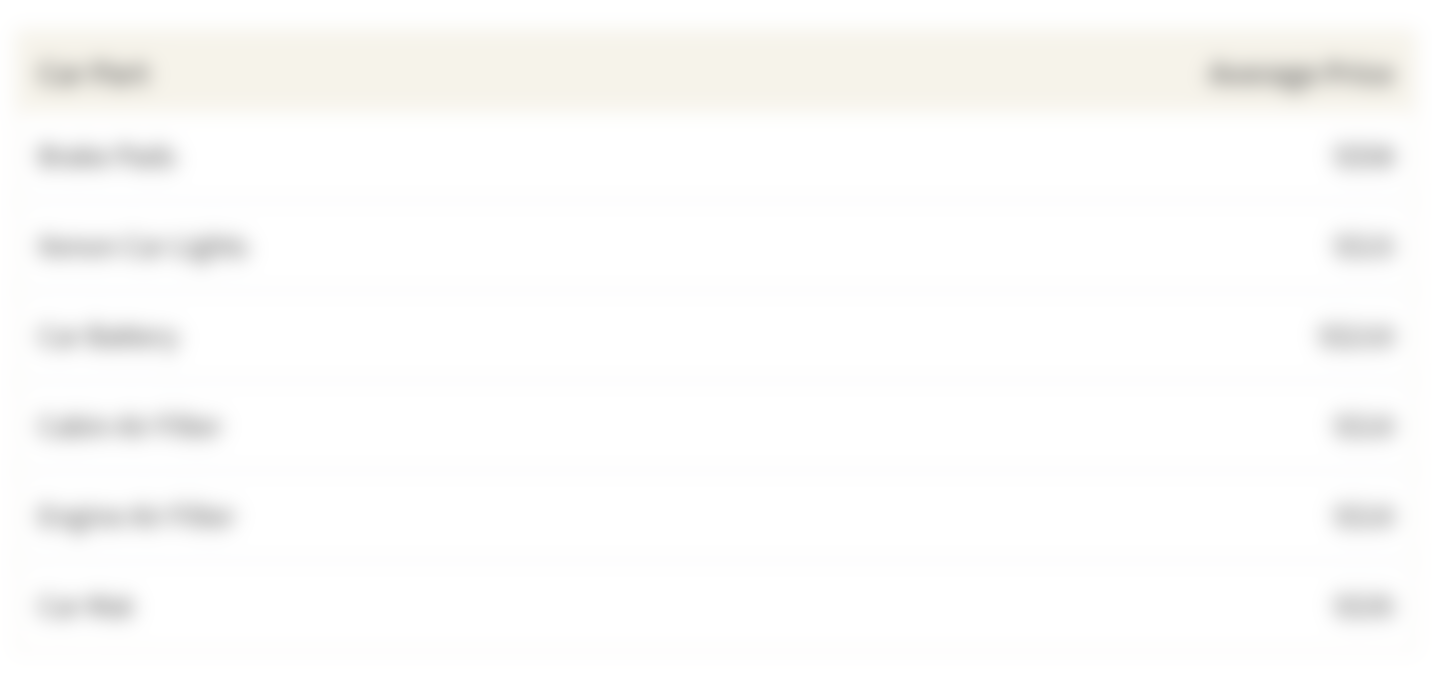 Know Where and How You're Protected
Accidents are unavoidable, so it helps to know you have some type of financial protection against them when you're out on the road. Your comprehensive car insurance will protect you if you are driving your own car throughout West Malaysia and 80km into Thailand (the part that borders Malaysia). However, beyond that your car insurance will be void. If you are going to be renting a car for your road trip, you should make sure your rental agency's car insurance will provide coverage for all the destinations you'll be visiting.
You can also consider a travel insurance policy that covers your rental car's excess so you won't have to pay out of pocket if you get into an accident. As a matter of fact, a travel insurance policy may be a good option to consider even if you aren't renting a car. Even a basic travel insurance plan will cover medical emergencies, lost or stolen baggage and emergency medical repatriation. Costs for a travel insurance policy for a family is also quite affordable given the coverage it provides. For instance, a one-week ASEAN trip for a family of 3 can cost as low as S$30 but can offer thousands of dollars of medical expenses and a few thousand dollars of trip inconvenience coverage.
Road Trips Can Be an Unforgettable Adventure if Planned Well
It's easy to get on a plane and go to a familiar destination and follow a typical itinerary. While there's nothing wrong with comfortable holidays, it can be exciting to go on an adventure where there's more of the unfamiliar than familiar. However, road trips present their own set of challenges, ranging from following local driving customs to keeping track of your itinerary. If planned poorly, you may end up lost and not making it to your destination. On the other hand, with proper planning, you can see a country you've been to plenty of times before in a new light. We'd love to know, if you could take a road trip, where would you like to go? And if you're an experienced road tripper, what are your tips to keeping your travels within your budget?