Personal Finance
Safe Ways To Stay Social During The COVID-19 Crisis
While confining yourself to home is necessary to stem the spread of COVID-19, it can lead to feelings of isolation and loneliness. If you're starting to experience adverse mental health effects from practising physical distancing, try these suggestions for connecting with others during the outbreak.
To rein in the escalating COVID-19 transmissions, the Singapore government has introduced a slew of "Circuit Breaker" measures meant to keep Singaporeans at home. Those who flout the rules by gathering socially, for example, will be fined S$300 on the first offence. As necessary as these strict measures are to contain the spread, they can lead to feelings of intense loneliness and isolation–humans are social creatures, after all. However, just because you can't physically be with others doesn't mean that you can't be together emotionally or mentally. Here are three (safe) ways you can put the social in social distancing.
Join a Live Workout Session
Working out from home alone on a day-to-day basis isn't fun, but you can make it better by joining in a live-streamed workout session hosted by local gyms and studios. Not only does this enable you to interact with instructors and fellow fitness enthusiasts, but it also supports local businesses struggling to stay afloat during these challenging times. This is especially so when you sign up for paid classes. Regardless, if you're not currently able to spend money on at-home workouts, there are many free alternatives available. One such example is that of live daily yoga and cardio sessions from Pure Yoga. One of the advantages of these live-streamed workout sessions is that they're held at convenient times (i.e. mornings, lunch-times, and after-work hours).
To make the entire experience more social, you can also consider working out together with friends virtually through various video conferencing platforms, including Zoom, FaceTime, and Skype. Also, if you're not too keen on joining live sessions, there are lots of free resources available on YouTube.
Use Technology To Bond With Your Social Circle
As mentioned earlier, there are many options available when it comes to video conferencing platforms, so why not make use of them to host dinner parties, play games, or even enjoy happy hours at the end of a challenging work week? Houseparty, for example, was built with fun in mind. It allows users to speak to up to eight friends at a time and also boasts built-in games and quizzes.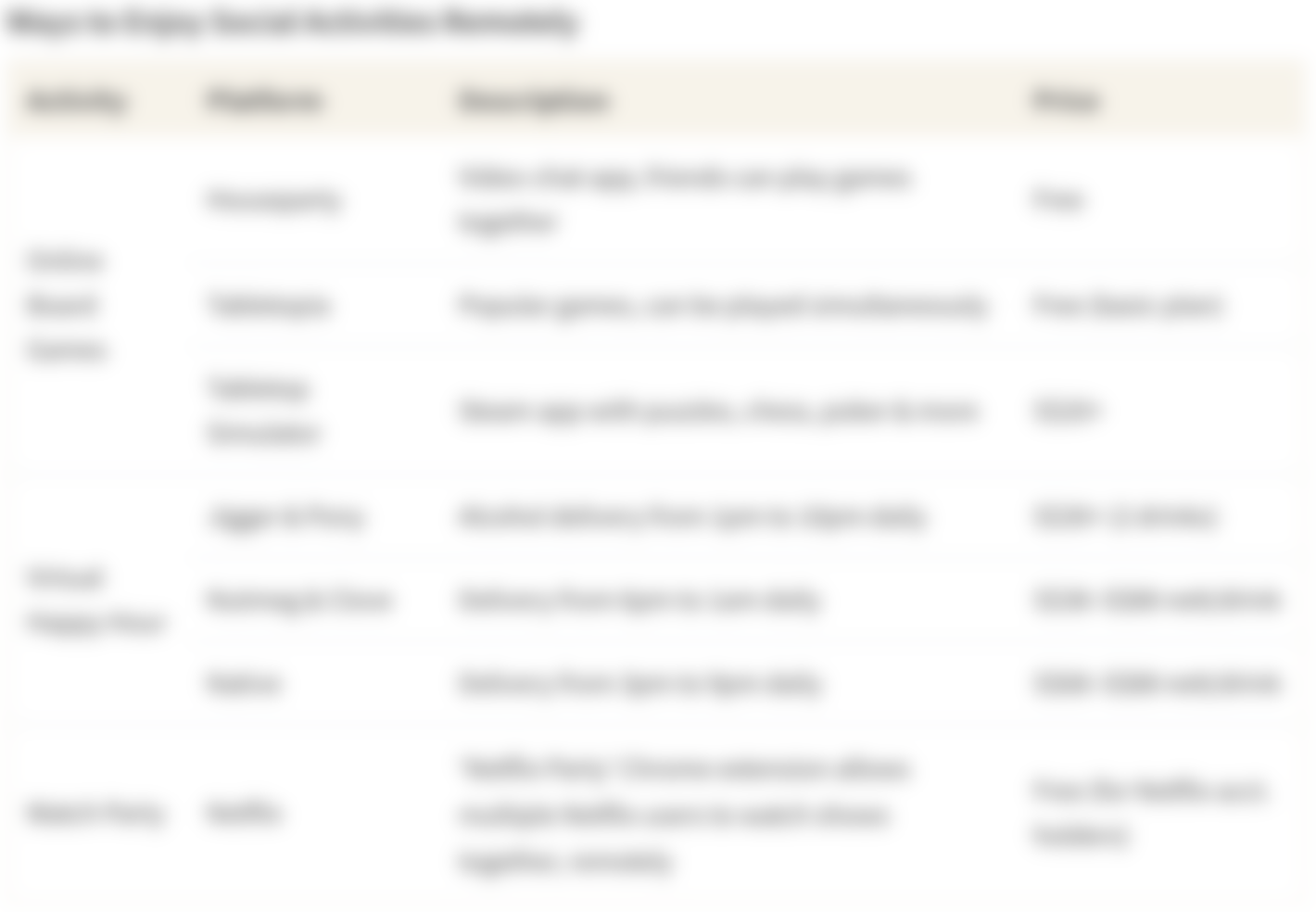 If you're missing movie nights and in-person watch parties with your friends, consider downloading a free extension for the Google Chrome Browser called Netflix Party. This extension allows you to start, stop, and pause a Netflix movie or show so you can watch it at the same time as a group of friends and family–remotely. There's even a side chat bar where you can discuss what's going on in the film. It will (almost) feel like you were sitting together on the sofa.
Connect With The People In Your Own Home
This suggestion may be a bit obvious, but given that you'll be fined for socialising with people from outside your household, the only face-to-face socialising you can do is with people you live with. Be sure to make use of this time to do some of the things you wouldn't have had the time for in your usual busy schedule. Perhaps it's time to dust off those stashed-away board games or cook a meal together. You might even go out for a brisk walk around the neighbourhood–just remember to wear a mask and practice physical distancing from others.
Remember, This Is Temporary
Social distancing is tough, yes, but it's also necessary to "flatten the curve." The faster we slow the spread, the sooner we can get back to a sense of normalcy again. Instead of seeing physical distancing as a bad thing, perhaps see it as an opportunity to do things you enjoy but couldn't squeeze into your day previously. Remember, this is temporary. Better days are ahead of us.