Credit Cards
Surprisingly Cheap Foods That Can Boost Your Health
Eating healthy doesn't mean you have to break your bank. Here's a list of surprisingly affordable foods to add to your shopping cart to boost your health.
You've probably heard it before: eating healthy can boost your immune system and prevent disease. However, when it's time to go grocery shopping, it's often cheaper and more convenient to get foods high in calories and low in nutrition. While prioritising cheap snacks may be financially prudent in the short-term, high-calorie, easy-to-eat diets may lead to expensive health problems in the long-term. Luckily, healthy foods aren't always expensive, even ones that have been proven to improve your health. To help you find out the cheapest foods that will boost your immune system, we've listed great, affordable sources of vitamins, minerals, prebiotics, and probiotics.
For Affordable Vitamin Sources, Consider Buying Berries
Studies have shown that the absence of vitamins could leave you prone to diseases such as heart disease, type 2 diabetes, cancer, and osteoporosis. But how are you meant to take in the nearly 30 essential micronutrients needed to maintain your body? One way to boost your vitamin intake while enjoying what you eat is to load up on fresh, affordable berries. Berries are fruits with several seeds that come from a flower with one ovary. For example, a guava is a berry that will account for 140% of your daily recommended intake (DV) of vitamin C, all while costing an average of S$0.74 per fruit. Compared to oranges, which only give you 78% of your recommended daily intake of vitamin C and cost on average S$1.01 per orange, guavas are great value for your money.
Average Cost of Berries by Vitamin in Singapore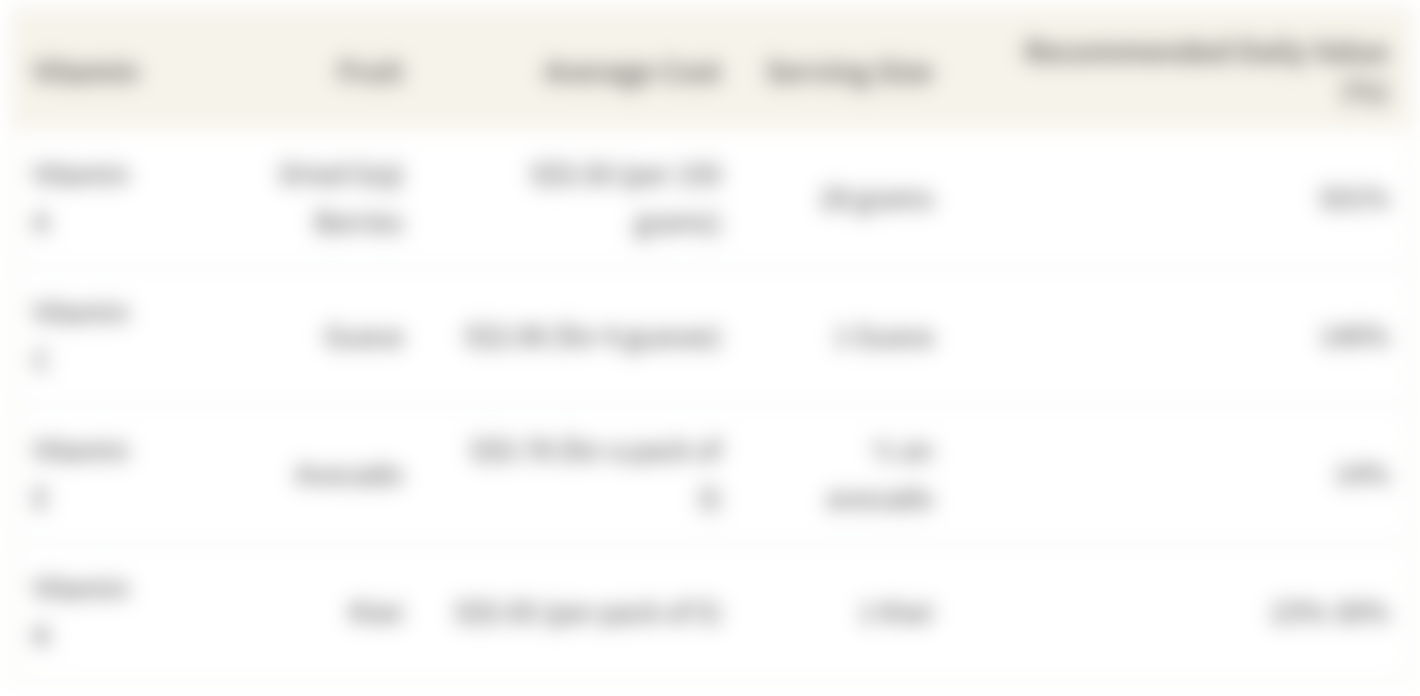 Besides increasing your intake of immune-boosting vitamin C, you should also look for berries high in vitamin A, E, and K, as these could lower your risk of certain diseases. For instance, eating a kiwi a day to up your intake of vitamin K could prevent blood clotting and help you build strong strong bones for a marginal cost of S$5.95 a pack. By eating berries, moreover, you will also gain other benefits. For example, berries like goji berries are also high in antioxidants, may lower your blood sugar, and contain digestive-helpful fiber.
Up Your Mineral Intake With Affordable Dried Fruit and Dark, Leafy Greens
Minerals, both macro and trace, are vital for maintaining your bones, muscles, heart, and brain. While macrominerals primarily consist of calcium, phosphorus, magnesium sodium, potassium, chloride and sulfur, trace minerals include iron, manganese copper, iodine, zinc, cobalt, fluoride, and selenium. If you have a mineral deficiency, this may lead to iron-deficient anemia, muscle cramping, irregular bowel movements, and more. A good way of preventing such a deficiency is to add dried fruit and vegetables to your diet.
Average Cost Comparison of Mineral Supplements vs Mineral-Rich Foods in Singapore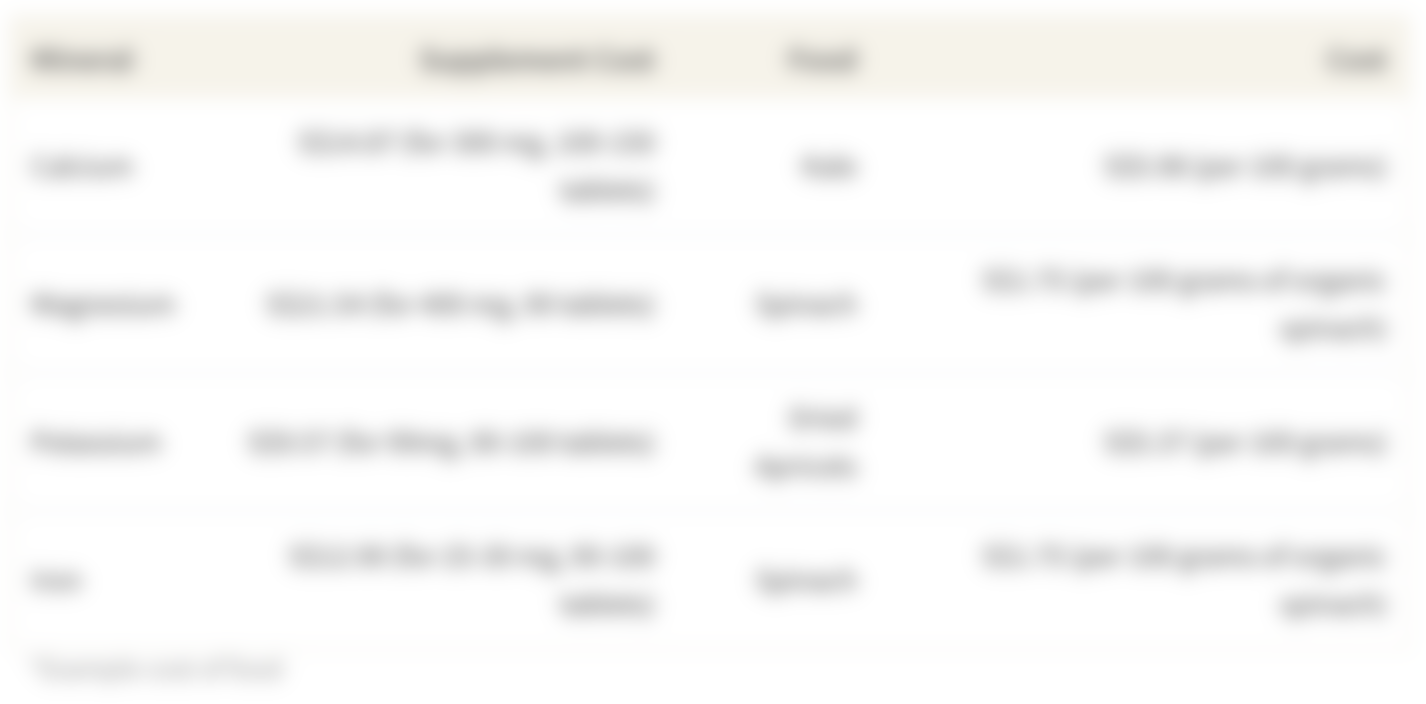 Depending on your circumstances, certain foods might be better for you than others. For example, if you're lactose intolerant or vegan, you can opt for dark greens like collard greens, broccoli rabe, kale, and bok choy instead of eating cheese and drinking milk. Vegetables are also affordable, as 100 grams of organic spinach is only S$1.75. In any case, by eating unprocessed foods and incorporating at least 40 grams of dried fruit and 2 cups of veggies into your diet every day, you'll be able to easily hit your mineral DV and reduce the risk of getting certain illnesses.
Prebiotics and Probiotics: Accessible and Affordable Ways To Boost Your Health
Prebiotics and probiotics work together to boost your metabolism, produce short-chain fatty acids, arginine, and glutamine, and synthesize vitamin K and folic acid. If you're deficient in these microorganisms, you may be at a higher risk of developing cardiovascular disease, stomach discomfort, and chronic infections. To prevent such a deficiency, you should consider eating fermented foods, along with apples, bananas, asparagus, and whole grains.
Average Cost of Prebiotic and Probiotics in Singapore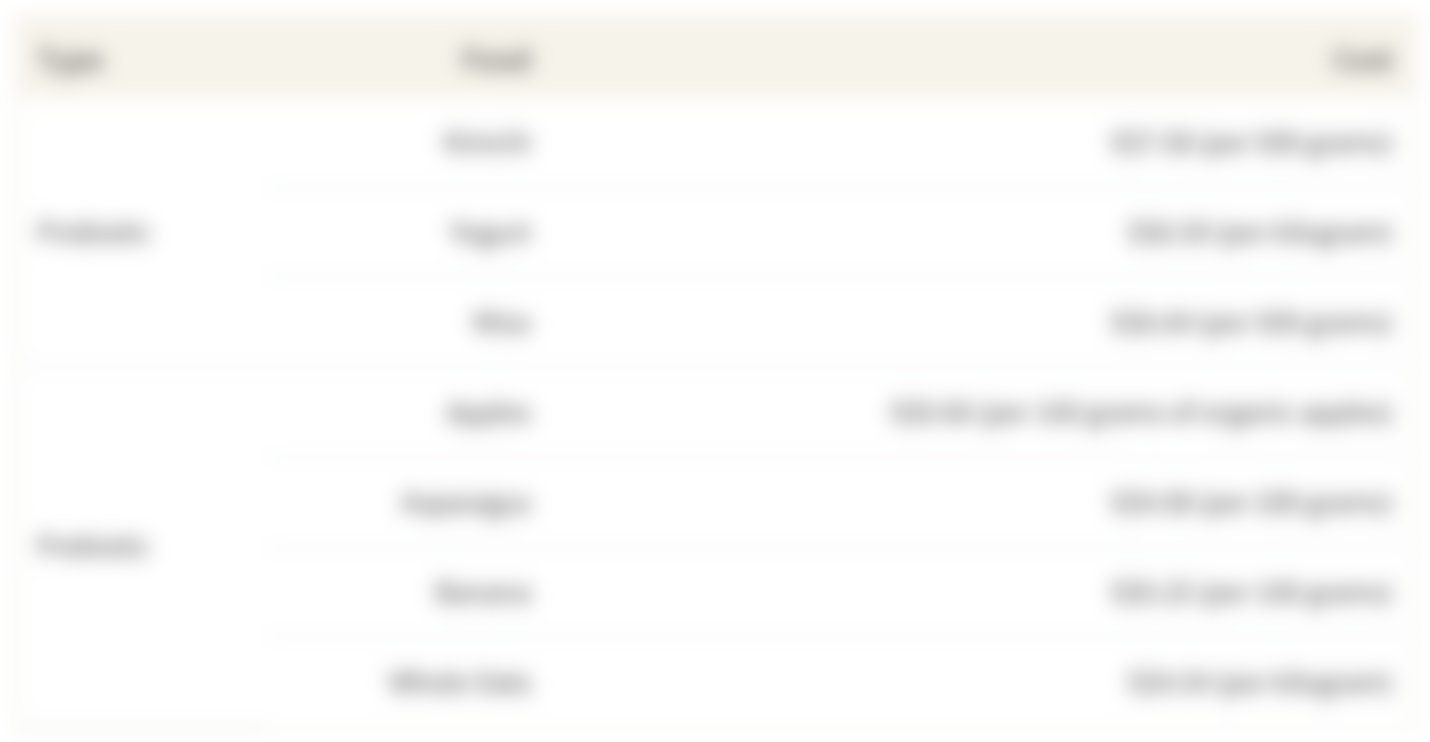 Buying foods rich in prebiotics and probiotics is easy and affordable in Singapore. For example, most grocery stores carry miso paste and kimchi for an average cost of S$6.64 and S$7.58 per 500 grams, respectively. Moreover, these fermented foods can boost your health in other ways. For example, 1-cup of kimchi also contains 55% of your daily intake of vitamin K, 22% of vitamin C, 19% of vitamin B6, 20% folate, 21% iron, and more.
How to Save Money on Nutritious Groceries
Having foods that contain a variety of nutrients is helpful for your health in the long-run. Studies have shown that poor diet can lead to cancer and other diseases like heart problems, diabetes and strokes. On the other hand, eating a diet rich in vitamins, minerals, prebiotics, and probiotics may help prevent any further issues or discomfort.
To save money on your grocery bill, you should compare prices across different grocery store vendors, consider buying fruits and vegetables in bulk from wholesalers, and use a cashback credit card with a high rebate on groceries to earn money back on your shopping. This way, you will be shopping smart for both your wallet and your immune system.