Car Insurance
Top 3 Mistakes To Avoid When Purchasing a Second-Hand Car
With horror stories about shady sales practices and problematic cars plaguing the used-car industry in Singapore, how do you know if you're getting the best value-for-money on a second-hand car? Below, find the mistakes you need to avoid when purchasing a used car.
The average cost of a compact car was about S$100,000 in 2019—that's ridiculously expensive. Regardless, there's no denying the convenience of owning a vehicle, especially if you have young children or elderly parents to ferry around. Enter, second-hand cars, which cost a fraction compared to a brand-new vehicle. Despite the cost savings associated with used cars, it's no secret that the used car industry (dealerships, especially) has gained somewhat of a notorious reputation for being a financial minefield. So how do you ensure that you're getting the most bang for your buck on a second-hand car? We discuss 3 mistakes you should avoid if you are in the market for a used car.
Mistake 1: Not Comparing All the Car Loans Available
Despite the lower price point, forking out roughly S$30,000 upfront for a used, compact car is still extremely difficult for an average Singaporean consumer. This is where vehicle financing comes into the picture. When taking out a car loan, you have two options: work with a bank or sign a loan through the auto dealer. Whenever possible, you should avoid getting your financing from a dealership; there are a few who charge higher interest rates than banks as a means to generate additional revenue!

Ultimately, do your due diligence and compare all the different car loans available. Tiny as the differences in interest rates may seem, the interest paid over the life of the loan can compound to significant sums. For instance, getting a 6-year, used car loan of S$93,888 with an interest rate of 1.99% p.a—compared to 2.98% p.a.—can help you save S$5,577 throughout your loan.
Mistake 2: Failing To Consider if the Car Is Eligible for a PARF or COE Rebate
Don't just purchase the lowest-priced second-hand car. When you're choosing between cars, consider which rebate – PARF or COE – the vehicle is eligible for when you de-register it. These two rebates are sums of money the Land Transport Authority gives you for taking your car off the road. In other words, you can think of them as a way to offset your initial cost outlay.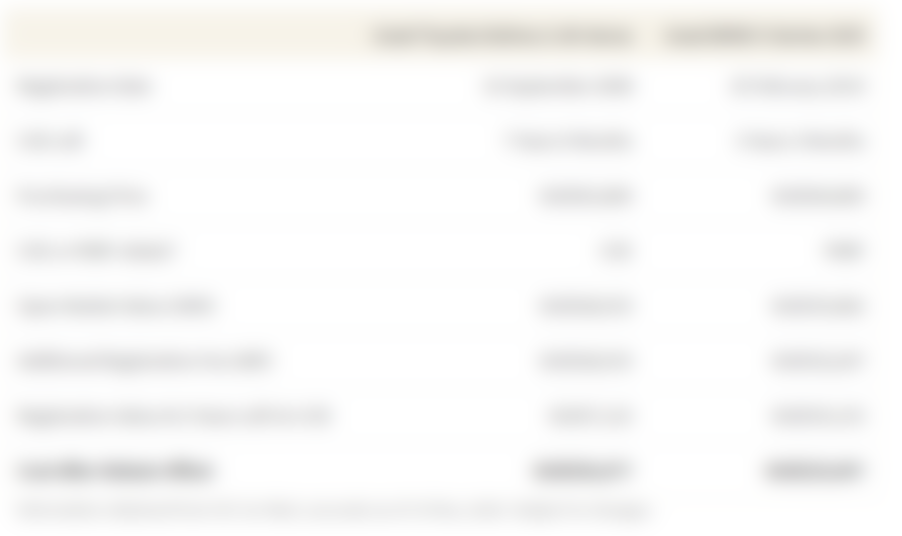 If you choose a vehicle that's less than ten years old, you'll be entitled to the PARF rebate, which is a percentage of the Open Market Value. If you choose a car that's past the 10-year mark, however, you'll only get the unused portion of your COE back. That means after accounting for the respective rebates, a used 12-year-old car (e.g. the Toyota estima 2.4 Aeras) may not necessarily wind up cheaper than an 6-year-old car (e.g. the BMW 3 Series 320i).
Mistake 3: Believing That the Car Is 'as Good as New', as per Advertised
In 2016, around 1,477 buyers in Singapore made formal complaints about being sold defective, used cars. Many used vehicles appear fine at first glance but look closer, and you may find that they're not exactly 'as good as new' – as per advertised. To protect yourself, you should check all the parts of the car carefully. More importantly, go for a test drive in the vehicle before you purchase it; this will give you crucial information on how the car handles (i.e. the condition of its suspension, steering, and gearbox). If possible, you should hire a reputable mechanic to inspect the car, so you can be 100% sure of its condition, age, and mileage before you buy it. This will help you save on long-term repair and maintenance costs.
Buying a Second-Hand Car Is Still a Smart Financial Choice
If you do your due diligence and avoid all the mistakes listed above, you'll find that opting for a used car is still a smart financial choice. Of course, don't forget to get your own car insurance (you cannot buy over the seller's insurance). Under the Motor Vehicles (Third-Party Risks & Compensation) Act, you can be fined up to $1,000, jailed up to 3 months, or both if you drive a vehicle on a public road in Singapore without car insurance!