Credit Cards
Ways To Save On Your Kid's Next Birthday
A memorable birthday celebration doesn't need to put a dent in your wallet. Throw a fun, yet affordable bash with these clever cost-cutting ideas.
Raising a child in Singapore is an expensive affair. Assuming that you're responsible for the first 21 years of your child's life, you can expect to spend up to S$20, 747 annually. And in light of this year's expected global economic downturn, due to the coronavirus outbreak, it's understandable why splurging on your child's birthday party is the last thing on your mind. Nonetheless, that doesn't change the fact that your child only turns one, or two, or nine once. Thankfully, you can still throw a fun, enjoyable celebration without spending a fortune–here's how.
Opt For Affordable Birthday Packages
While some birthday party packages are as extravagant as wedding dinners, most kids can't tell the difference between a flashy party and an economical one; all they care about is having fun with their friends. As such, you may want to consider affordable options, like the ones at McDonald's, priced from S$12 a child, and KFC, priced from S$12.50 a child. This price-point is low enough even to rival hosting the birthday party yourself.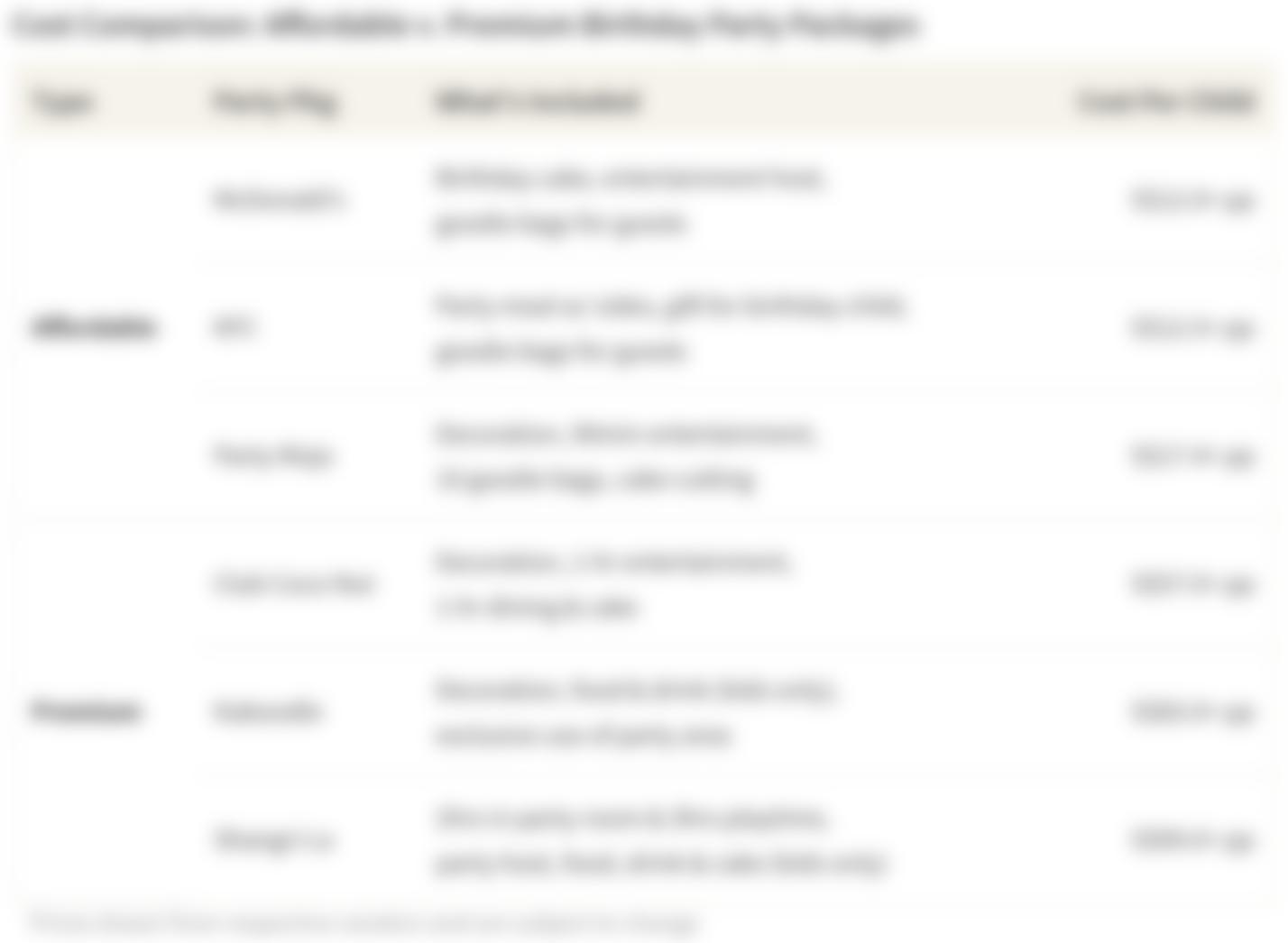 The cost difference between an affordable and premium party package is too significant to ignore. If you opt for McDonald's instead of Shangri La, for example, you'll be saving S$87 per child. This adds up dramatically as the number of attendees in your party increases. Even better, there'll be activities and food to keep the children entertained, so you don't need to do anything else other than pay and show up. Also, a bonus tip: keep a lookout for special birthday package deals on coupon sites, like Fave.
Skip The Paper Invites
The cost of mailing out invites scales proportionately to the number of attendees you're planning to have. In addition to the cost of the invitations themselves, there's also the cost of postage. Assuming that you'll have 20 other kids at the birthday party, you'll need to fork out S$22! To cut costs, skip the paper invites entirely. Thanks to sites like Evite and Paperless Post you can create your own free electronic invites and save yourself the hassle of addressing envelopes. Not to mention, choosing this option allows you to track your guest list in real-time, which makes it easy to send reminders to those who have yet to RSVP. This definitely beats having to pick up the phone to ask.

Nonetheless, if you're set on paper invitations, consider creating your own printable invites for free. You can also consider handing out your invitations personally to save on postage fees. Once again, assuming that you'd have 20 other kids at your party, you'd save S$6 just by doing this.
Order In With A Delivery App Instead Of Catering
If, on the off-chance, you're hosting your child's birthday party, order delivery through a delivery app, like Grab or Deliveroo (especially if you're not expecting a big crowd). Catering can quickly become expensive because of the set-up cost and the two-way delivery. Besides, ordering individual dishes from an app gives you flexibility and variety; you're no longer limited to what the caterer has to offer, or by the minimum order that you have to hit.
Just be sure to place your order with a credit card that'll help you get more from the money spent. Several credit cards, like Citi Rewards Card and POSB Everyday Card, offer special rebates and discounts on online food delivery.
Having A Birthday Party Is Not About Showing Off
Ultimately, remember the purpose of throwing a birthday party for your child–bringing families, friends, and loved ones together. Measure your party not by 'wow' factor, but by the loudness of laughter heard during the event.
Nonetheless, if you're spending more on your child's birthday party, do consider signing up for new rewards credit cards to make use of their sign-up bonus.