Credit Cards
When Are Cashback Credit Cards Better for Travel than Miles Cards?
Many people associate travel with miles-earning credit cards. However, those who don't mind earning rebates instead of miles may be able to maximise their rewards with several cashback alternatives.
As your next vacation approaches, you might be considering the best way to earn rewards from your spend overseas. While many people associate travel with miles-earning credit cards, there are actually quite a few cashback options worth looking into. In fact, depending on your travel style and preferences, you may ultimately be able to earn more rewards with a rebate card.
First, however, it's worth putting cashback earnings and miles rewards into a standardised context. Based on redemption rates, the average value of 1 mile reward is about 1 cent. Each 1% of cashback rewarded is also equal to 1 cent. Therefore, 1 mile earned is equivalent to about about 1% cashback. This is the framework we'll use for comparison.
Young Adventurers Seeking Global Entertainment
According to recent research, 87% of Singaporean millennials claim food is the biggest driver in determining their travel destination, and 27% use apps like Grab often (or very often) to get around during their trip. In this case, a rebate card like UOB YOLO might be ideal for young Singaporeans. Cardholders earn up to 8% cashback on dining, Grab, and entertainment on weekends, both locally and overseas–equivalent to about 8 miles per S$1 spend. This rate is unheard of with even the best miles credit cards.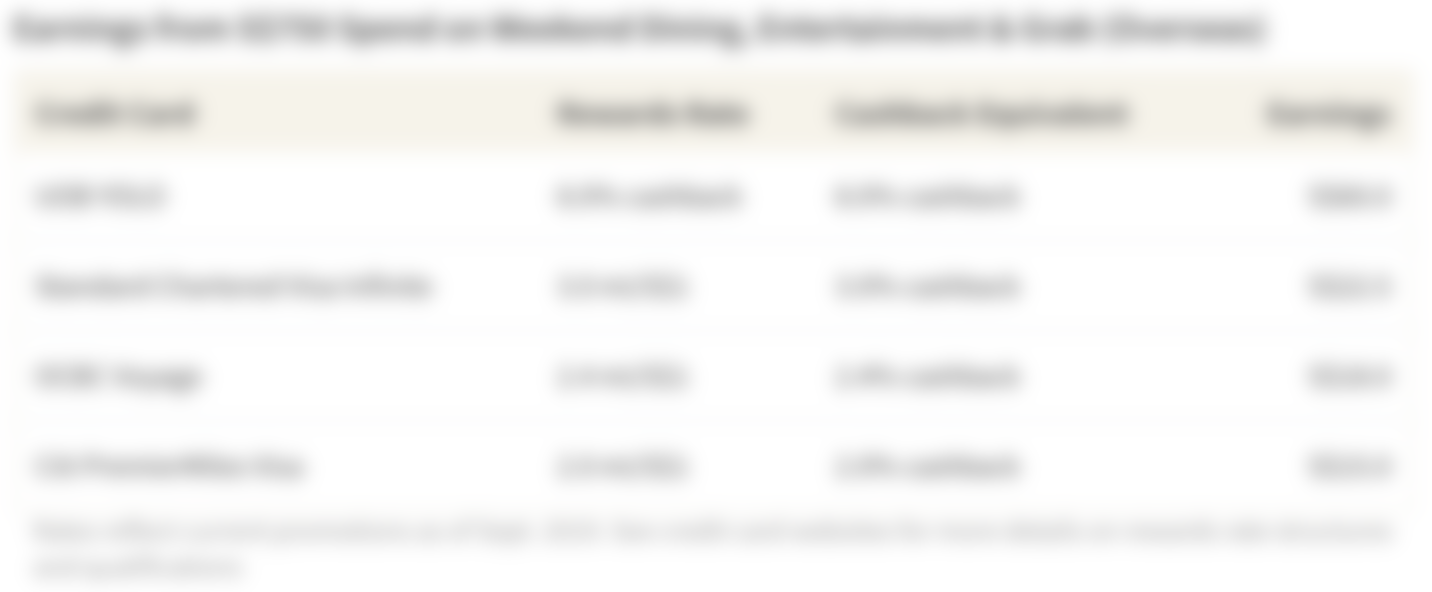 Like many other cashback credit cards, UOB YOLO's monthly earnings are capped (at just S$60, in this case), while earnings with miles credit cards are often unlimited. Nonetheless, the lower rates of travel cards translate to fewer rewards for the same amount of spend. Overall, young adults sticking to a budget are less likely to feel limited by earnings caps, and may actually earn more with a rebate card.
High Spenders Who Prefer High Rates to Airport Perks
Many high spenders gravitate towards luxury travel cards, perhaps because most come with perks like unlimited lounge access, free limo transfers and golfing privileges. Nonetheless, wealthy individuals who care more about maximising return-on-spend may prefer an unlimited cashback card with top rates and no earnings caps. American Express True Cashback Card, for example, offers rebates that eclipse those offered by miles cards without imposing limitations on earnings.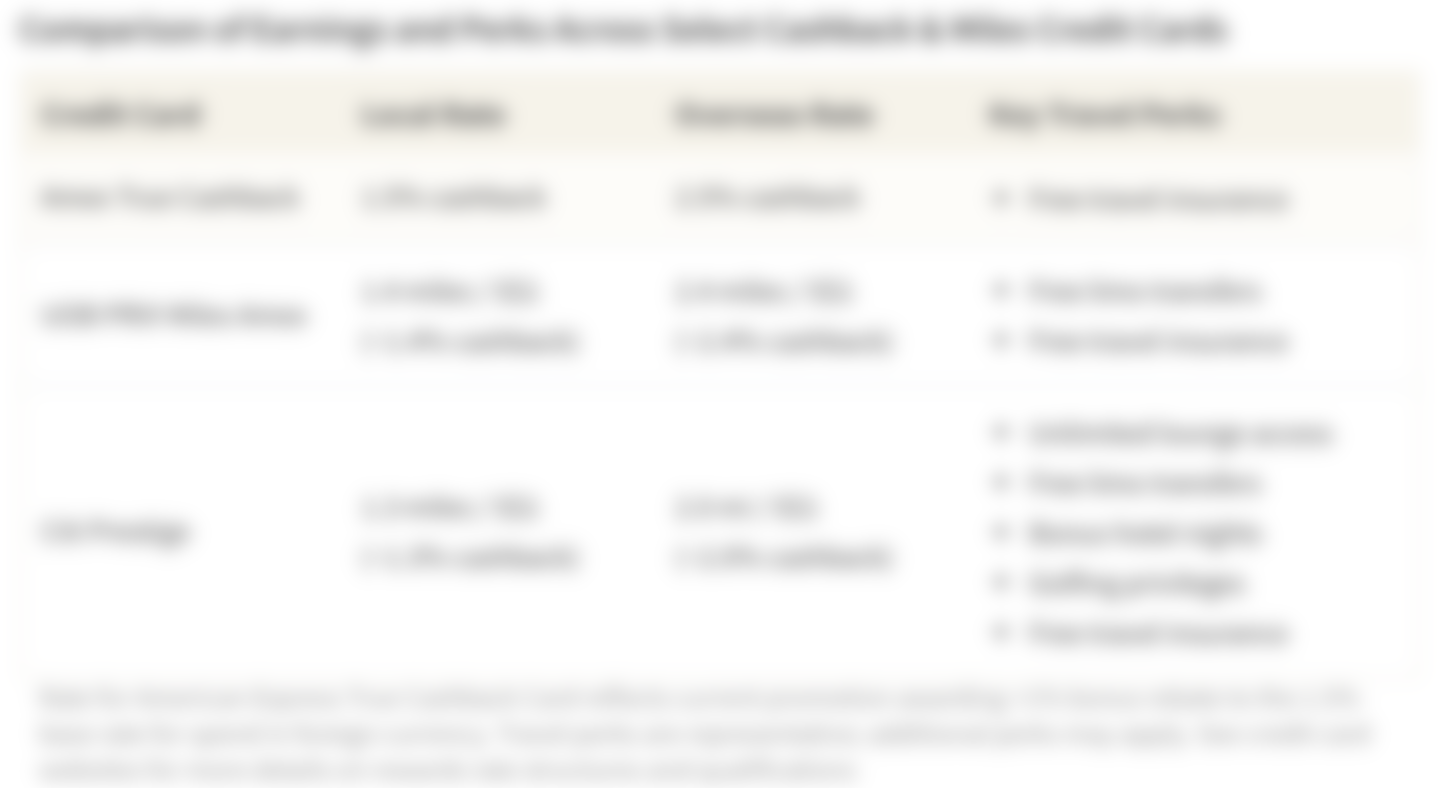 Amex True Cashback doesn't offer many travel perks. This is the case with similar unlimited cashback cards as well, demonstrating a bit of a trade-off. As a result, wealthy consumers might want to consider pairing an unlimited cashback card with high rates (like Amex True Cashback) with a luxury travel card–as long as they can afford the combined annual fees.
Regional Travellers With a Limited Budget
Based on flight data collected by Expedia, Kuala Lumpur is one of the most popular travel destinations for Singaporeans. Given the proximity, it's not entirely surprising that many people can make such a trip, even with limited budgets. Lower spenders who prefer to travel regionally may have trouble affording a miles credit card, however. Luxury cards charge annual fees of S$450+, and even less expensive cards charge S$190+ and may have difficult-to-achieve waivers. In this case, a cashback card with high regional rates, a low minimum spend requirement, and a waivable annual fee might be a better fit.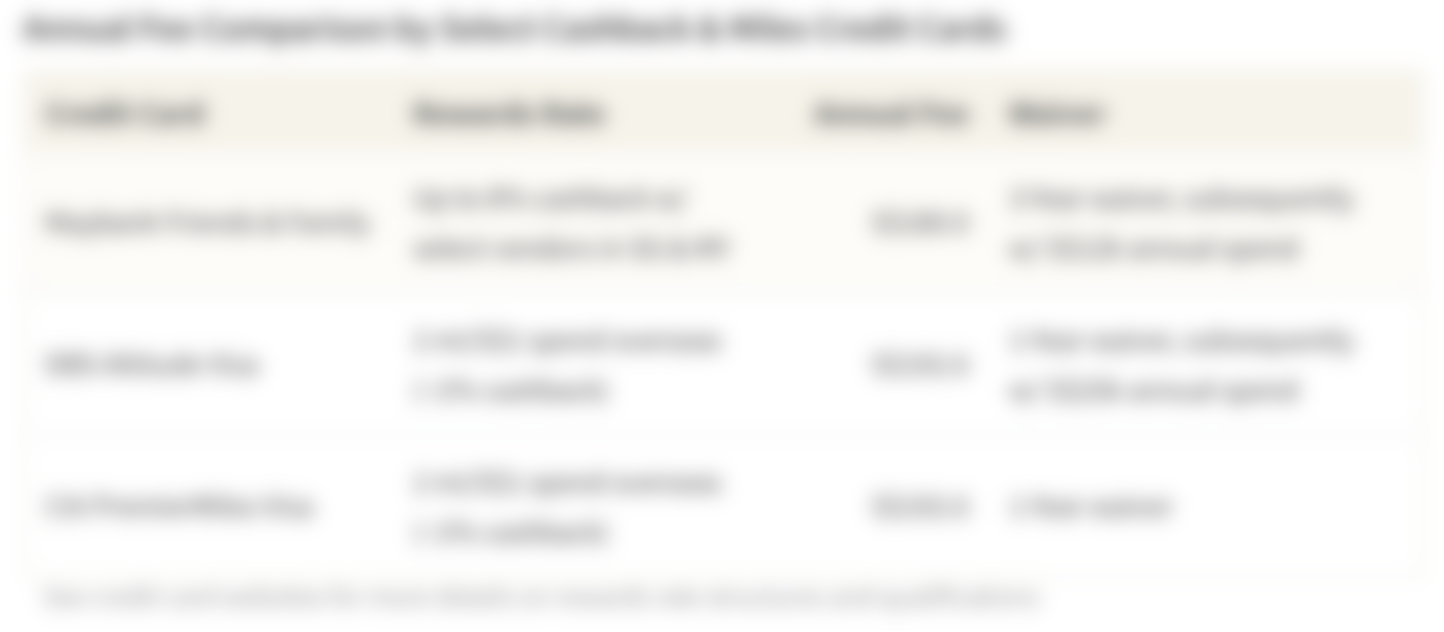 Maybank Family & Friends MasterCard offers one such example. With as little as S$500 spend, cardholders can earn 5% cashback with popular vendors in both Singapore and Malaysia (or 8% rebate with S$800 spend). In addition to offering a reasonable fee-waiver, travellers enjoy free travel insurance and a free gift of American Tourister luggage with card approval. Several other cashback cards offer relatively high overseas rates and no annual fees, making it somewhat easy for lower spenders to find the right rebate option when they travel.
Identify Which Rewards Type Best Fits Your Travel Style
Both cashback and miles-earning credit cards can be very rewarding for travellers. The option that better maximises return-on-spend, however, depends largely on travel style and preference. Individuals who travel frequently may prioritise a card that offers luxury perks. In this case, a miles card might be a better match (though there's often a pricey annual fee). People with lower or moderate budgets who don't mind forgoing such benefits may be able to earn at higher rates with a cashback credit card.
All things considered, many Singaporeans own several credit cards simultaneously. If you can afford fees for both, keeping both a travel and rebate card may ultimately be the best way to maximise your earnings.