Investing
3 Ways the Latest US Stimulus Package Could Affect Asian Economies
The latest US stimulus package is expected to supercharge the American economy. Read about the predicted impacts on markets and tourism in Asia.
The US$1.9 trillion dollar American Rescue Plan is expected to provide a massive boost to an already fast recovering American economy. Unlike the financial crisis of 2008-2009 when the US limped out of a recession and China powered the global economic recovery, the American economy will likely be an engine of global growth. Our analysts expect the stimulus to speed up the American recovery with some potential risks to emerging markets, but also provide US consumers with ample funds to invest overseas and return to pre-pandemic behaviours like international travel.
Key Predictions:
The stimulus & US economic growth will drive the global recovery but poses risks to emerging markets
Cash-rich retail investors will boost US and Asian stock markets
Consumer spending and rapid vaccinations will resume some travel to Asia
The US Stimulus Will Drive Global Growth, Potentially Pose Risks to Emerging Markets
Even before President Joe Biden and House Democrats signed the American Rescue Plan into law, the American economy was recovering and unemployment was declining. With the passage of a massive new US$1.9 trillion stimulus, many economists are increasing their growth expectations. The Organisation for Economic Co-operation and Development (OECD) doubled its growth forecast for the US economy in 2021 from 3.2% to 6.5%, putting predicted American GDP growth on par with China.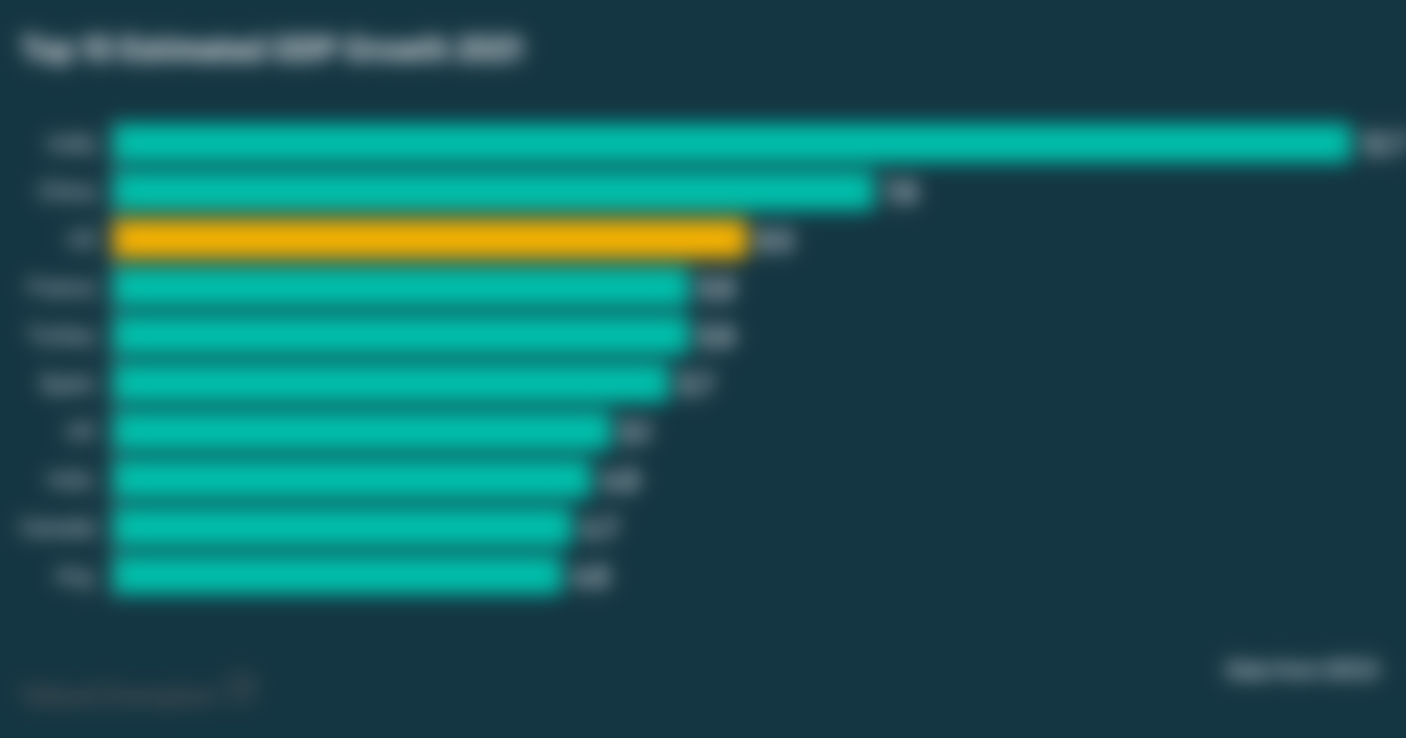 Data from OECD Economic Outlook, Interim Report "Strengthening the recovery: The need for speed", March 2021

Strong US economic growth is expected to have spillover effects for its largest trading partners in Asia, including China, Japan, and South Korea. Market watchers in Singapore predict that the US stimulus could boost local exports and lift cyclical stocks. Korean exports rose 9.5% on-year in February due to robust demand for chips and automobiles. Strong US consumer spending driven by another round of stimulus checks will likely continue to benefit export-reliant Asian economies.
However, the massive size of the stimulus may cause disruptions to some markets, especially those of emerging economies. Rising investor confidence is raising US and global borrowing costs and strengthening the US dollar, which could cause trouble for heavily indebted developing economics and weaken currencies such as the Indian rupee and Indonesian rupiah.
American Investors Flush with Cash Will Fuel US Stock Boom, Impact Asia
After the global stock market crash early on in the Covid-19 pandemic, US stocks have rebounded at a rapid pace. The S&P 500 rose 17% in 2020 and the Nasdaq saw an incredible 44% climb. China's Shenzhen component grew 38.73%, Japan's Nikkei 225 grew 16.01%, and US and Asian markets are looking bullish for 2021.
Performance of Major Asia-Pacific Indexes in 2020
| Index | % Change |
| --- | --- |
| Australia S&P/ASX 200 | -1.45% |
| China CSI 300 | +27.21% |
| China Shanghai composite | +13.87% |
| China Shenzhen composite | +38.73% |
| HK Hang Seng | -3.4% |
| India BSE Sensex | +15.75% |
| Japan Nikkei 235 | +16.01% |
| Malaysia FTSE BM KLCI | +2.42% |
| Philippines PSE Composite Index | -8.64% |
| Singapore Straits Times index | -11.76% |
| South Korea Kospi | +30.75% |
| Taiwan Taiex | +22.8% |
| Vietnam VN-Index | +14.87% |
Data compiled by CNBC

American retail investors have poured money into the stock market during the pandemic. Roughly US$400 billion of the American Recovery Plan will be used to disburse US$1,400 stimulus checks to millions of Americans. Investment institutions and retail investors will continue pouring money into stocks, which is expected to drive market growth worldwide.
With global markets at all time highs, millions of investors in Asia are opening brokerage accounts and investing in stocks and ETFs. Singapore has a number of brokers with no-commission trading, access to US stocks, and extensive international financial products. Read our review of the best online brokerage accounts in Singapore to compare brokers and find the best platform for your needs.
International Travel: A Return to Tourism in Asia?
Over 93.7 million Covid-19 vaccination doses have been administered in the US so far, with an average of 2.11 million doses per day in early March 2021. The latest US stimulus package is set to allocate US$7.5 billion for administering vaccines, and another US$48 billion will go towards tracing infections, distributing tests, and buying personal protective equipment (PPE). With many US states relaxing lockdown restrictions, many are starting to ask: "when will international travel resume?"
Many Covid-19 hotspots around the world remain and one in three global travel destinations remain fully closed to international tourists. However, with global vaccine production ramping up and several countries mulling "vaccine passports", some analysts predict that by the summer of 2021 international travel may see a rebound.
Some Southeast Asian countries like Thailand are already open to international travellers who apply for a Certificate of Entry (COE) and have a negative Covid-19 test within 72 hours of arrival. Many other countries are more hesitant to resume international travel, opting to wait until more of their population are vaccinated or sticking to more conservative travel bubble plans. With US consumers saving record sums and eager to emerge from lockdowns, countries in Asia that adapt to vaccine passport schemes and open their doors to tourists will likely see a large influx of American travellers.
Even with a vaccine, travellers should take precautions against Covid-19 and other risks during international travellers. To find the most affordable and comprehensive insurance packages, you can read our review of the best travel insurance plans in Singapore to vacation with peace of mind.