Personal Finance
Average Cost of Car Rentals in Singapore
Because owning a car in Singapore can be very pricey, it may be more feasible to rent a car whenever the need arises. Whether you are looking to go on a road trip or you need a car for heavy-duty errands, we broke down the average cost of renting a car in Singapore based on company, type of car and duration of rental.
Table of Contents
Average Cost of Car Rentals in Singapore
You can get both a short-term car rental and a long-term car rental. The average cost of a short-term car rental as it was in August of 2020 is S$136 per day. However, daily rates change based on how long you want to rent the car. We found that renting a car for the weekend (pick-up Friday and drop-off Monday) actually results in a slightly higher net daily cost. This is because while some companies don't charge different rates on weekdays compared to weekends, other companies charge a special weekend rate that has a higher net cost per day. On the other hand, weekly rates are discounted by an average of 25% compared to the daily rate, with an average car rental cost of S$845 per week. If you are looking for something really short term, there are companies like Smove that will let you rent a car by the hour. They change depending on the time and day of your rental and will run you between S$4.50-S$11.50 per hour.
| Duration | Average Cost |
| --- | --- |
| Daily Rate | S$137 |
| Weekend Rate | S$415 |
| Weekly Rate | S$868 |
| Monthly Rate | S$2,119 |
Prices include GST; weekend rates are Friday to Monday
If you need a car for a longer period of time, you can expect to pay between S$1,307 and S$2,100 per month. Hertz is an exception, as they advertise a much more expensive monthly rate of S$3,321 due to their BMW promotion. Longer term rentals may also come with additional upfront deposits, which typically range between S$200-S$500. While in most cases, these deposits are refundable, you should pay mind to the terms and conditions as car rental companies will keep your deposit.
Add-on Costs
Car rental companies also provide a few add-ons such as additional drivers, additional insurance coverage, fees if you go to Malaysia and others. If you want to add a driver to your car rental, then the average rate is an additional S$12 per day. If you are looking to drive in Malaysia, you may need to pay a surcharge of about S$20-S$50 per day.
Average Cost of Car Rentals by Company
Singapore's car rental industry comprises international companies, like Avis, Budget, Thrifty and Hertz, and local companies like Ride Now, Sixt, and Motorist. International car rental companies are 50% more expensive than local car rental companies like Sixt, RideNow, Motorist.sg and Aka. However, international car companies typically have a wider selection of luxury and imported cars compared to local car rental companies.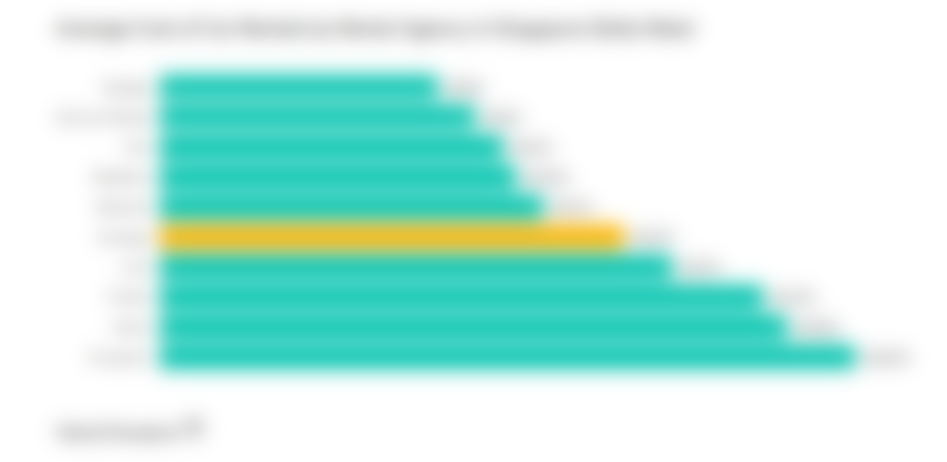 If you prefer to stick to an international car rental agency, then Budget will be the cheapest option. It provides some of the lowest rental rates in Singapore and is even cheaper than the cheapest local car rental company, Aka. Interestingly enough, we found that if you are looking for a luxury car, you should stick to local car rental agencies like Sixt, RideNow and Motorist. These companies offer rates that are 14-45% cheaper than the average rate for luxury car rentals for cars like Audis and BMW 5-series.
Average Cost of Car Rentals by Car Model
The type of car model you rent will greatly affect the price you pay. As one might expect, small compact and economy cars like a Mazda 3, Honda Fit or a Toyota Vios are the cheapest, while luxury cars and SUVs will be the most expensive. The average price across all the car rental companies we analysed showed that a compact or economy car has an average rental rate of S$91 per day. If you wish to get an intermediate or standard sized car, like a Toyota Camry or Hyundai Accent, then you will have to pay 30% more. A luxury car like a BMW 520i or a Mercedes Benz E-class cost more than twice the amount of a compact or economical car.
| Type of Car | Daily Rate | Weekend Rate | Weekly Rate |
| --- | --- | --- | --- |
| Compact/Economy | S$88 | S$273 | S$534 |
| Standard/Intermediate | S$118 | S$345 | S$710 |
| SUV | S$147 | S$450 | S$929 |
| Van/MPV | S$150 | S$482 | S$912 |
| Luxury | S$202 | S$593 | S$1188 |
How to Save on Car Rentals
There are a few ways you can save on your car rental. First is to see whether car rental companies are giving out any discounts. Some may offer a discount in exchange for signing up to their newsletter or loyalty program. If there aren't any discounts, you can try booking through travel aggregators like Kayak. These sites can offer up to a 35% discount on your booking.
When it comes to booking your car rental, you can also skip unnecessary add-ons like GPS (you can always put your phone in an accessible and safe location and use google maps). You can also use a credit card that provides points or cashback on petrol expenses to save money on gas..
Methodology
To find the average cost of renting a car in Singapore, we analysed the prices of 10 international and local car rental agencies in Singapore. We split our data into the types of cars offered, their daily, weekend, weekly and monthly costs. We categorized cars as closely as we could due to the differences in categorization from rental companies based on the frequency a car was advertised as a certain type (economy, compact, luxury, SUV, etc.). We also used a weekend rate that spanned Friday to Monday since some rental companies were closed on the weekends and others identified weekend rates for the aforementioned duration.
Read More:
Read More: