Best Robo Advisors in Singapore 2023
Robo advisors have become an attractive, low-cost alternative to traditional wealth management advisors. We have compared all the robo advisors available in Singapore to help you choose the best option based on each platform's fees and asset variety.
Best Robo Advisors: Platform Cost Comparison
According to our research and analysis, the list below represents the best robo advisors currently available to individuals in Singapore. To compare platforms, we gathered pricing data and reviewed the features and key characteristics of all platforms with information readily available online.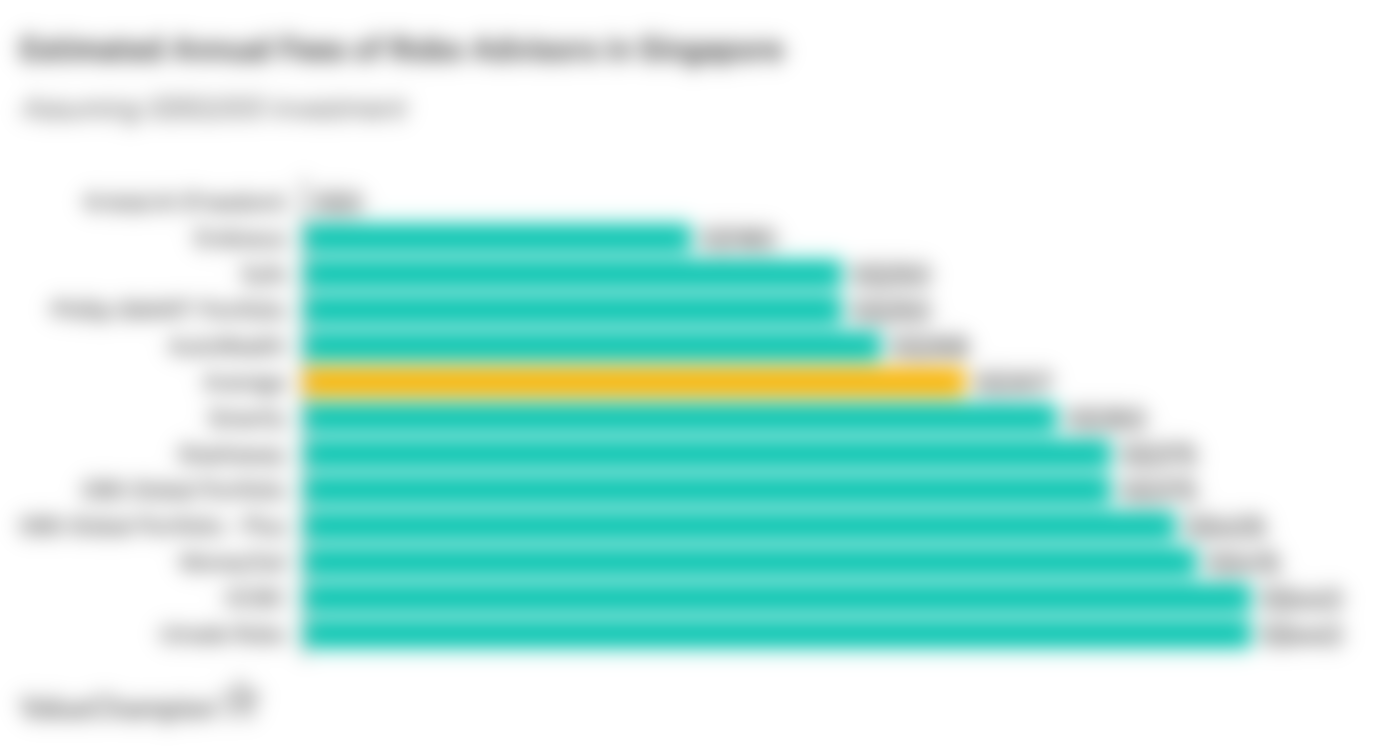 Best Robo Advisor Overall: Endowus
Endowus is the best Robo Advisor because it offers low fees, it is the only platform that allows individuals to invest using their CPF savings, and it offers its users a great promotion. For example, Endowus has low management fees of 0.25%-0.60% for cash funds, and 0.40% for CPF and SRS funds. Moreover, they don't charge for transfers, withdrawals, accounting openings or closures.
Additionally, Endowus only receives payments from investors and does not receive trailer fees from fund managers. The only downside to using Endowus is that it requires a minimum account balance of S$1,000, but this is still very competitive.
Furthermore, the new Endowus Cash Smart Ultra portfolio uniquely optimises investments to earn high yields while minimising risk. Its 1.8 to 2.0% yield target is the highest in the market among cash management accounts.
For those who are willing to make a significant investment, Endowus is an excellent choice due to its low fees and convenient platform for investing of CPF funds, SRS funds, and cash. Individuals that sign up for Endowus through ValueChampion will receive a S$20 promotional discount off of Endowus's fees (minimum deposit of S$1,000).
| Total Investment | Cash Portfolio | CPF/SRS Portfolio |
| --- | --- | --- |
| Up to S$200,000 | 0.60% | 0.40% |
| S$200,001 to S$1,000,000 | 0.50% | 0.40% |
| S$1,000,001 to S$5,000,000 | 0.35% | 0.40% |
| S$5,000,001+ | 0.25% | 0.40% |
Best Robo Advisor for Large Investments: StashAway
StashAway is the best robo investing platform in Singapore for those seeking to make a very large investment. For investors seeking to invest S$1,000,000 or more, StashAway charges the lowest fees. The platform leverages its trademarked investing algorithm to adapt to economic trends as well as to customise portfolio's by the investor's risk appetite. StashAway does not charge fees for withdrawals, transfers or account closure, nor does it require a minimum account balance.
Furthermore, StashAway offers a diverse set of product lines that range from automated SRS investing, a StashAway Simple cash management account, and their new term life insurance plan, resulting in a well-rounded wealth management service.
StashAway has also recently launched a set of thematic portfolios, a long-term investment product that allows you to invest in what you believe can transform the world while keeping their risk under control. Some of the areas you can invest in with StashAway's thematic portfolios include A.I., Blockchain, Fintech, Biotech (and more).
Finally, users that sign up through ValueChampion will receive 50% off Stashaway's fees for their first S$70,000 invested, for 6 months.
| Total Investment | Annual Fee Rate |
| --- | --- |
| First $25,000 | 0.80% |
| Any additional amount $25,000 - $50,000 | 0.70% |
| Any additional amount $50,000 - $100,000 | 0.60% |
| Any additional amount $100,000 - $250,000 | 0.50% |
| Any additional amount $250,000 - $500,000 | 0.40% |
| Any additional amount $500,000 - $1,000,000 | 0.30% |
| Any amount above $1,000,000 | 0.20% |
Best Robo Advisor for REITs: Syfe
Syfe is the only robo advisor in Singapore to offer a REIT-specific portfolio. The platform's users are able to invest in the Syfe+ REIT, which is risk-managed and charges competitive fees compared to other robo advisors in Singapore. Not only that, the platform allows individuals to invest in REITs (real estate investment trust) without a minimum investment requirement. This is unique investing directly in an REIT typically requires purchasing a specified number of units. Finally, the platform allows for automatic rebalancing and reinvesting of dividends, which is not typically possible using a traditional broker. For these reasons, Syfe is worth considering for those interested in real estate investing via a robo advisor. Use promo code VALUECHAMPION to earn a sign-up bonus of up to S$100.
| Total Investment | Annual Fee Rate |
| --- | --- |
| Less than $20,000 | 0.65% |
| S$20,000-S$100,000 | 0.50% |
| S$100,000+ | 0.40% |
Best Bank Robo Advisor Platforms
Due to their algorithms and lean business models, robo advisors have been able to disrupt the traditional financial planning industry. However, for those individuals who would rather robo invest using a platform offered by a bank they are more familiar with, here are the best bank robo advisors in Singapore.
Best Bank Robo Advisor for Small Investments: DBS digiPortfolio
For those hoping to invest a small amount in a bank's robo platform, DBS's digiPortfolio is a great choice. The bank's management fee for its Global Portfolio accounts (0.75%) are lower than any other bank for amounts of less than S$50,000. However, it is important to keep in mind that DBS digiPortfolio's fees are significantly more expensive than the platforms mentioned above.
| Total Investment | Global Portfolio | Global Portfolio Plus |
| --- | --- | --- |
| Under S$10,000 | 0.75% | 0.85% |
| Next S$40,000 | 0.75% | 0.80% |
| Accounts over S$100,000 | 0.75% | 0.75% |
Best Bank Robo Advisor for Large Investments: Utrade Robo (UOB)
For those seeking to invest a large sum through a bank that they are familiar with, Utrade Robo is the most affordable option. The banks fees of 0.68% for accounts of S$50,000 - S$100,000 and 0.5% for those of more than S$100,000 are the lowest of any traditional bank. Still, investors that are comfortable with any of the non-bank robo investing platforms, will pay even less in management fees.
| Total Investment | Annual Fee |
| --- | --- |
| Under S$50,000 | 0.88% |
| S$50,000 - S$100,000 | 0.68% |
| Accounts over S$100,000 | 0.50% |
Best Managed Regular Savings Plan: Saxo's Regular Savings Plan
Saxo's Regular Savings Plan gives individuals access to managed portfolios at a relatively low cost (0.75% annually). These savings plans require a monthly investment of just S$100 and minimum initial investment of S$2,000 (previously $10,000). Not only that, Saxo is partnering with BlackRock, the world's largest asset manager, to provide various risk-based portfolios based on the user's preferences.
| | |
| --- | --- |
| Initial Investment Requirement | S$2,000 |
| Minimum Monthly Contribution | S$100 |
| Annual Service Fee | 0.75% |
| Transaction Fees | N/A |
| Custody Fee | N/A |
Cheapest Robo Advisor in Singapore: Kristal.AI
Kristal.AI stands out among the crowded field of robo advisors in Singapore due to its low fees. For example, investors with more than $50,000 (approximately S$70,000) in their accounts are charged a platform fee of just 0.30%, and those with less than $50,000 can invest with Kristal for free. On top of their low fees, Kristal.AI does not charge penalties for opening or closing an account, and there is no lock-in period required by the platform. Additionally, Kristal.AI is a great advisor for those seeking some human interaction, as it offers 24/7 customer support via phone, email and messaging. Finally, Kristal.AI requires an initial investment of just S$10, making it accessible to all investors.
Total Investment
Kristal Freedom
Kristal Private Wealth*
First $50,000
Free
N/A
Any additional above $50,000
0.30%
0.50%
* Professional investors only (Net worth S$1M (excluding residence) or S$200,000 annual income for at least 2 years)
Frequently Asked Questions
When comparing robo advisors, it is important to consider a number of factors. First, it is essential to compare the fee structure of each advisor. Most platforms tend to charge fees of 0.25% - 1.00%, depending on the amount invested. The amount of fees you will be charged is the best way to directly compare each robo advisor. This is because the platforms do not always disclose the details of their investment strategies.
For the same reason, it is difficult to know exactly what type of returns you can expect from each robo advisor. That said, most robo advising platforms offer portfolios with a range of risk and return profiles. Finally, it is important to compare the minimum investment requirement of each platform. While several robo advisors have very low minimum account balances (or none at all), others require several thousand dollars, which can be prohibitive for some individuals.
Robo advisors in Singapore tend to use a strategic combination of inexpensive ETFs to provide an affordable alternative to wealth management services. ETFs (exchange-traded funds) track a wide range of indices and are tradable by individual investors. The advantage of investing with robo advisor is that the platform will select a diversified portfolio of ETFs based on your investment goals (e.g. saving for retirement, a new home or university tuition) and economic conditions. On the other hand, other robo advisors choose to invest in unit trusts. There are several reasons an investor might prefer exposure to unit trusts rather than ETFs. For example, unit trusts are actively managed by professional fund managers.
For many individuals, this research and expertise provided by robo advisors is quite valuable and well worth the relatively small management fee. However, those that would prefer to conduct their own research and choose individual stocks, bonds or ETFs should consider investing through an online brokerage instead.
Methodology
During our review and analysis of the best robo advisors in Singapore, we compared the following 12 platforms. We gathered and analysed data points that are most relevant to investors, in particular we focused on platform pricing and other fees.
Additional Resources
Looking for more information? Use our free resources to find the answers to all the questions you may have about health insurance, hospitals and healthcare in Singapore.