Did Covid-19 Actually Affect the Art Market?
The effects of COVID-19 rippled through nearly every single industry. However, while some industries will face a long road to recovery, the art market may actually be more resilient than one may think.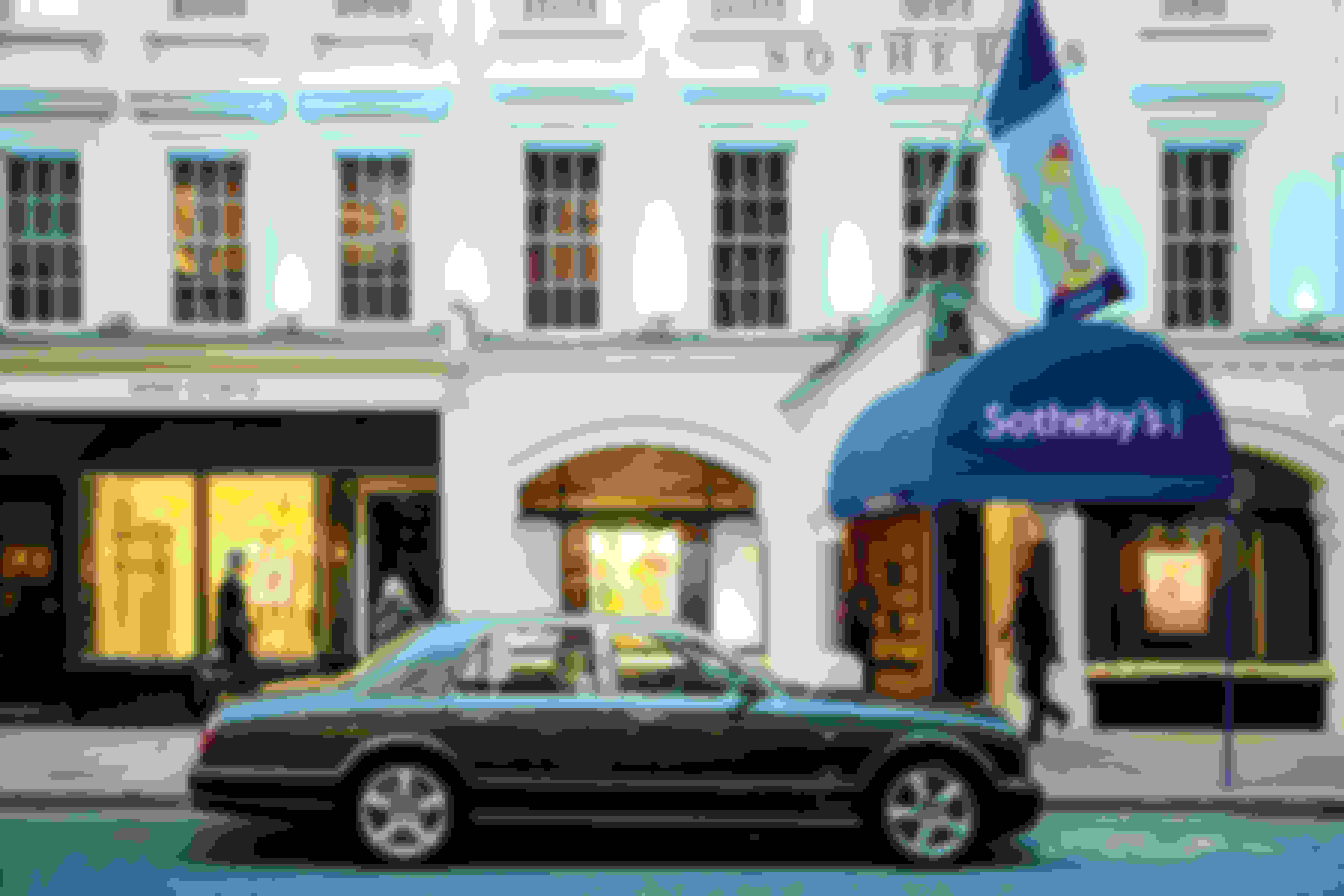 Out of all the ways you can invest your money, art is the most speculative one. While other forms of investment have at least a few metrics that help define its current value and future growth, the value of an artwork is based on a myriad of factors, ranging from the invisible hand of art galleries to pure consumer sentiment. Therefore, some art investors advise buying art based on sentimental value rather than investment potential. Because of this, it would seem that the art market would suffer during disastrous global events like the COVID-19 pandemic as discretionary and emotional purchases are put on hold. However, that might not be the case. Looking at auction data from Christie's and Sotheby's during the height of the pandemic along with 2020's global art market data we discovered just how much COVID-19 affected this multi-billion dollar market.
Key Findings
The Art Market saw the greatest drop in sales between March and May, where Christie's saw a 98% decline in monthly sales compared to the same period in 2019
Art auction houses had a strong rebound after May, with July and August monthly sales exceeding 2019 figures and several artists setting personal records at auctions
Consumer preferences didn't change during the pandemic, as bidders still preferred Contemporary and Modern works over all the other art genres
The Pandemic's Effects Were Dramatic but Temporary
Once news of the pandemic hit and countries began shutting down, art auction sales dropped drastically. Economic uncertainty coupled with shut-downs and shifts of art fairs, galleries and auctions to online spaces created a shakeup in the art marketplace. For instance, in the first 7 months of 2020, Christie's and Sotheby's auction sales dropped 54% and 25%, respectively, compared to the same period in 2019.
At the height of global closures between March and May, Christie's total sales had a 97-98% decline compared to the sales in the same period in 2018-2019, and the industry that frequently sees multimillion dollar transactions saw no works sold for over a million dollars. Sotheby's also had a drop-off of 7-figure sales between March and April, with only a handful of works topping the $1 million benchmark. This is similar to what happened with the primary art market, where contemporary artists that would usually sell works for $500,000 had a hard time selling past the $100,000 threshold.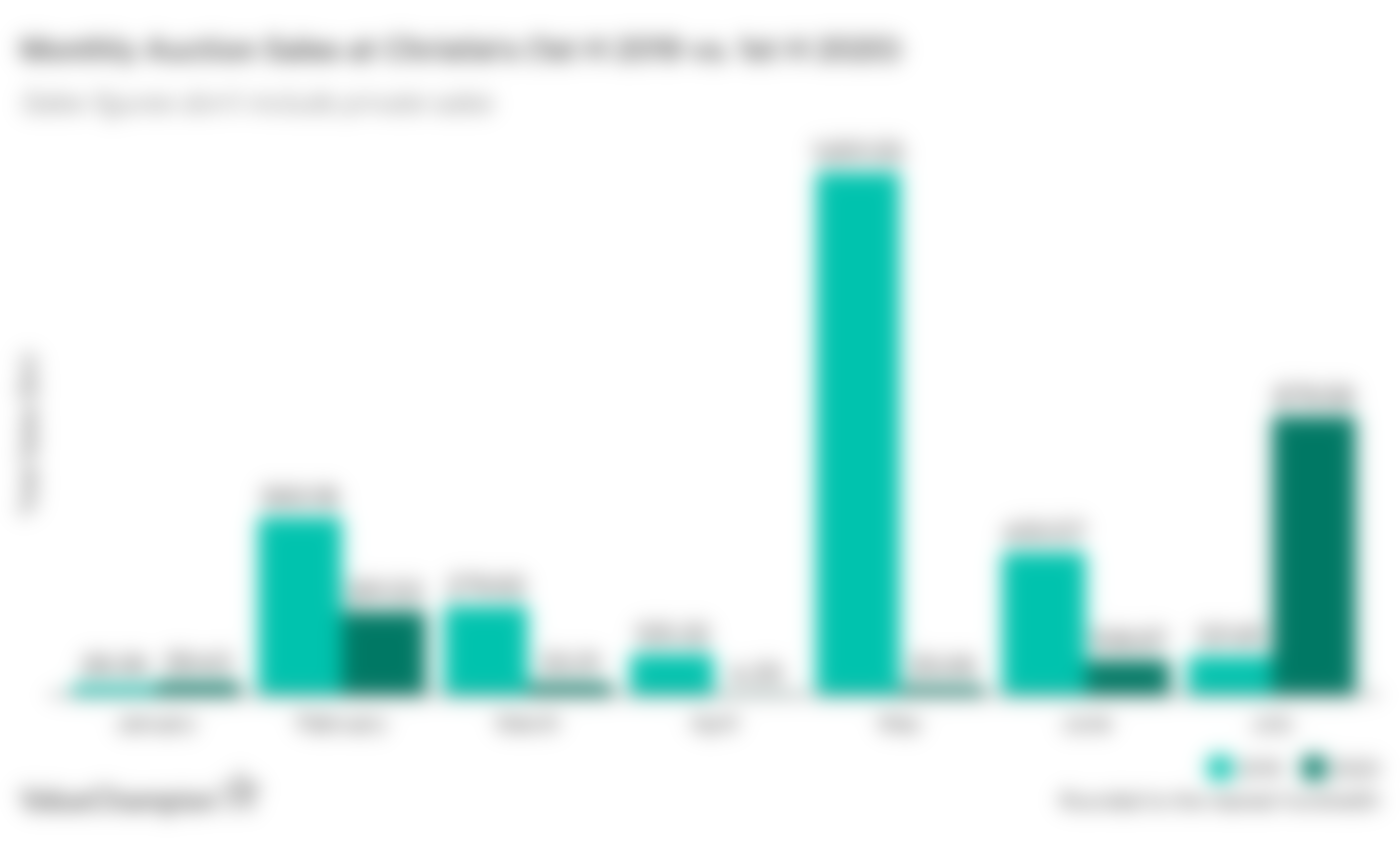 However, the pandemic's effects were quite temporary. As countries started opening up, we saw that Christie's and Sotheby's sales started bouncing back with the re-introduction of live auctions. In July, Christie's total auction sales reached almost $880 million, up over 20,000% from the April low of $4.3 million. Its July auction sales have grown 621% compared to the same period last year. Part of this quick recovery can be attributed to innovative online auctions to make up for lost sales, like Christie's ONE: A Global Sale of the 20th Century. It was a massive multi-city hybrid auction that recorded seven artist records and brought in total sales of $421 million, 14% greater than the total number of sales of the first 6 months alone.
These numbers suggest that while the art market suffered during the height of the pandemic, the reason for the drop in sales had less to do with the decreased demand for art, but more so with the supply-side's ability to fulfill the demand. For instance, auction houses had to switch and adapt their auctions to online-only sales, which had previously accounted for only a fraction of their total sales. Furthermore, some consignors may not have wanted to put their works up for sale, believing that they would not get a high enough price. This hypothesis is further supported by the fact that the most of the expensive lots sold during this period still sold well above the high end of their price estimates, indicating that high net worth art collectors were hardly affected by the pandemic. Lastly, while it's true that some art collectors may want to avoid purchasing art until the economy recovers, the opportunity to obtain a valuable work of art for lower pandemic-fueled prices may actually boost demand as bargain hunters enter the market.
The Pandemic Didn't Change Art Preferences
Over the last few years, Contemporary and Post-War art (art made after 1910) has been the largest sector of the fine art auction market, making up 53% of the total transaction value. It's a volatile art segment, but the potential to gain high returns has been an important factor in its growth. For instance, works by living artists like KAWS and Jeff Koons have been consistently breaking records for their categories at auction houses in the past few years.
In the first 7 months of 2020, we found that Contemporary and Modern art auctions accounted for the biggest portion of sales at Christie's, keeping in line with historical trends. At the height of the pandemic, March's "Post-War to Present" and "Prints & Multiples" auctions had the highest total sales and together made up 43% of the total auction sales between March and May. Even during the Prints & Multiples auction, which included 18th century prints, the top selling lots were all modern and contemporary artists like Andy Warhold, David Hockney and Roy Lichtenstein.
What Were the Most Expensive Artworks Sold During the Pandemic?
The most expensive works sold at Christie's and Sotheby's during the pandemic were generally by modern and contemporary artists. For instance, at the height of the pandemic, notable works sold were from contemporary artists like Yoshitomo Nara, Lee Bontecou and Wayne Thiebaud and modern artists like Rene Magritte, Tamara de Lempicka and Alberto Giacometti. This is similar to auction results in 2019, when works by a mix of modern and contemporary artists like Jeff Koons, Andy Warhol and Amedeo Modigliani and Ed Ruscha sold for the highest prices.
Most Expensive Works Sold at Christie's 2019 vs. 1H 2020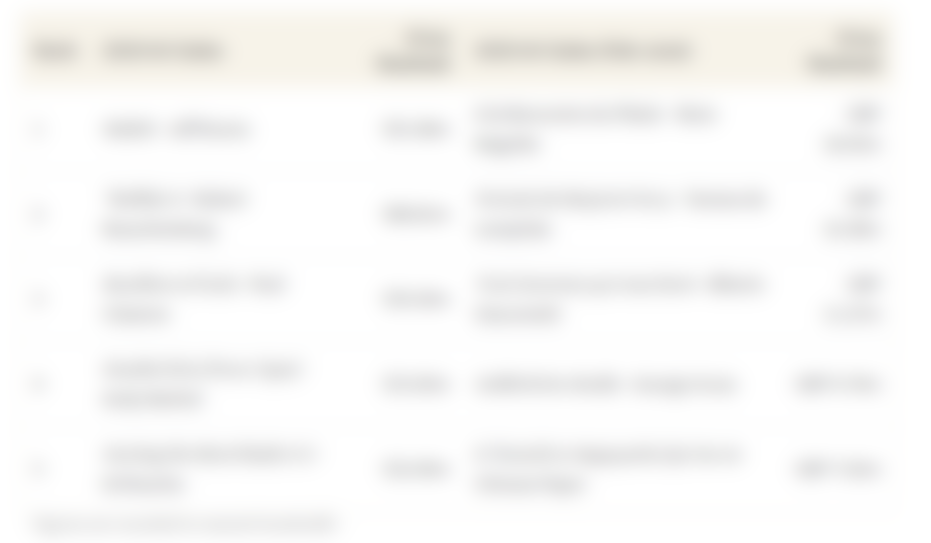 The one difference we saw concerning the most expensive artworks sold during the pandemic is the price. While the most expensive paintings auctioned in Christie's in 2019 were upwards of $30 million, the most expensive paintings during the peak pandemic period (February-June) was between $4 and $20 million. However, that drop in price didn't last long. In July and August of 2020, the most expensive works were selling for upwards of $30 million, closer to historical trends as consignors put up more popular contemporary artists for sale. Sotheby's also saw a return to exceptional auction results. At its Contemporary Art Evening auction in June, Francis Bacon's Triptych Inspired by the Oresteia of Aeschylus sold for over $88.5 million dollars, making it one of the most expensive artworks to sell at auction in the past 5-10 years.
How Susceptible Is the Art Market To Global Shakeups?
While the art market took a hit during COVID-19, it has been pretty resilient and showed quick signs of recovery. Even after the 2009 recession, the art market was able to bounce back quickly. After crashing 36% from the previous year in 2008, the art market bounced back to its pre-recession levels of $64.5 billion just 2 years later. Thus, while individual artworks are susceptible to volatility due to constantly changing value and popularity of its artist or genre, the art market as a whole has been relatively stable.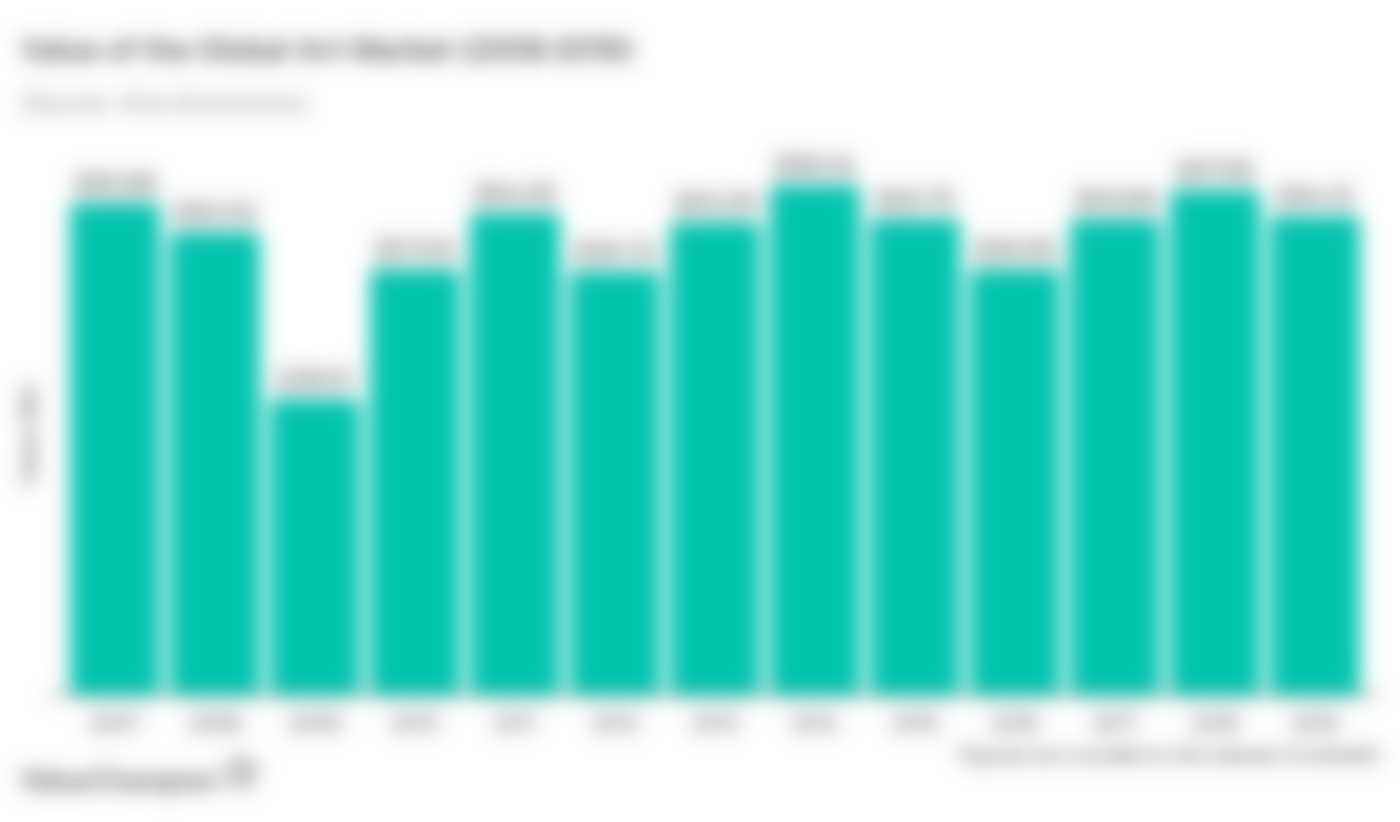 The Pandemic & Technology Are Changing How the Wealthy Shop for Art
However, what the pandemic did change is the way buyers approached art sales. For instance, individuals who are used to buying art in person at auctions or galleries had to adapt to embracing technology. To capture these buyers, auction houses and art fairs had to come up with ways to increase consumer confidence in the artwork they want to purchase, whether it's through bespoke advice or creating a virtual reality showroom. This move towards online sales may even further increase the stability of the art market due to increased accessibility. For instance, both Christie's and Sotheby's found online auctions in the first half of 2020 already exceeded their full-year 2019 results for online sales, indicating that despite the decrease in supply and live auctions, art collectors are willing to adapt to new methods of acquiring art.
Christie's Annual Online Auction Sales

Methodology
To see how COVID-19 affected art sales, we collected data from Christie's and Sotheby's auctions between 2015 and 2020. Using numbers from 2020 sales, we were able to see changes and trends brought by the pandemic through a variety of metrics ranging from the average lot price to the types of art that sold for the highest price. Since we do not have access to private sales and art fair data, we did not include them into our analysis when calculating totals. To standardise annual and monthly sales, we converted all figures to USD. For years prior to 2020 and 2019 we used the average annual exchange rates for GBP, CNY, CHF, EUR and others. For 2020 and 2019, we used the exchange rates used by Christie's. Please note that sales figures shown include the buyer's premium net of any fees but estimates do not include the buyer's premium.