Investing
Hottest Enterprise Tech IPOs of 2019: Will Slack Match Zoom's Success?
Will Slack's hotly anticipated stock debut match the success of Zoom Video Communication's IPO? We compare these 2 of the best-in-class software companies to help investors assess Slack's upcoming listing.
Among many hotly anticipated IPOs of tech unicorns in 2019, Zoom Video Communications's listing has set itself apart from the rest. After listing at $36, its shares have continuously soared to $74.5, more than doubling in about 3 weeks. In contrast, Lyft's stock has famously sank -17% since its listing. In the midst of all this, Slack's upcoming public listing has been generating a lot of buzz, given that it is an even better known startup than Zoom within the enterprise software industry. But will Slack's listing be similarly successful as Zoom's? We dug into Slack's financial filings to assess its stock's prospects.
Tech Unicorn IPOs in 2019

Similar Growth Dynamics of Slack & Zoom
Indeed at first look, Slack as a company boasts some very characteristics that are reminiscent of those of Zoom's. Both companies have grown rapidly on the back of their free-to-use, user-friendly business apps that have grown virally via word of mouth; and, this characteristic is apparent in their business metrics. As the table below displays, both companies are growing extremely quickly and exhibit very high gross margins. In particular, both companies are growing through both gaining new customers and deepening their relationships with existing customers. For instance, their "net dollar retention rate" or "12-month net dollar expansion rate" of 140% shows that their business from customers they already had 12 months ago grew 40%, while new customers contributed to the rest of their growth.
Below chart from Slack's prospectus illustrates this last point. Because both Slack and Zoom are growing their revenue from existing customers, they would be growing even if they were to stop getting new customers. However, both companies also continue to gain new customers rapidly because their products are free to try and very easy to adopt, allowing the companies to grow even faster.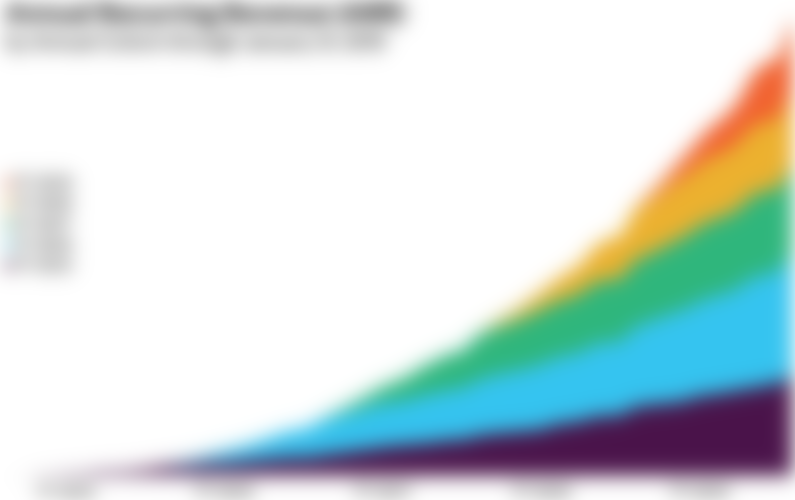 But Slack Faces Higher Fixed Costs, Tougher Competition
However, there are some notable differences between these 2 leading software-as-a-service companies that will likely make Slack less profitable than Zoom. First, Slack's fixed costs are significantly higher than those of Zoom's, resulting in a very different margin profiles. While Zoom lowers its costs significantly from its rather famous research & development center based in China, Slack's research personnel is mostly based in the US. As a result, Slack spends more than 5x more on R&D than Zoom (or about 4x more in terms of % of revenue). Similarly, its general & administrative cost is more than 2x higher than that of Zoom's. Therefore, Slack is still operating at a loss while Zoom has been profitable despite the fact that Slack is 20% bigger than Zoom in terms of revenue.
Furthermore, the competitive landscape of two companies differ quite significantly as well. Zoom has been able to grow rapidly due to lack of significant competition outside of older, more traditional options such as Cisco. However, Slack actually does face a rather tough competition from Satya Nadella's Microsoft and its renewed Team product, which by all accounts have been quite successful by leveraging Microsoft's vast customer base. This dynamic will ultimately affect how different Slack and Zoom will become in terms of either their size (ultimate growth opportunity) or their margin profile.
At the End of the Day, It's All About the Price
Ultimately, both Slack and Zoom are undoubtedly amazing businesses that provide superb products and value for their customers. However, it doesn't seem that Slack's listing will be as successful as that of Zoom's. Not only is Zoom's business structurally more advantaged than that of Slacks, its IPO was also priced more favorably as well. For example, Zoom is now valued at about $20bn and trades at around 14x its fiscal 2021 revenue (EV/Sale is a popular valuation for Saas businesses who mostly earn annually recurring revenue), assuming some level of deceleration in its growth rate; but, it's important to note that this is after Zoom's stock has more than doubled. In contrast, Slack is already anticipated to list at around $15-17bn valuation, implying 12-14x its fiscal 2021 revenue, basically the same as that of Zoom's. Such a dynamic doesn't leave much upside for investors who might be interested in participating in Slack's listing.
Not only that, investors need to be very aware of the fact that Slack is not raising any capital in its public debut. Because Slack is pursuing a "direct public offering" instead of an "IPO," its existing investors (i.e. management team and venture capital firms) will be selling their shares directly to the public instead of allowing the company to sell shares to raise capital. In plain words, the company may not have any need for extra money. Instead, the only reason why Slack is pursuing a public listing likely could be that its investors want out, and at a very high valuation at that. That Slack is priced like the very best company in its space and its insiders are attempting to cash out aren't exactly promising signs for prospective buyers of the stock. Buyers beware.