Motorcycle Insurance
Average Cost and Benefits of Motorcycle Insurance 2023
Making sure you are getting a good product for a fair price is crucial when it comes to insurance products. When it comes to protecting yourself and your motorcycle, it is important that you know how insurers price their products and the average benefits that they offer to avoid overpaying. In general, motorcycle insurance premiums are primarily affected by your age and the type of motorcycle you own. For instance, younger riders or riders with very powerful motorcycles will typically pay more than a seasoned rider with a modestly powered motorcycle. Furthermore, insurers will price their products based on the type of benefits they offer, with insurers typically charging higher prices for plans with a lot of extra benefits. To help you identify whether you are paying a fair premium, we have analysed the average cost and benefits of motorcycle insurance policies in Singapore.
Table of Contents
Average Cost of Motorcycle Insurance by Rider Age
One of the main factors affecting your motorcycle insurance premiums will be your age. We found that young riders in their 20s will pay significantly more than any other age group. In fact, riders in their 20s will find their premiums to be 75% more expensive than for middle-aged riders. This is due to the perception that young riders are riskier to insure.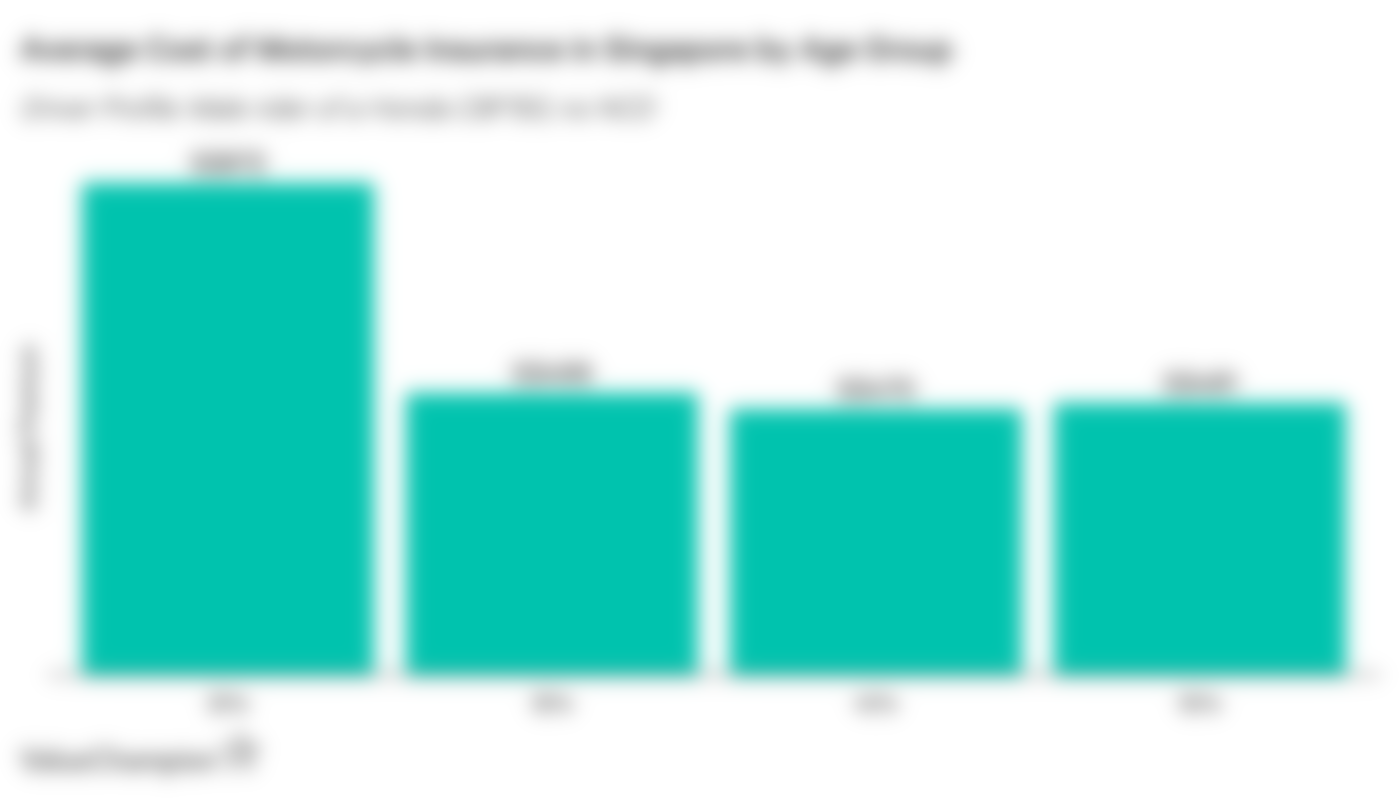 However, once you reach your 30s your insurance premiums will start to drop, and will continue to do so into your 40s. We found that the average cost of a comprehensive motorcycle insurance policy for a rider in their 30's riding a Honda CBF150 is S$499. This drops to S$371 if the rider holds the highest No Claim Discount (NCD). Riders in their 40s pay the least out of any age group. Your premiums typically start to increase again after your 40s, although not by much. For instance, while some insurers keep premiums for riders in their 40s and 50s the same, other insurers raise premiums by about S$10-S$20.
Average Cost of Motorcycle Insurance by Motorcycle Type
Another factor that will determine your insurance premiums is the type of motorcycle you have and the power of its engine. We also found that less powerful bikes (such as those with engine capacities 200 cc and below) are cheaper to insure than powerful or very expensive bikes. This is because more powerful bikes pose a greater risk for accidents and are more expensive to repair. For instance, the average premium for a 35-year-old rider of a Honda CBF150 is S$499. Once motorcycles have engine capacities over 200 cc, then premiums start to increase. For instance, a bike with a 250 cc engine costs 12% more to insure than bikes with an engine cc up to 200. Motorcycles with high-powered engines above 400 cc, such as the Honda NC750XA, cost 55% more to insure than the least powerful bikes.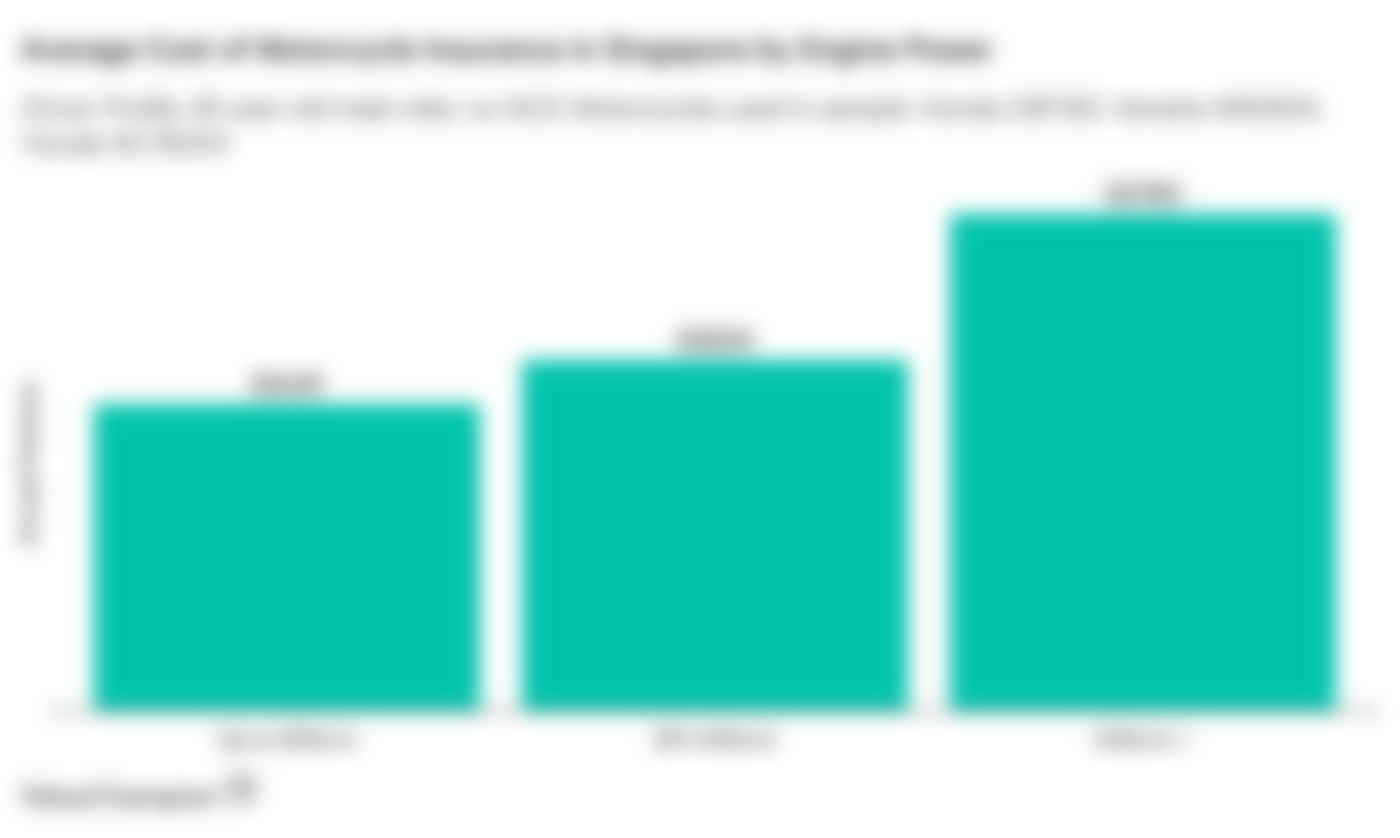 Average Benefits of Comprehensive Motorcycle Insurance
Comprehensive motorcycle insurance plans provide the same core benefits regardless of which insurer you choose. All motorcycle insurance plans come with S$500,000 of coverage for 3rd party property damage and unlimited coverage for 3rd party death or injury. There is also a 100% market value coverage benefit for damage to your motorcycle caused by theft or fire. It is important to note that market value coverage means you will receive compensation for your motorcycle at the value that it was when it was damaged, which may be less than the original amount. Furthermore, most insurers add in towing services and roadside assistance in their plans, although there are a couple that make you pay extra for these benefits.
| Benefit | Average Coverage Limit |
| --- | --- |
| 3rd Party Injury/Death | Unlimited |
| 3rd Party Damage | S$500,000 |
| Theft/Fire Damage | 100% of Market Value |
| Towing | S$50 |
Beyond offering these standard benefits, insurers differentiate slightly with their optional add-on benefits. For instance, some insurers offer hospitalisation expenses, daily transportation allowance, and personal accident coverage. Others offer new-for-old coverage (meaning you get a replacement motorcycle of the same make and if your motorcycle was totalled), repatriation expenses and a death benefit. The cost of these add-ons vary depending on insurer. Some insurers charge pretty reasonable prices—with some of their add-ons costing S$10 and less—while others charge between S$30 and S$55 per add-on.
Average Cost & Benefits of Third Party Only and TPFT Plans
Third Party Only and Third Party, Fire & Theft (TPFT) plans are typically marketed to riders of bikes that are over 10 years old and may actually be your only choice depending on the insurer you choose. Third Party Only plans only cover 3rd party damage and liability and is the most basic motorcycle policy on the market. Third Party, Fire and Theft cover what Third Party Only plans cover, but also include coverage against fire and theft damage. Some insurers also offer the same add-ons they offer for their comprehensive plans, including roadside assistance, hospitalisation and daily transportation allowances.
In terms of cost, Third Party plans are the cheapest motorcycle insurance plans, with an average premium that is 54% less than comprehensive plans and 24% cheaper than TPFT plans. TPFT plans are cheaper than comprehensive plans but are 35% more expensive than Third Party Only plans.
Methodology
To find the average price and benefits of motorcycle insurance, we collected data on and analysed all the motorcycle insurance plans available in Singapore. We collected premiums for 21 different driver profiles, spanning 4 different age groups and 3 motorbike makes. We also collected premiums for riders with and without NCD's. To have a benchmark of the average cost of motorcycle insurance and to standardise our results, we used a rider profile of a 35-year-old male rider of a Honda CBF150. We chose this profile because the majority of riders in Singapore are holding a Class 2B license and we assumed that the majority of motorcycle riders are males on the younger side. We also focused primarily on the comprehensive type of motorcycle insurance plans, since most riders will have bikes that are under 10 years old and will want full coverage. The motorcycles we used in our samples to calculate how premiums change depending on the power of the engine were a Honda CBF150, a Yamaha WR250X and a Honda NC750XA. We chose these motorcycles because they showed the greatest popularity on motorcycle sale and resale websites.
Read More: