Education Loans
Which University Program in Singapore Offers the Highest Return on Investment?
Paying for a university education is a major investment. For this reason, we were curious which majors and schools offered the highest return. In this article, we've calculated the ROI from more than 70 university programs to help you get a better understanding of schools and majors that offer the best return for your money.
Attending university is a crucial step for advancing your career and salary potential. With that said, the cost of university education continues to soar and not all programs are created equal in terms of helping students find a job. Given these factors, how can you be sure that going to college actually pays off? To help prospective university students and their parents, we've analysed data from more than 70 programs in Singapore to determine which ones give you the value in terms of expected salary compared to tuition cost.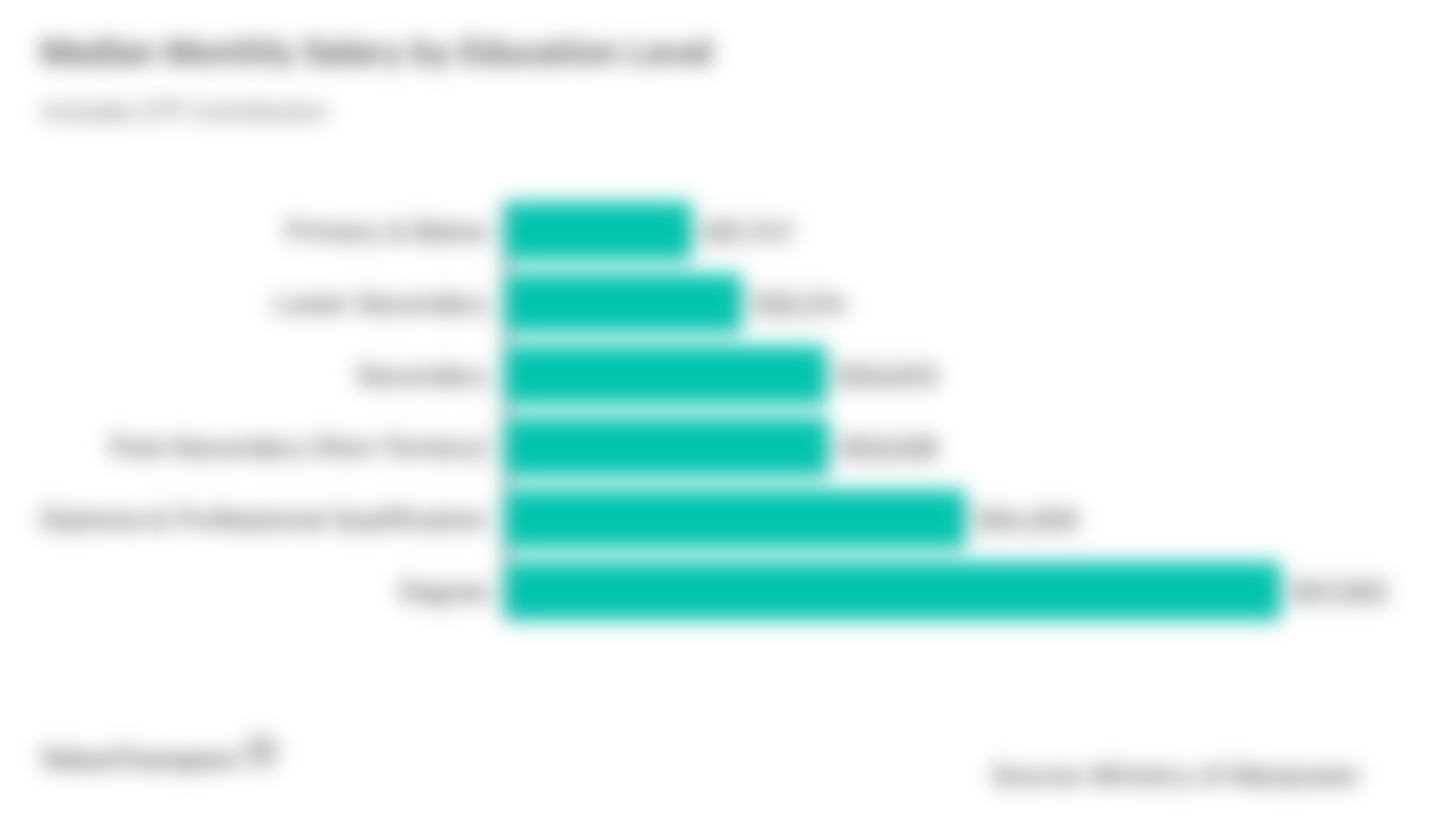 Computer Science & Nursing Offer Great ROI
Our analysis indicates that nursing and computer Science are two of the best majors for maximising your return on tuition costs. For example, graduates of the Singapore Institute of Technology (SIT) and National University of Singapore's (NUS) nursing and computer science programs are employed at higher rates (82% - 97%) and earn higher starting salaries (S$35,251 - S$44,280) than the average university graduate in Singapore (81%, S$33,248). Additionally, 2-year nursing programs, and other programs that do not require 4 years of study, ranked particularly well in our study given that they tend to cost less than 4-year degrees. It is important to note that we did not consider mid-career salaries, as this data was not readily available, which are important because certain careers may offer different salary trajectories over time. For example, an entry-level position in one industry may see higher salary growth compared to an entry-level job in another industry. We also found it interesting that a variety of majors and schools made it into our top 10 ROI by program list. This speaks to the strong educational offerings available in Singapore. For a look at rankings based on our ROI calculation, please refer to our table below.
Programs with the Highest ROI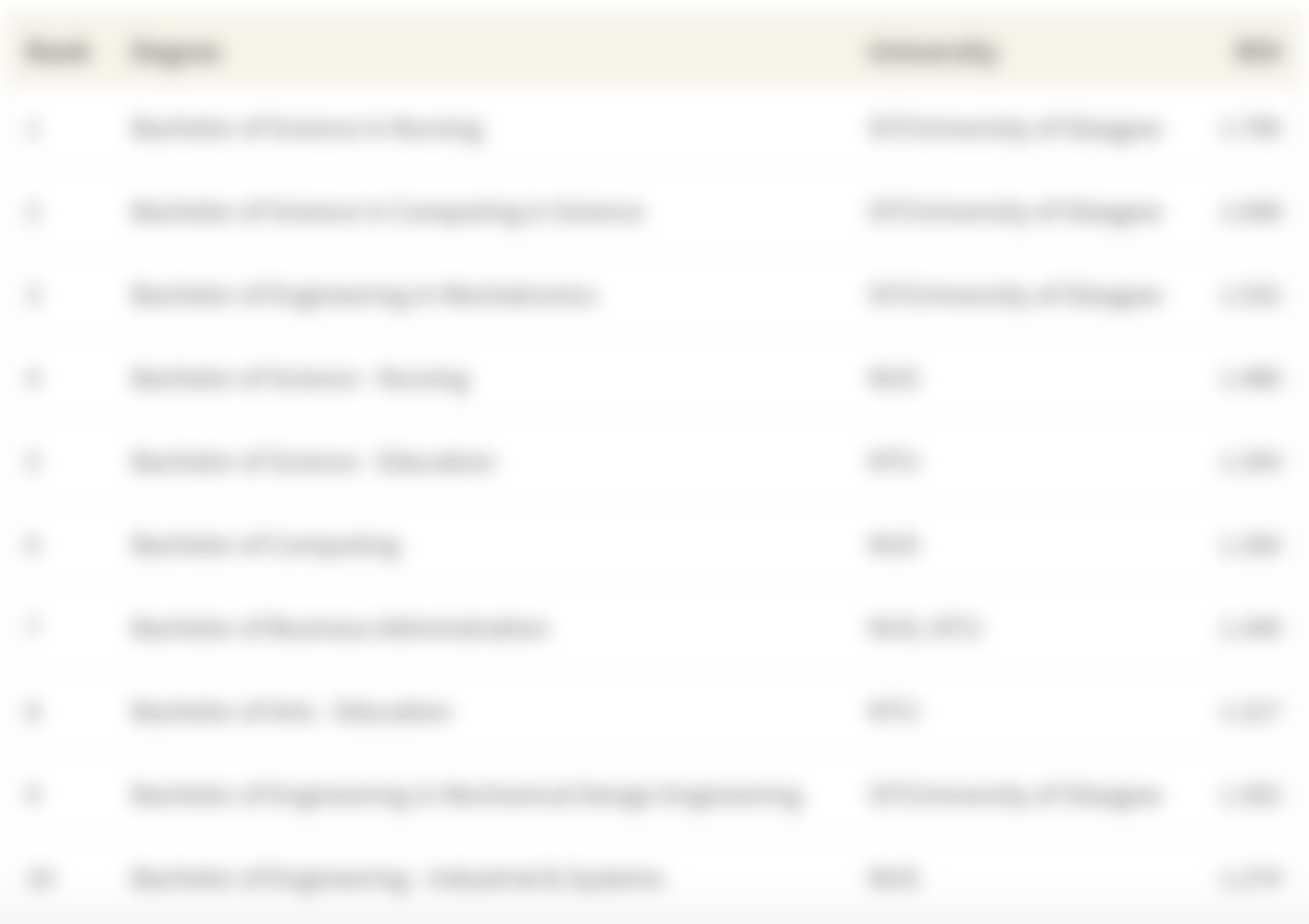 Graduates of Lowest Ranked Programs May Have Trouble Finding a Job
Programs with the lowest ROI in our study included NUS's dentistry program and NTU's fine arts, sport science, english and science degrees. Dentistry made this list due to its high tuition cost (S$28,400 per year for Singapore Citizens). However, the other degrees had low ROI scores primarily due to their low employment rates of 49% to 63%, according to the Ministry of Manpower. This suggests that graduates of these programs may find it more difficult to find a job. However, it is also important to consider the fact that graduates of these degrees may be more likely to pursue masters and PhD degrees and therefore potentially less likely to be fully-employed following their undergraduate degree. Additionally, these results should not discourage strong students from pursuing their intellectual interests. Instead, it serves as a reminder that it is important to be fully committed to your studies, given the high cost of attending university, in order to find a fulfilling and well-paying career.
Programs with the Lowest ROI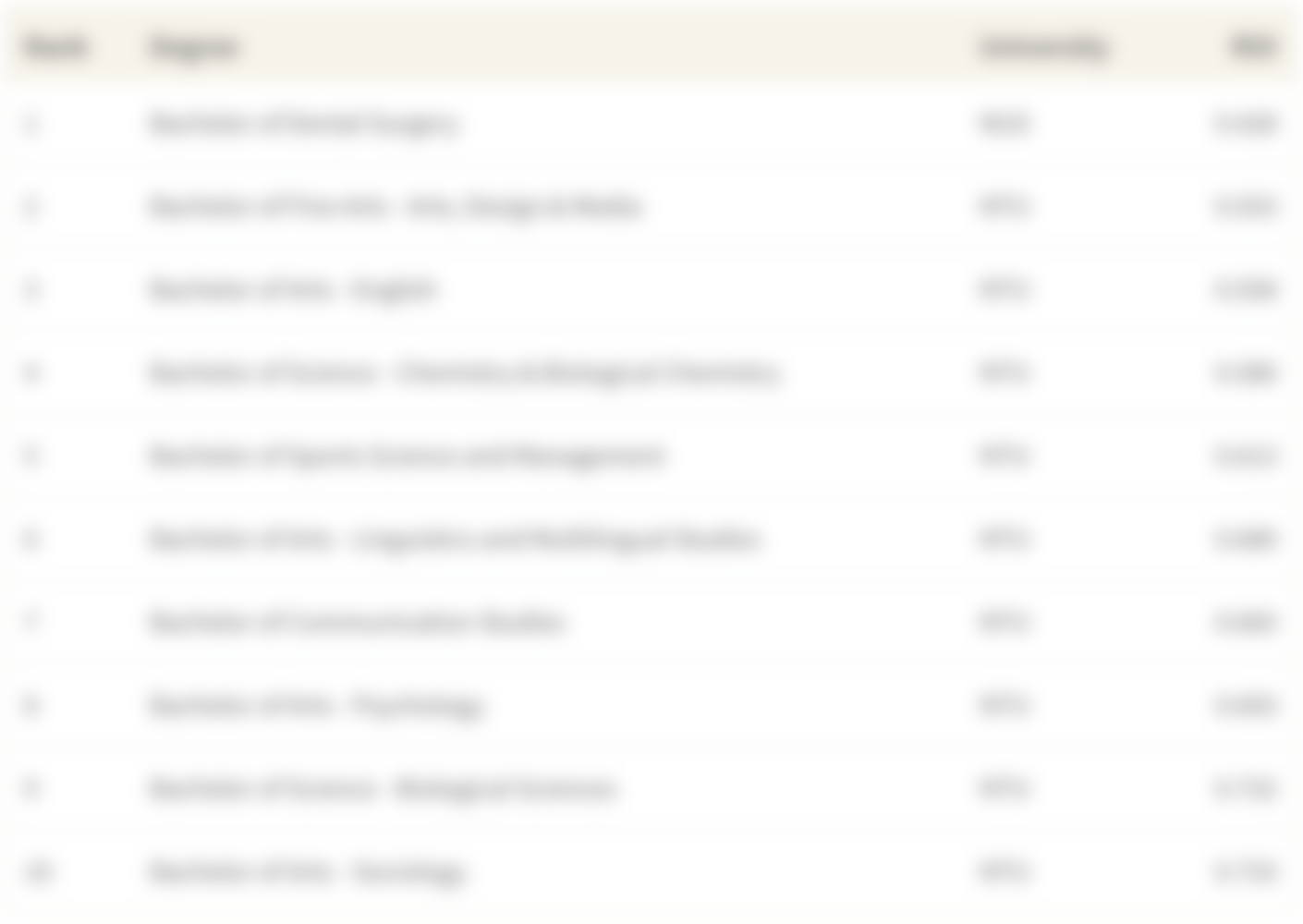 Methodology & Limitations
In order to determine which major offered the highest ROI in Singapore, we gathered publicly available tuition, employment and salary data for SIT, NUS, NTU, SUTD and SMU. To calculate return on investment, we first calculated the expected median annual salary by program by multiplying the median monthly salary by 12 and then multiplying the result by the proportion of graduates that are employed. Next, we divided the expected median annual salary by the total program cost. We calculated total program cost using tuition for Singapore Citizens. While this method presents a clear ROI comparison between university programs, it is not a comprehensive measure of each programs value. For example, because we could not find sufficient data, the calculation does not consider mid-career salaries, which are an important measure of long-run earning outcomes. Similarly, graduates of some programs may be more likely to return to school for advanced degrees and subsequently earn much higher salaries after the complete their graduate studies. Still, our analysis provides an illustration of how new graduates may fare in the labor force following their university studies.
How to Finance a High ROI University Degree
Whether you are a Singapore Citizen, Permanent Resident or foreigner, university in Singapore can be expensive. Some students will be lucky enough to have their tuition paid for by scholarships or by a parent. For less fortunate students, education loans may be a necessary method for financing a university education. We strongly recommend that prospective students compare the cheapest loans available for local and overseas studies as they prepare a plan for paying to attend college. If you are a current or prospective university student, how are you financing your education?