Debt Consolidation
5 Ways to Save on Your Divorce
Getting divorced can be an emotionally and financially draining process. Follow our tips to see where you can save money.
In Singapore, around 7,623 marriages end in divorce each year. While there are emotional matters to process during the divorce, there are also financial issues to consider. As getting a divorce can cost thousands of dollars, we've listed some helpful tips that you can immediately put into practice to help you save money.
1. If Possible, Aim for an Uncontested Divorce
There are two types of divorce you can get: uncontested and contested. In an uncontested divorce, both partners agree on the divorce and have worked out a majority of the logistics (ie, alimony, child custody, item division, etc). Uncontested divorces usually cost a set fee of S$1,500-S$3,500, depending on whether you have children and how you will divide your assets. On the other hand, a contested divorce means one partner may not agree to the divorce or how to divide your assets. Because of this difference in opinion, your lawyer may charge you by the hour. Resolving these matters can take quite some time, and overall, contested divorces can cost you anywhere from S$13,000-S$35,000.
Thus, the first way to start saving money is to have an uncontested divorce. However, if you and your partner are not on speaking terms and will most likely have a contested divorce, try comparing different divorce lawyers to see where you will get the best deal. For example, lawyer fees will be more if they are part of a sole proprietorship, since there is only one lawyer who handles the casework. Therefore, larger law firms might have cheaper rates as they use junior lawyers. By comparing different firms, you'll be able to save hundreds down the road on lawyer fees.
2. Know How Much You Will Be Charged in Advance
Once you choose a lawyer and are aware of their set fee or hourly costs, you should check whether they will charge you for additional actions like obtaining paperwork. There are no standard guidelines for lawyer fees in Singapore, so make sure to hammer out any questions you have in advance. For example, if you are applying for a divorce when you've been married for less than three years, your lawyer may spend additional hours (leading to higher costs for you to bear) on preparing an argument to persuade the court of your legal eligibility to divorce. Moreover, if you are Muslim, you should check whether you or your lawyer will pay for the Syariah Court fees.
Syariah Court Fees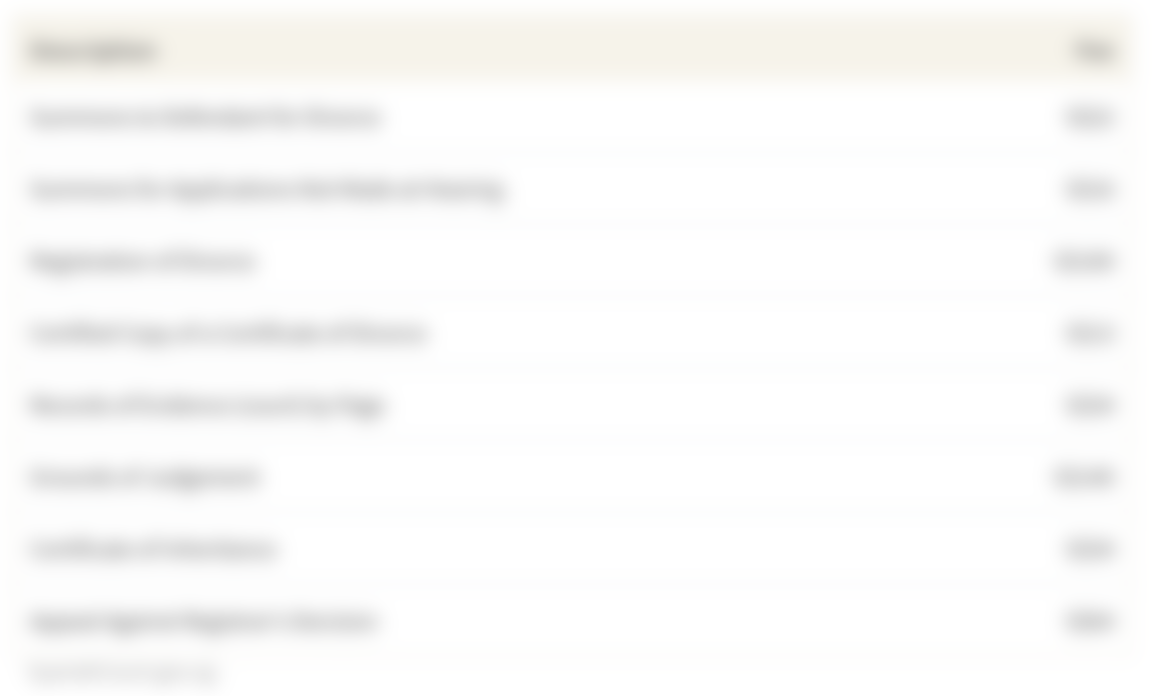 There are also fees your lawyer cannot legally charge you. For example, if you win your divorce case your lawyer cannot charge a contingency fee. It's common practice to request an itemized breakdown of the bill before you pay it to prevent any overcharges.
3. Consider Mediation Instead of an Attorney
Another way you can save on your divorce is to use a mediator instead of a lawyer. This is primarily because early settlement can prevent you from accruing costs associated with going to court. Additionally, the mediation settlement is a legally binding decision. If you are going through a contested divorce, mediation might be a better option as you will get the chance to discuss issues as well to reach a settlement. In Singapore, places like the Singapore Mediation Centre charge S$2,732.50 per party per day and a S$267.50 non-refundable filing fee per party. Due to these fees, mediation can be much cheaper than if you were to spend months preparing to go to court with a lawyer—provided that you expect to come to a resolution in a few days.
4: Organize Your Documents
During your divorce, you may have to show documentation of what you have earned throughout your marriage. These documents are used to divide your matrimonial assets and take into account both your direct (ie, your salary) and indirect (ie, caretaking) contributions to the marriage. By organising your documents before you go to court or mediation, you can save time (and thus, lawyer fees) when negotiating the division of your assets. Alternatively, spending time arguing over your contributions to the marriage and delaying appointments to settle these disputes can cost you hundreds of dollars.
One very important document you should find immediately upon requesting a divorce is your pre-nuptial agreement. While a marital agreement cannot be forced, courts have previously used them to divide matrimonial assets. By setting a pathway for splitting assets in the event of a divorce, a pre-nuptial agreement can save you time and money on the lawyer fees you might have to pay to divide assets.
5. If You Can, Divide up Your Household Items in Advance
If you are on amicable terms with your partner or you both have a fairly good idea of what you brought into the marriage, try dividing up your household items on your own. While assets include things like your car, savings, house, and even your CPF contributions, sorting out the smaller things first can make a big difference in the long run. This is because even the more affordable divorce legal clinics charge S$100 per 15 minutes to divide your assets.
Marital Assets Under Section 112(10) of the Women's Charter
Getting a Divorce Is Difficult, but It Doesn't Have To Break The Bank
Ending a marriage can be difficult to process. Besides saying goodbye to your partner, you have to sort through your finances and look towards the future. This can be even more difficult if you are left with debt and are worried about paying for the divorce. In order to save the most money on your divorce, make pragmatic financial decisions where possible. Finally, because this is a difficult time, remember to take care of yourself in the process.