Home Loans
Is it Cheaper to Rent or Buy a Home? It Depends on Where You Live
Do you ever wonder if you would be saving money by purchasing a home instead of renting? There are many factors that influence this cost comparison. One important one is the neighborhood in which you plan to purchase or rent a home. Here, we compare the cost of renting and buying an HDB flat across neighborhoods in Singapore.
One of the most important financial decisions in your life is choosing to purchase a home. Timing is everything with this decision, which can make it a particularly tricky one. For example, prospective first-time homebuyers are often unsure if they should still be renting or if they would be saving money my purchasing a home. In order to evaluate where in Singapore home buyers would be better of renting or owning homes, we analysed data from the Housing & Development Board to estimate the cost of renting versus the cost of purchasing a home in different neighborhoods within Singapore.
It is Cheaper to Purchase a Home Compared to Renting in Most Neighborhoods
Our research indicates that in almost all neighborhoods in Singapore, it is cheaper to own a home than to rent a home. We estimate that Central is the only neighborhood in Singapore where it is cheaper to rent than it is to purchase a 4-room HDB flat. Specifically, we found that the median rent for a 4-room HDB in Central was about S$2,750, while we estimated that a mortgage payment for the same type of flat would be about S$2,927. Additionally, in Queenstown and Toa Payoh, it is cheaper to rent a 5-room HDB flat (S$2,800 & S$2,480, respectively) than to purchase the same sized home (S$2,820 & S$2,843). In order to make these comparisons, we calculated estimated monthly mortgage payments using home loans representing 75% of the median resale prices. Additionally, we assumed annual interest rates of 2.5% and loan tenures of 25 years.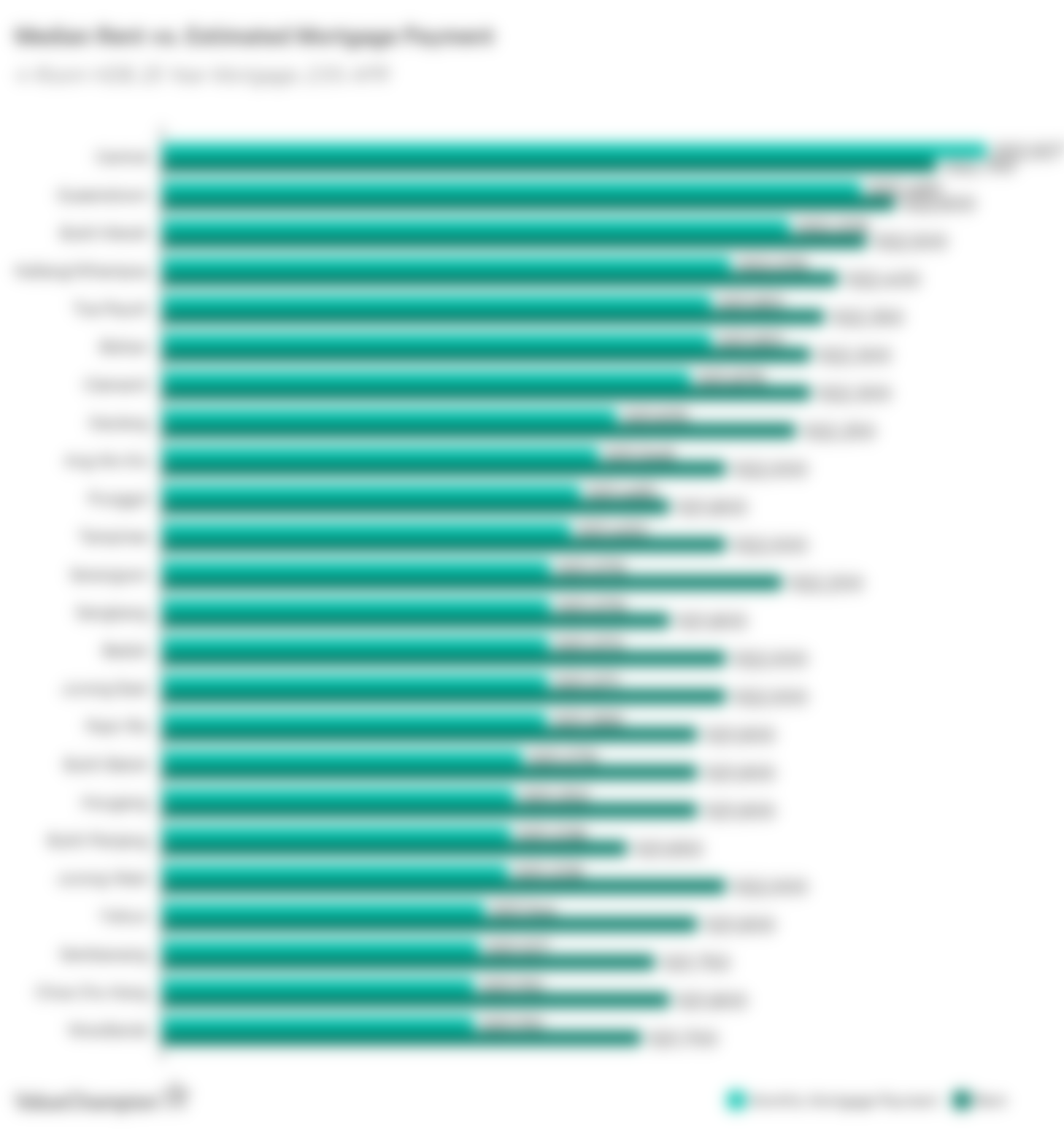 An important caveat to this analysis is that we are strictly comparing the cost of a monthly mortgage payments to monthly rental rates. However, theoretically, purchasing a home will provide the homeowner with equity or resale value depending on how many years are left on the lease, compared to renting where the renter does not accumulate value based on their monthly rent payments.
Also, depending on your circumstances, your home loan payments can vary quite a bit. For instance, if you are able to make a larger down payment, you can significantly reduce your monthly home loan payment. Similarly, if you obtain a longer loan tenure you, can also reduce your monthly payment. On the other hand, if your credit score is not very good, you may not be able to obtain a home loan with competitive interest rates, which could increase the cost of your mortgage and could even make renting a better option for you in the short-term. These points are meant to explain that our analysis is a rough guide for those that are planning to purchase a home. To get a more personalised estimate, you can compare current interest rates and calculate monthly payments using our home loan calculator.
Don't Forget About Other Costs of Homeownership
Additionally, while your mortgage represents the most significant chunk of the cost of owning a home, there are a few other costs that you will have to consider before you decide to purchase your new home.
Downpayment
First, the down payment can prevent many prospective homeowners from being able to purchase their first flat. This is because individuals purchasing a home must make down payments of at least 25% of the home price, with at least 20% of the down payment paid in cash and the remaining amount can be paid for using CPF Ordinary Account savings. Depending on the house that you plan to purchase, this amount can range from about S$100,000 to more than S$200,000. Therefore, before you get too excited about purchasing a home, it is important to have enough money saved to make your initial payment.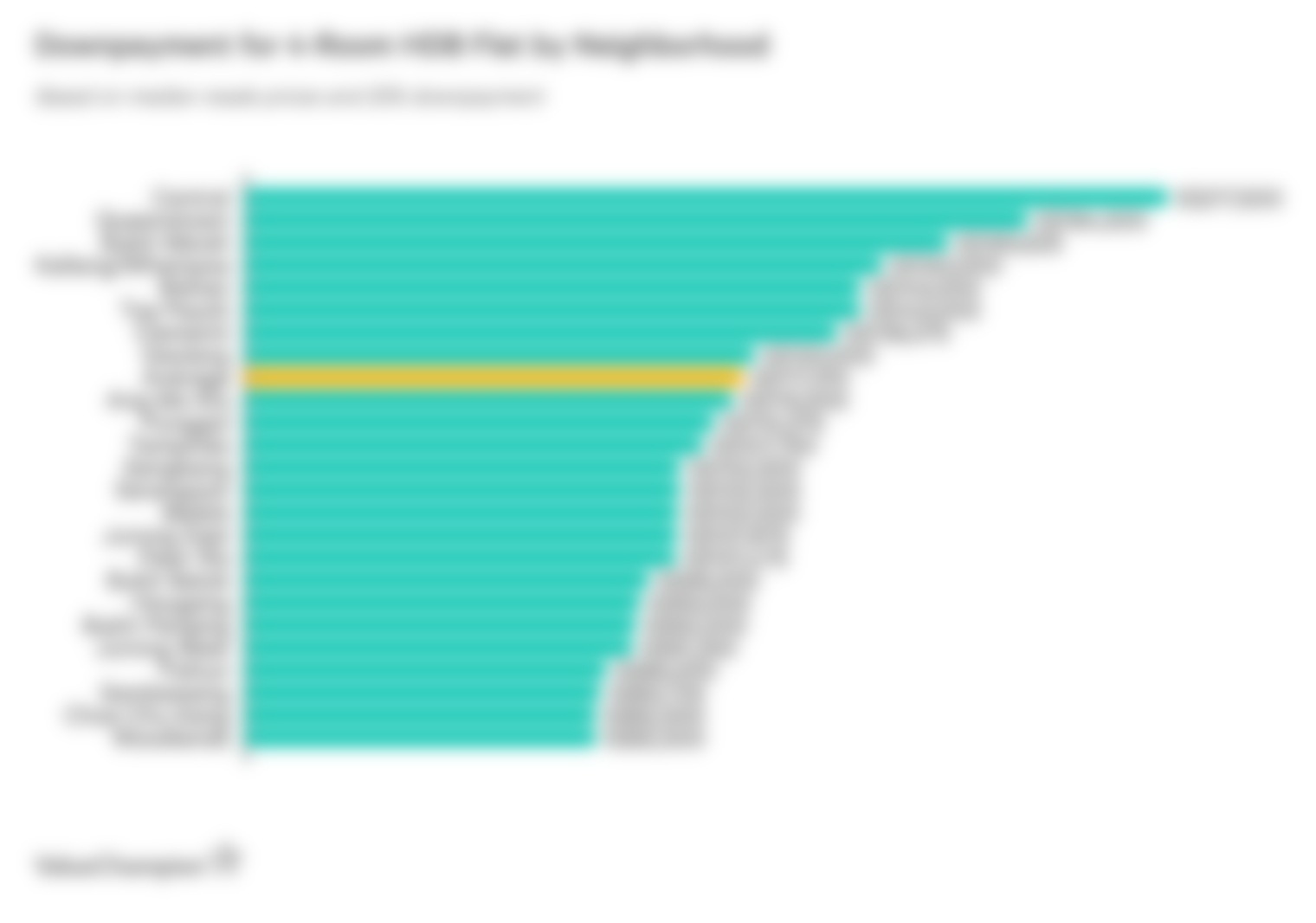 Other Costs: Home Insurance Insurance, Renovations Maintenance
In addition to your down payment, you will have to also take into account other costs including home insurance, which costs about S$154 per year for 4-room HDBs. Additionally, some homeowners will want to renovate their new home. We estimate that the average home renovation for a 4-room HDB flat is about S$55,000. Finally, unlike most renters, homeowners will have to pay for occasional maintenance expenses, which can vary depending on the required fixes.