Singapore's Gender Wage Gap Widened in 2018
Singapore has one of the world's strongest economies and richest populations. However, it's gender wage gap grew in 2018. We explored potential causes of the gap and this recent trend.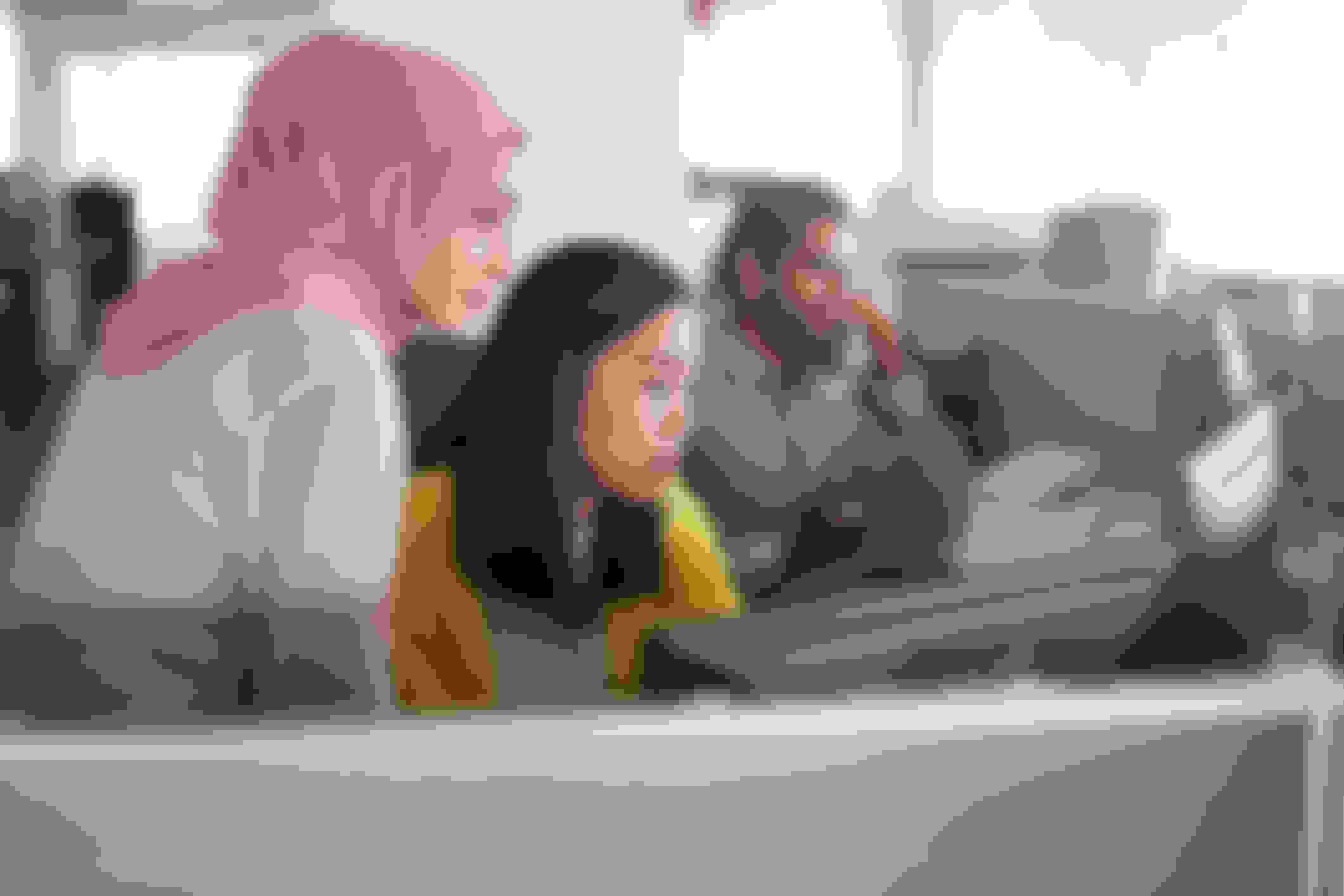 Singapore's economy is a world leader in many respects. However, one aspect for improvement is gender wage equality, which actually widened in 2018. In this study, we used data from the Ministry of Manpower and other publicly available sources in order to try to better understand Singapore's gender wage gap.
Study Highlights
Singapore's gender wage gap increased in 2018, with the median monthly wage for women representing 88% of men's in the country (91% in 2017)
The gap was widest in the health & social services (62%), manufacturing (77%), accommodation & food services (78%), information & communications (79%) and financial & insurance services (80%) industries, while it grew most significantly in real estate services and health & social services in 2018
Positive trends include a narrowing in the part-time workers gender wage gap and increased female representation on the boards of public companies
The Overall Gender Wage Gap Widened in 2018
According to data released by the Ministry of Manpower, the gender wage gap widened in 2018. In 2017, the median wage for women working full-time was 90.8% of the median wage for men, in 2018 this ratio decreased to 87.5%, its lowest in the past decade. As an illustration, the median wage for full-time employees including employer CPF contributions was S$4,680 for men and S$4,095 for women.
It is important to understand that this wage discrepancy does not account for job title, education level, or work experience. However, it is still relevant as it gives a picture of about how much men and women earn in Singapore, on average.
Industries with the Worst Gender Wage Gap
While median wages by gender is a good place to start, it does not give a complete picture of Singapore's labour market. To gain a better understanding, it is helpful to consider the median wage gap by industry. We found that the wage gap tends to be particularly high in the health & social services, manufacturing, accommodation & food services, information & communications and financial & insurance services industries. This group also includes some of the highest paying industries, which suggests that women are less likely to have some of the highest paying roles in the country. For example, women make up 52% of the financial & insurance industry workforce, but just 43% of the employees earning at least S$7,000 per month in that sector. Similarly, women make up 77% of the health & social services workforce, but represent only 51% of employees in that industry that earn at least S$7,000 monthly. Meanwhile, women represent 85% of the employees earning less than S$2,000 per month.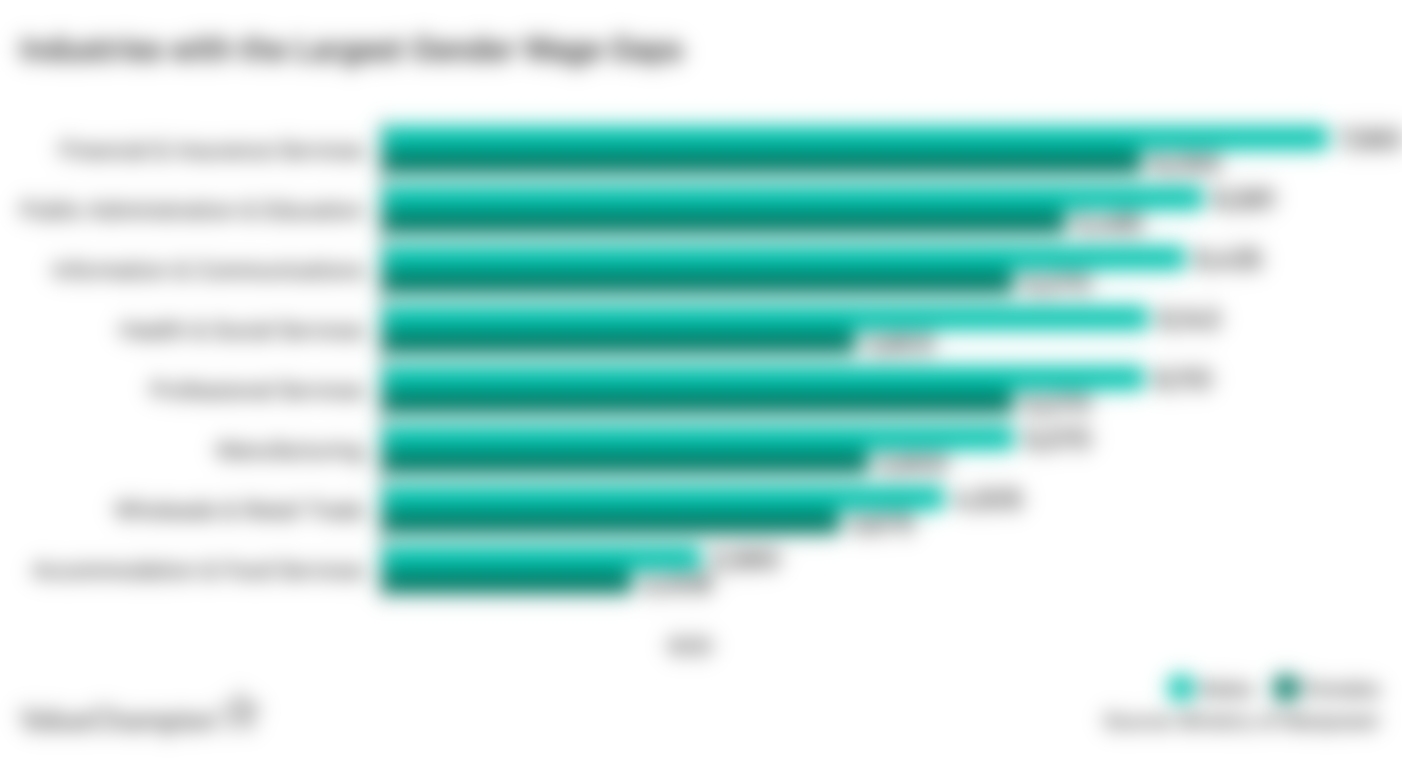 Industries with the Least Gender Wage Gap
On the other hand, women face a relatively smaller wage gap in industries such as real estate, construction, arts and recreation and other service-related sectors. In fact, the median wage for women in the transportation & storage and administrative industries is actually higher than it is for men. However, it is worth noting that women make up just 24% of the transportation & storage and 26% of the construction workforces. This suggests that the impact of this wage advantage in these industries may be somewhat limited for women in Singapore.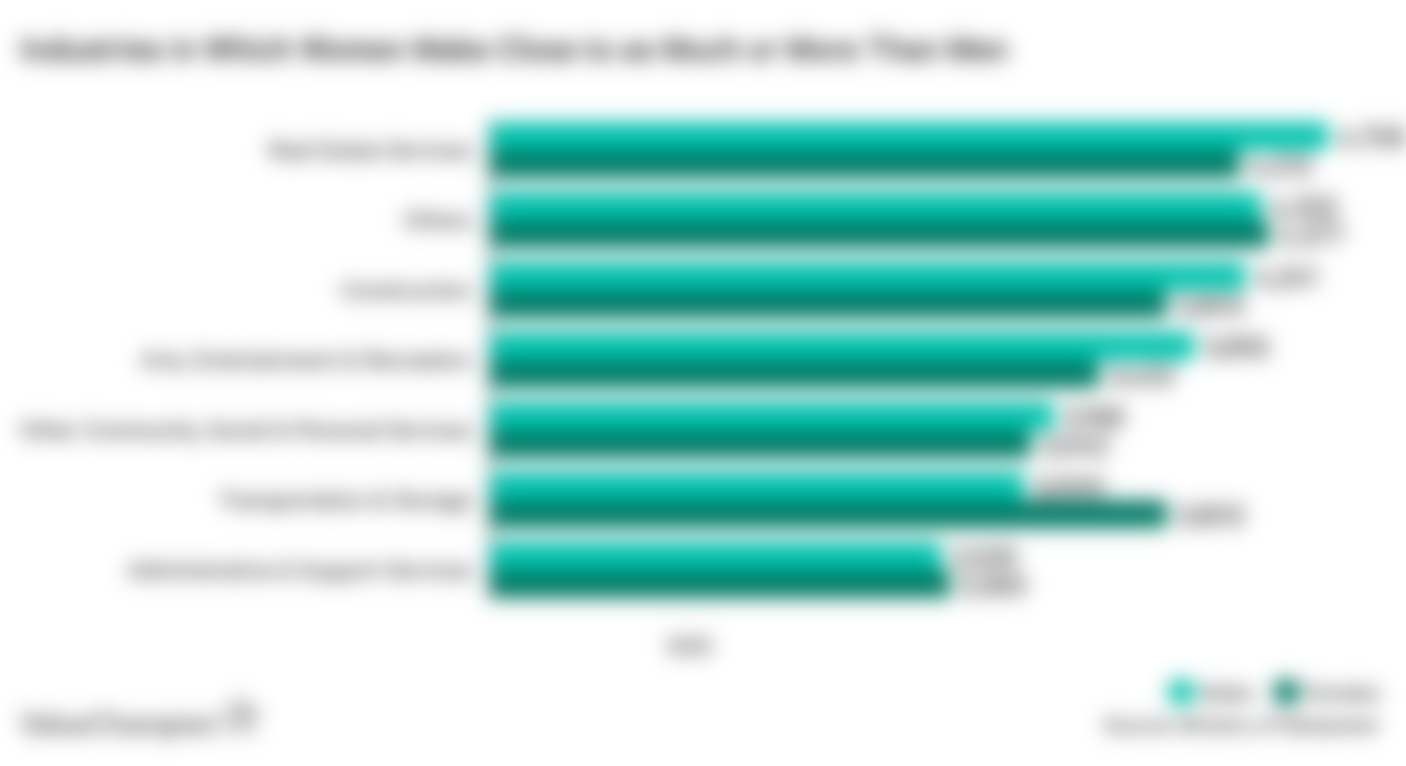 What Changed Since 2017
In order to understand the dynamics of Singapore's widening gender wage gap, we analysed changes between 2017 and 2018. Women made significantly less compared to men in the real estate services and health and social services industries in 2018 compared to 2017. Additionally, women's median wages in transportation & storage and administrative & support services exceeded men's by a smaller margin in 2018 than in 2017. For example, the median wage of women in the transportation & storage industry was 150% of their male counterparts in 2017, but just 127% in 2018. However, the wage gap narrowed for professional services and manufacturing. For more details, please refer to the table below.
Women's Pay as Percentage of Men's
Industry
2018
2017
Manufacturing
77%
73%
Construction
90%
88%
Wholesale & Retail Trade
82%
83%
Transportation & Storage
127%
150%
Accommodation & Food Services
78%
79%
Information & Communications
79%
83%
Financial & Insurance Services
80%
82%
Real Estate Services
90%
99%
Professional Services
83%
77%
Administrative & Support Services
102%
107%
Public Administration & Education
83%
86%
Health & Social Services
62%
68%
Arts, Entertainment & Recreation
87%
91%
Other Services
96%
93%
Other *
101%
92%
Total
88%
91%
* "Other" includes Agriculture, Fishing, Quarrying, Utilities and Sewerage & Waste Management
Other Possible Explanations for Singapore's Gender Wage Gap
Now that we've covered the broad overview of the median gender wage gap and changes between 2017 and 2018, it is worth asking: what other factors drive these discrepancies?
Occupational Differences
First of all, women in Singapore are more likely to work in some roles and less likely to work in others. For instance, women are much more likely than men to work in service, education and care related roles, such as personal care workers, clerks, teachers and customer service workers.
Top Female-Dominated Occupations in Singapore
| Occupation | Women as a Percentage of Total Employees | |
| --- | --- | --- |
| Personal Care Workers | 91% | |
| General & Keyboard Clerks | 85% | |
| Teaching Associate Professionals | 84% | |
| Customer Services Officers & Clerks | 76% | |
| Food Preparation & Kitchen Assistants | 70% | |
| Health Associate Professionals | 69% | |
| Health Professionals | 67% | |
| Other Clerical Support Workers | 65% | |
| Teaching & Training Professionals | 64% | |
On the other hand, men are much more likely than women to be employed in engineering and technical roles, which tend to pay high wages. For example, women represent a smaller fraction of engineering professionals (26%) and information & communications technology professionals (29%).
It is difficult to determine whether these occupational differences are based on preference, educational or professional opportunities, or societal expectations. To its credit, Singapore's government has identified the need to encourage young women to pursue science, technology, engineering and mathematics (STEM) degrees. Many of these degrees, offer particularly high return on investment, which can benefit graduates in terms of higher salaries upon graduation.
Work Hour Differences
On average, women in Singapore work about 5% less hours (or 2.3 hours per week) than men. For example, women working full-time jobs average 44.5 hours per week while men average 46.8 hours per week. Working longer hours may help with career advancement and eventually lead to higher pay. While the gap in hours worked may seem to suggest that women aren't working as hard as men, this is likely not the case. In reality, international research indicates that women tend to work spend more time on housework compared to men. In turn, this can mean that women end up working fewer hours at their job due to taking care of household chores and childcare, burdens that are not typically borne by men.
Positive Trends: Part Time, Board Representation & Higher Education
While the income gap widened slightly between 2017 and 2018, there are some positive trends in terms of gender equality in Singapore's labour market. First, median wage for part-time, female workers (S$1,023) now represents 94% of that of their male counterparts (S$1,090). This percentage increased only slightly from 2017 (93%), but has improved significantly from a decade ago (86% in 2008).
Additionally, the proportion of board seats held by women in Singapore more than doubled in the past 5 years, from 7.5% in 2013 to 15.2% in 2018. Meanwhile, the number of all-male boards of the top 100 listed companies in Singapore decreased from 50% in 2013 to 25% in 2018.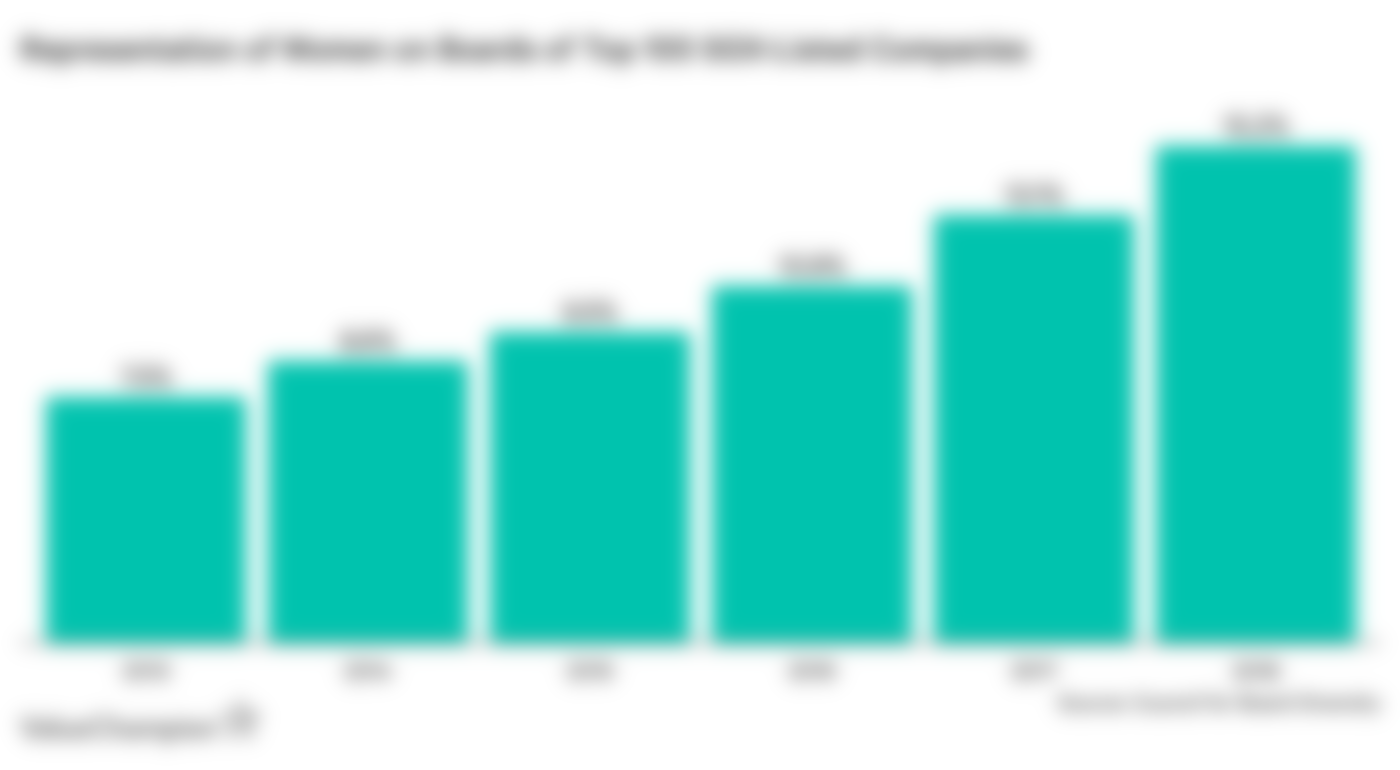 Finally, the proportion of women with a university degree in Singapore increased from 26% in in 2008 to 38% in 2018. Meanwhile, the percentage of women with less than a secondary education decreased from 21% to 15% during the same period. These trends are a positive sign for educational opportunities in the country and may help women to find good-paying jobs in coming years.
International Comparison: How Does Wage Equality in Singapore Compare Internationally?
While it is important to analyse Singapore's wage equality over time, it is also be useful to compare it's progress compared to those of other economies. For example, the World Economic Forum's Survey of Wage Equality Between Women and Men for Similar Work found that Singapore scored the second highest of any country in 2018 with a score of 0.819; Iceland ranked first with a score of 0.820. This represented a relative improvement in terms of score and rank, for Singapore, compared to 2016 when it ranked fourth with a score of 0.810.
However, there are still clear areas of improvement for gender equality in Singapore's workplaces. Notably, while women have become increasingly included on the board's of companies in Singapore, other countries far surpass Singapore in terms of female board representation. For example, France leads the way with 42.5% female board representation and neighboring Malaysia also outpaces Singapore at 19.2%.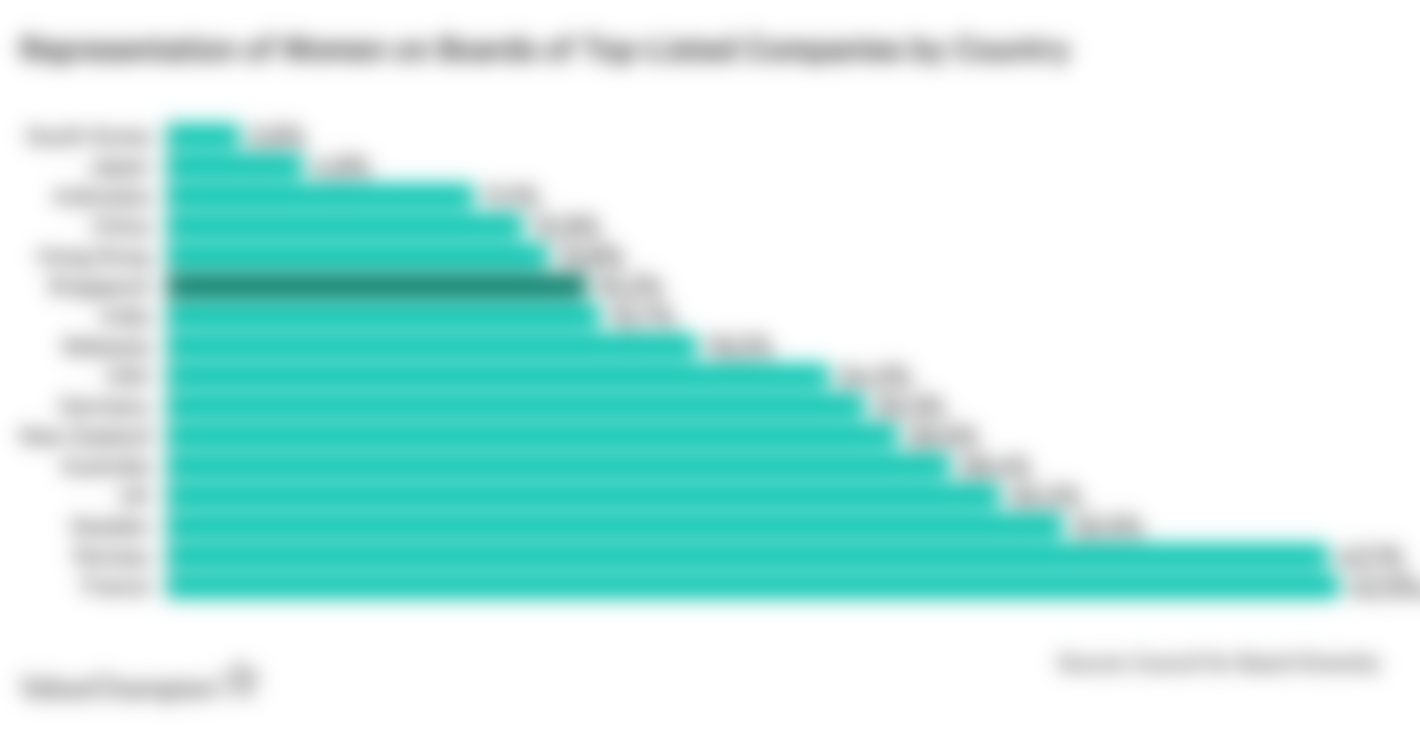 How to Improve a Gender Wage Gap
Like many major economic issues, there is not a quick fix for Singapore's gender wage gap. The problem is multifaceted and difficult to isolate. Some European countries pay for longer maternity and paternity leave or require employers to offer these benefits. These policies allow mothers to transition more seamlessly back into the workforce and encourage men to play a bigger role in housework and childcare, both of which can help women's earning potential in the long run. Furthermore, boosting women's participation in the workforce may positively impact Singapore's economy as a whole. Additionally, some countries such as France, Norway, Germany and India have quotas for the number of women on a public company's board. This can give women important opportunities within a company as well as provide companies with new and valuable perspectives.
Methodology & Limitations
In order to analyse the gender wage gap in Singapore, we primarily relied on publicly available data from the Ministry of Manpower (MOM). These data sets allowed us to analyse wage and employment trends in order to gain a reasonable understanding of the labour market. We also considered data from the World Economic Forum in order to understand how men and women were paid for similar work in Singapore and internationally. Finally, we used the Council for Board Diversity's research to understand how women are represented in director-level positions in Singapore and abroad.
Data Sources:
Singapore Ministry of Manpower (MOM): Comprehensive Labour Force Survey 2018
Council for Board Diversity
World Economic Forum (WEF): Global Gender Gap Report 2018
The gender wage gap is a complex issue and is influenced by a number of economic and social factors. In this report we try to explain how the gender wage gap has changed in Singapore and pose some reasonable explanations for why the gap exists. We did not survey individuals or companies and therefore are unable to assess whether or not women are being paid less for specific jobs that they are equally educated and qualified to perform. Furthermore, we mentioned policies that have been enacted in other countries that could be helpful for women employees, but did not conduct a thorough analysis in order to make policy suggestions in Singapore.