American Express Travel Insurance
Affluent skiers and golfers who want above average protection for their belongings could benefit from American Express's Standard and Superior plans.
American Express Travel Insurance
Affluent skiers and golfers who want above average protection for their belongings could benefit from American Express's Standard and Superior plans.
Pros
Great ski and golf benefits
Offers a comprehensive array of benefits
Cons
Annual plans are very expensive
Doesn't offer group coverage
Essential plan has no sports coverage
American Express's travel insurance plans, especially its annual plan, tend to be somewhat pricey compared to other cheaper alternatives. However, affluent consumers who want comprehensive winter sports or golf coverage may find some value with its single-trip plans.
Summary of American Express VoyageGuard Travel Insurance
Essential
Standard
Superior
Subpar benefits
Good for affluent consumers
No sports coverage
Optional winter sports or golf coverage for additional cost
Very expensive annual plans
Doesn't offer group plans
Below average prices for single trip plans
Table of Contents
American Express VoyageGuard: What You Need to Know
American Express' VoyageGuard travel insurance plans can be good options for golf or winter sports travellers as it offers a comprehensive packages for both activities. While its annual plans are quite expensive, we found that its single trip policies offer quite a high value for short-term travellers. VoyageGuard offers three different plans of varying coverage and pricing grades: Essential, Standard and Superior for single trip and annual multi-trip coverage. It offers plans for individuals, couples and families to the ASEAN, Asia and global territories (excluding either the US/Canada or Cuba).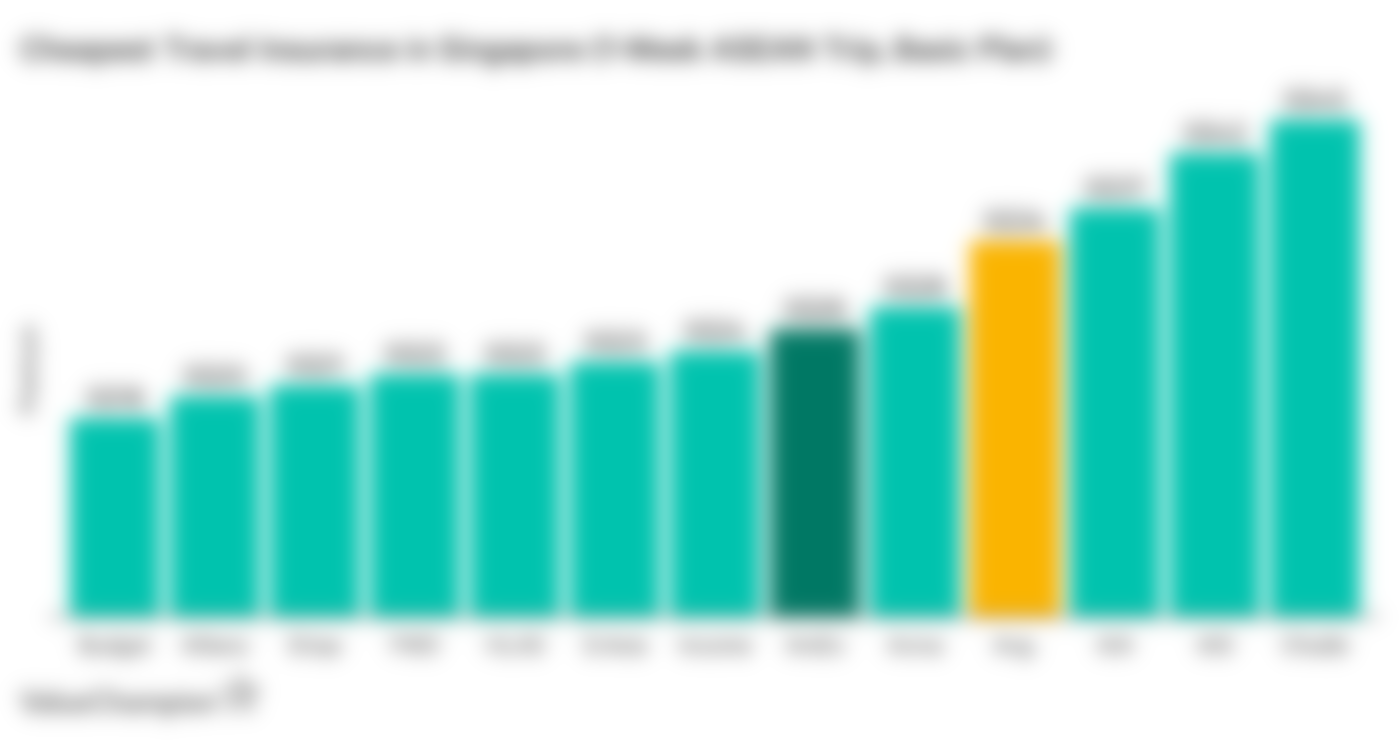 If you are not limited by budget and are traveling either alone or with your family, the American Express plans can be of value with its comprehensive medical and personal accident coverage as well as winter sport or golfing add-ons. American Express also offers 24-hour worldwide assistance, a 24-hour travel advice hotline and full terrorism coverage across all of its plans. If safeguarding your immediate financial needs is important to you, the VoyageGuard plans can come in handy as there is cover for personal cash, fraudulent credit card use and loss of frequent flyer points (if you paid with frequent flyer points for a trip that was cancelled).
However, to get the most benefit out of an American Express plan, you will have to opt either for its Standard or Superior plans. Additionally, you can not insure groups of travellers and family is limited to parents and children under 23. Thus, due to the annual pricing and limitations on how many people can be insured under one plan, we would not recommend American Express plans if you are travelling as a group or are looking for a budget annual plan.
Notable Exclusions
American Express is pretty standard in its general exclusions and won't pay out for injuries or medical treatment due to war or pre-existing conditions. It also doesn't cover extreme sports like off-piste skiing, potholing, mountaineering and other relatively dangerous activities. Below, you'll find a quick summary of some of the most important exclusions you should be aware of.
| Medical Exclusions | Trip Exclusions | |
| --- | --- | --- |
| Pre-existing conditions | Trips to US, Canada, Cuba (unless specified in plan) | |
| Prosthetics (dentures, contact lenses, etc) | Professional athletes/sports activity for monetary gain | |
| Mental disorders/Suicide | Damage of food | |
| Trips undertaken for medical purposes | Hired/leased equipment | |
| Conditions due to pregnancy, including birth | Computers and data (software) | |
| | Business goods/samples | |
American Express VoyageGuard Essential
Those looking for short-term single trip policies may find some value in American Express's Essential plan due to its below average short-term prices. For example, its S$25.90 for 1-week ASEAN trips and S$50.40 for a 1-week global trip premiums are between 10-20% cheaper on average than its peers. However, once you start looking at annual plans, the Essential plan is 20% higher than the industry average for ASEAN trips. Additionally, besides its medical coverage, which is double its peer average at S$500,000, its trip inconvenience coverage is (significantly?) below average. Unlike Amex's more premium plans, the Essential Plan also does not offer an option to purchase an additional sports coverage, and doesn't provide lifestyle coverage, which includes pet cover, rental vehicle coverage and home protection.
We can only recommend this plan to people who are going on short-term trips and prioritise medical and terrorism cover over trip inconvenience or budget. While this plan may be a good fit for some people, others may see more value in purchasing cheaper a basic plan like FWD that offers budget prices and automatically includes sports coverage, or a plan that offers much more trip inconvenience coverage like Allianz Global Assistance.
American Express VoyageGuard Standard & Superior
If you would rather find a comprehensive policy that is tailored to your trip activities regardless of the cost, American Express's Standard or Superior plans may be good options to consider. Though their annual prices are some of the most expensive on the market (S$255 for the Standard plan and S$405 for the Superior plan), the prices for single trip plans are quite competitive and fall at or below their peer averages. Additionally, the optional winter sports or golf add-on boasts the highest equipment coverage on the market at S$5,000 for the Superior plan and S$3,000 for the Standard plan. Both of these plans also include pet cover (for pet day care in case you are delayed in returning home) and up to S$10,000 of home contents cover while you are away. Both of the plans offer above average medical and personal accident coverage compared to the industry average, which is great for travellers who will be engaging in sports activities abroad.
If you are looking for a high-value plan, the Superior plan is one of the best value plans on the market for short trips regardless of destination due to its above average coverage and below average 1-week trip premiums. This means that for the amount you pay, getting the Superior plan will give you maximum coverage for each dollar of premium. The Standard plan also offers above average coverage per dollar of premium, but there are other mid-tier plans that are cheaper and offer similar coverage, like Aviva. Additionally, if you are looking for a comprehensive but a budget-friendly annual plan, these plans may not be the best fit, nor will they be if you are looking to save money on group insurance.
Sports Coverage
American Express offers very comprehensive coverage for winter sports and golf for additional S$3.90 for single trips and S$14-S$19 for annual trips. Not only is their equipment coverage some of the highest, but they also provide coverage for unused activity fees and passes like green fees and ski school expenses. However, while they provide coverage for unused ski equipment, they do not offer coverage for hired golf equipment (which some other insurers do), making their ski coverage more comprehensive and valuable.
| Winter Sports Coverage | Standard Plan | Superior Plan |
| --- | --- | --- |
| Ski Equipment | S$3,000 | S$5,000 |
| Piste Closure | S$50/day | S$100/day |
| Unused ski equipment, lift passes, ski school | S$500 | S$1,000 |
| Replacement of ski or lift pass | S$250 | S$500 |
| Additional Cost (annual trip) | S$14 | S$19 |
| Additional Cost (single trip) | S$3.90 | S$3.90 |
| Golf Coverage | Standard Plan | Superior Plan |
| --- | --- | --- |
| Golf Equipment | S$3,000 | S$5,000 |
| Hole-In-One | S$300 | S$500 |
| Unused Green Fee | S$750 | S$1,000 |
| Additional Cost (annual trip) | S$14 | S$19 |
| Additional Cost (single trip) | S$3.90 | S$3.90 |
Contact & Claim Information
The claims process is a straightforward online submission done through Chubb that must be completed in one sessions and has a 20 minute time limit. You should have all relevant information and documentation ready and either you or your broker can submit the claim.
| | Contact Information |
| --- | --- |
| Customer Service Phone Number (9am-5pm) | (65) 6299 0922 |
| 24-Hour Emergency Assistance Hotline | (65) 6836 2922 |
| Address | 138 Market Street #11-01 CapitaGreen, Singapore 048946 |
| Claims | Website |
American Express VoyageGuard Summary
Whether you are planning a trip for a certain activity or you just want to make sure you are protected from the unknown, finding a travel insurance policy that fits within your budget and gives the right coverage can be difficult. Below, you can find tables that summarizes American Express Voyage Guard and how it compares to the industry average in terms of premiums and coverage. If you want to see other plans, we've compiled a guide to some of the best travel insurance policies in Singapore.
| | Essential | Standard | Superior | Industry Average |
| --- | --- | --- | --- | --- |
| 1-week ASEAN | S$25.90 | S$38.35 | S$48.10 | S$46.00 |
| 1-week Asia | S$32.90 | S$41.60 | S$62.40 | S$56.00 |
| 1-week Global | S$50.40 | 57.20 | S$76.70 | S$78.00 |
| Annual ASEAN | S$205 | S$255 | S$405 | S$248.00 |
| Annual Asia | S$220 | S$295 | S$435 | S$264.38 |
| Annual Global | S$259 | S$385 | S$599 | S$355.00 |
| 1-week ASEAN Ratio | 1.06 | 1.33 | 2.05 | 1.00 |
| Annual Global Value Ratio | 0.80 | 0.99 | 1.23 | 1.00 |
| Coverage & Benefits | Essential | Standard | Superior | Industry Average |
| --- | --- | --- | --- | --- |
| Medical | S$500,000 | S$1,000,000 | S$2,000,000 | S$781,000 |
| Personal Accident | S$125,000 | S$250,000 | S$500,000 | S$329,300 |
| Emergency Medical Evacuation | S$500,000 | S$1,000,000 | Unlmtd | S$1,043,000 |
| Trip Cancellation | S$5,000 | S$10,000 | S$20,000 | S$12,900 |
| Trip Delays | S$800 | S$1,200 | S$2,400 | S$1,300 |
| Baggage Loss/Damage | S$3,500 | S$5,000 | S$8,000 | S$5,700 |
| Baggage Delay | S$800 | S$1,200 | S$2,400 | S$1,100 |
Read Also: