Travel Insurance
Budgeting for Altruism: Tipping Expectations Worldwide
As tipping becomes more common around the world, knowing when to tip and how much can keep your travel costs in check.
How many times have you looked at your credit card bill and were shocked to find you spent way more on your trip than what you anticipated? As you look through the charges, you notice that the small charges for a souvenir here or a cafe visit added up quickly. To add insult to injury, you also realise your dream trip to New York City actually cost several hundred dollars more than you anticipated thanks to the tips you had to give out for every bar drink, restaurant meal and cab ride. While some whimsical travel expenses are hard to anticipate, gratuity is a relatively easy expense to account for when budgeting for travel. In fact, if you don't leave room for it in your budget, you may end up overspending by 10-25%. To help you plan better for the smaller costs of travel, we broke down tipping expectations in different regions around the world.
You Don't Really Need to Tip in Asia
Tipping is not expected or required in most countries in Asia, so it won't make up a significant portion of your budget. In fact, China, Japan or South Korea have strong no-tip cultures and attempting to tip for services can run the risk of offending someone. Furthermore, tipping for meals, cab rides and hotel services is not expected in Taiwan, Philippines, Indonesia, Malaysia and Thailand.
Average Suggested Tips in Major Tourist Cities in Asia Pacific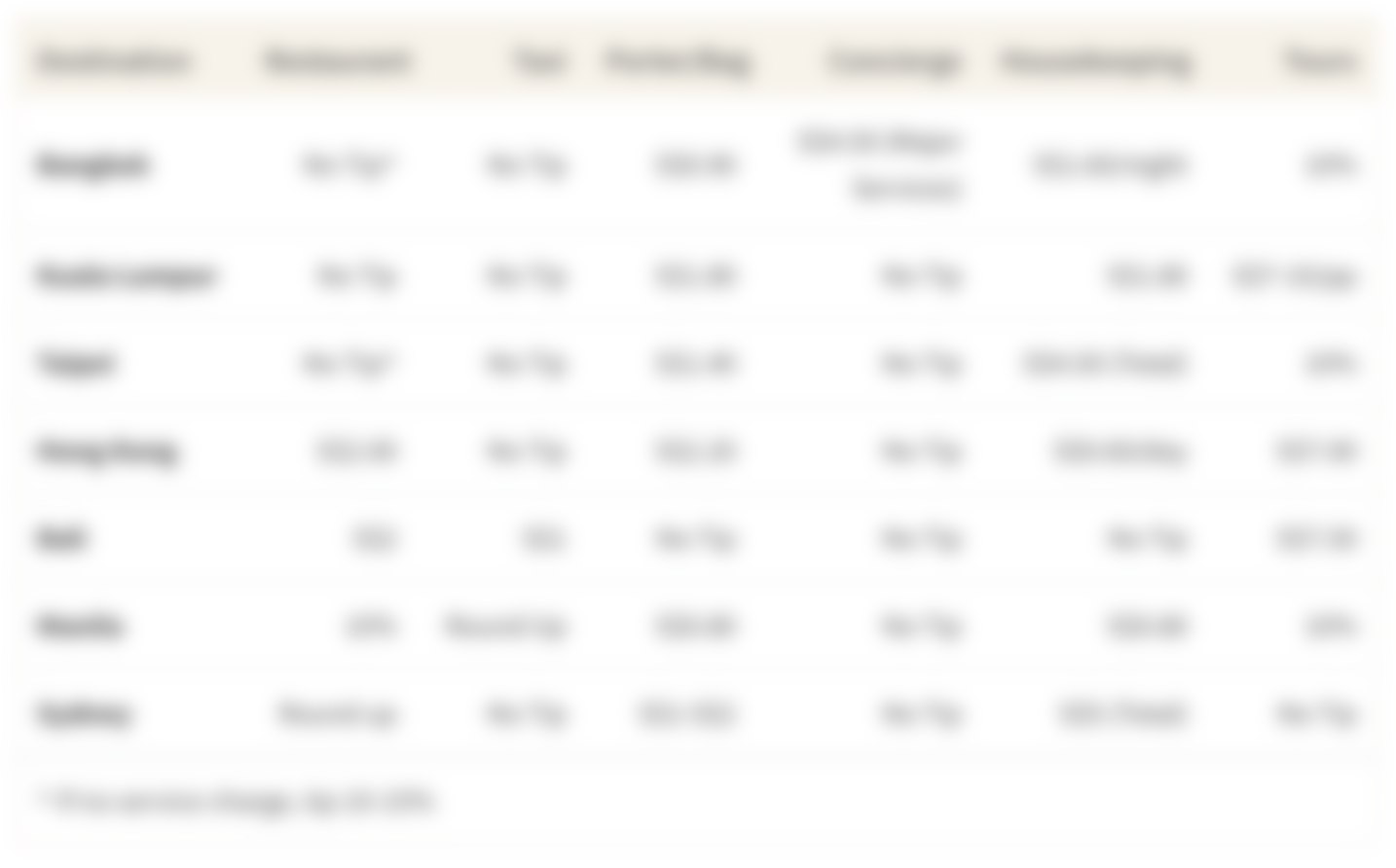 Nonetheless, there are a few instances where tips have become more accepted. Tipping your tour guide is widely practiced in most Asian countries (China, Japan and Korea excluded). In Bangkok, for example, it is customary to tip your tour guide 10% of the tour price (200-300 Baht). Furthermore, tipping the porter a dollar or two per bag and tipping the chambermaid a few dollars daily is an acceptable amount in most places in Asia Pacific. While Australia doesn't have a set tipping culture, small tips (10%) have become more common at restaurants as of late.
Interestingly enough, even no-tip countries have started warming up to the gratuity trend thanks to western tourists who can't seem to leave the habit at home. For instance, Western-styled restaurants in South Korea have started to put out tip jars where you can deposit a small tip after your meal. Furthermore, it has become more acceptable to let your taxi driver keep the change after a ride if you believe the service was good. Still, you should keep it to small change as tipping a large amount may come as a shock to the recipient, despite the changing trends.
Travellers to Europe Can Expect to Spend Discretionary Amount on Tips
Tipping is more commonplace in Europe than in Asia. For instance, when travelling through Europe, you should tip between 5-10% of the bill in the absence of a service charge at restaurants. If a service charge is included, but the service was great and you want to show your appreciation, you can feel free to just leave the change. Similarly, you can leave a couple of dollars for your tour guide if you believe they did a great job. Something interesting we noticed is that while tipping chambermaids and porters is the same as in Asia (a few Euros), hotel concierges typically receive much larger tips than in other regions of the world. If your concierge was able to get you a hard-to-get restaurant reservation, for instance, it is typical to tip between S$12-S$30.
Average Suggested Tips in Major Tourist Cities in Europe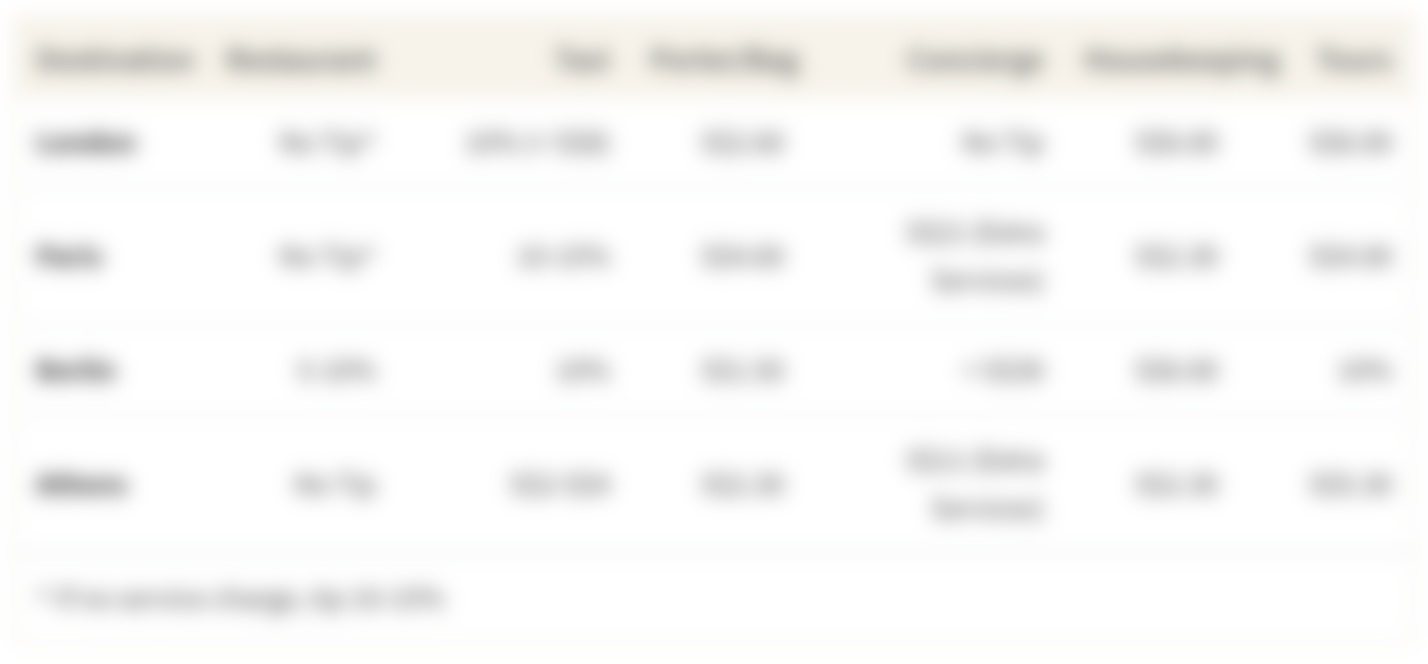 Tipping Can Make Up Considerable Portion of Budget in the Americas
The United States is notorious for having a strong tipping culture. To balance out the below-average wages for waitstaff, patrons are expected to tip between 15-25% in restaurants and bars. In some places, suggested tip amounts may go as high as 30% of your bill. Travelling through the US is one instance where tipping can significantly impact your budget. For instance, if the average cost of a dinner for two people in New York City is S$109, you may end up spending roughly S$200 on tips after a week of dining out—roughly the equivalent cost of a roundtrip flight to Kuala Lumpur or Penang. However, unlike in Asia or Europe, it is acceptable to leave tips on your credit card. This is a great way to make additional cost of eating and travelling work in your favour, as some credit cards can earn up to 4 miles per S$1 of overseas spending.
Average Suggested Tips in Major Tourist Cities in North America

Mexico and Canada follow a similar tipping culture as the United States, albeit in smaller amounts. So while you don't need to put aside several hundred dollars when going to Mexico City or Vancouver, putting aside a small part of your budget is still necessary. Travellers going to Canada and Mexico should tip between 10-20% at restaurants and spas, and leave a few dollars for porters and cleaning staff.
If you're travelling to South America, tipping is not widely established but is expected in certain cases. For instance, a 10% tip for dinner in a nice restaurant and rounding up to the nearest dollar for cab rides is the norm across the continent. Tour guides should also be tipped regardless of the country, since tours typically last several days and require a lot of planning on the part of the guides. Thus, if your trip includes a multi-day hike to explore Machu Picchu or Patagonia, you should tip your tour guide between S$14-S$27 per day, with an extra S$5-7 tip for the driver. However, tipping expectations change from country to country when it comes to going out. For instance, while you can tip around 10% at bars in Brazil or up to S$2 per drink in Colombia, it is unnecessary in Argentina.
How to Tip Respectfully
The last thing you want to do when you travel is offend the locals. Thus, there are a few things you should keep in mind when deciding when to tip and how much. First, you should always research tipping practices in the country you'll be visiting. You should also make sure you have enough cash at hand in places where tipping on credit cards is not common. Tips in cash should also be in the country's local currency, as it can be a burden to get currency exchanged. However, because carrying large amounts of cash can be risky, we recommend getting a travel insurance policy with a generous theft benefit so you can recoup lost money due to unfortunate events. Lastly, you should remember that in most places, tipping is reserved for exceptional service. If you believe someone went above and beyond for you, then a token of gratitude will always be appreciated.