Standard Chartered Visa Infinite Card: For Frequent Business Travelers
Maximise Miles for Overseas Spend & Tax Payments
Standard Chartered Visa Infinite Card: For Frequent Business Travelers
Maximise Miles for Overseas Spend & Tax Payments
Pros
Great rewards for high overseas spend
Rewards banking activity
Cons
Not suitable for average spenders who mostly buy local essentials
Annual fee
Standard Chartered Visa Infinite Credit Card not only allows affluent travellers to maximise miles with market-leading rewards rates, it also provides stand-out transport benefits and even rewards banking activity. Cardholders earn 1.4 miles per S$1 local spend and 3 miles overseas, receive rental privileges with Hertz Asia and up to 25% fuel savings at Caltex. Consumers can also earn points on mortgage loans, savings accounts, tax payments and more. While the non-waivable S$588.5 fee is high, SC Visa Infinite Card's unique benefits aren't offered by most competitors.
Standard Chartered Visa Infinite Card Features and Benefits
Annual Fee: S$588.50, No waiver
Income Requirement: S$30,000 for citizens & PRs, S$60,000 for foreigners
Key Features:
Annual fee: S$588.50 (no waiver)
1 mile/S$1 spent in local and foreign currency (base rate)
Additional 0.4 miles/S$1 local spend and 2 miles/S$1 overseas spend when min eligible spend of S$2,000 is made
Income tax payments eligible for 360°Rewards Points
35,000 welcome miles (worth S$350)
Up to 20% fuel savings at Caltex
What Makes Standard Chartered Visa Infinite Card Stand Out
Affluent business travellers looking to maximise miles and enjoy easy convenience during trips abroad should consider Standard Chartered Visa Infinite Card. As long as they spend at least S$2,000/month, consumers earn top rates of 1.4 miles per S$1 local spend and 3 miles overseas, plus transport benefits like rental car upgrades with Hertz Asia and up 25% fuel savings at Caltex. Cardholders can even receive a free 4-hour yacht hire after S$75,000 annual spend.
While most travel cards don't require a minimum spend to access higher rates, SC Visa Infinite Card is tailored to consumers who spend closer to S$6,000+ per month–a level at which rewards earned offset the S$588.5 fee. SC Visa Infinite Card also rewards income tax payments (after a one-time 1.6% processing fee) which is rare and benefits high-earning cardholders. Cardholders with SC Banking relationships can also earn on select mortgage loans, savings accounts, fixed deposits and investments after a S$500 monthly spend.
Potential Cardholder Earnings for Charging Income Tax to Card
| Description | Value |
| --- | --- |
| Minimum Salary Requirement | S$150,000* |
| Approx. Tax Bracket | 15%+ |
| Approx. Miles Earned | 17,430+ |
| Estimated Value-to-Consumer | S$174+ |
* Minimum salary requirement for card approval as applied to consumers without an SC banking relationship; Singaporean SC Priority/Private Banking customers are only required to earn S$30,000 annually
However, SC Visa Infinite Card's non-waivable fee is still particularly expensive, even compared to other pricy travel cards. While cardholders receive 35,000 welcome miles (worth about S$350), they do not receive subsequent annual renewal miles, which are provided by most competitors to offset their annual fees (including Citi Prestige MasterCard and UOB PRVI Amex Miles Card's). In addition, SC Visa Infinite Card's benefits are in some ways limited. Cardholders receive just 6 lounge access vouchers (v. unlimited) and do not receive free limo transfers.
Ultimately, high-income business travellers who could benefit from global transport benefits might consider SC Visa Infinite Card as a way to maximise miles earning. In addition to leveraging the card to earn rewards from tax payments, high earners can also enjoy travel perks that make business trips comfortable and convenient.
How Does SC Visa Infinite Card's Rewards Program Work?
Use our quick and easy-to-read guide below to learn how you you can redeem SC Visa Infinite Card rewards.
Spend officially rewarded in Points, redeemable as vouchers or mileage
Points earned with SC Visa Infinite Card do not expire
Points can be converted to miles via the Singapore Airline KrisFlyer Programme
Miles are transferred at the conversion rate of 5 points for 2 miles
There is a S$25 transfer fee each time points are converted to miles
Upon account termination, Points can be transferred to up to 5 nominees (family members or friends with cards eligible for rewards programme)
Points transferred from SC Visa Infinite Cardholder's account do not incur a transfer fee
SC Visa Infinite Card Rewards Exclusions
Some credit card expenditures are ineligible for cash back or rebate. We identify these exclusions in the table below.
| Exclusion Category | Description |
| --- | --- |
| Bank Fees | Cash advance; balance/fund transfers; monthly installment of an EasyPay transaction; any fees or charges (including but not limited to annual card fees, service fees, interest charges, cheque processing fees, administrative fees, finance charges, and/or late payment charges and other miscellaneous fees and charges); reversed fees and charges; amounts which have been rolled over from any preceding month's statement; any fraudulent retail transaction |
| Transfers & Bill Payments | AXS or ATM transactions; any online bill payment through Standard Chartered Online Banking |
| Institutional Payments | Certain insurance premiums |
How does SC Visa Infinite Card Compare Against Other Cards?
Read our comparisons of SC Visa Infinite Card with other cards and learn what makes each card unique in their own way. We compare and contrast each card to highlight its uniqueness to help you identify the card that you need.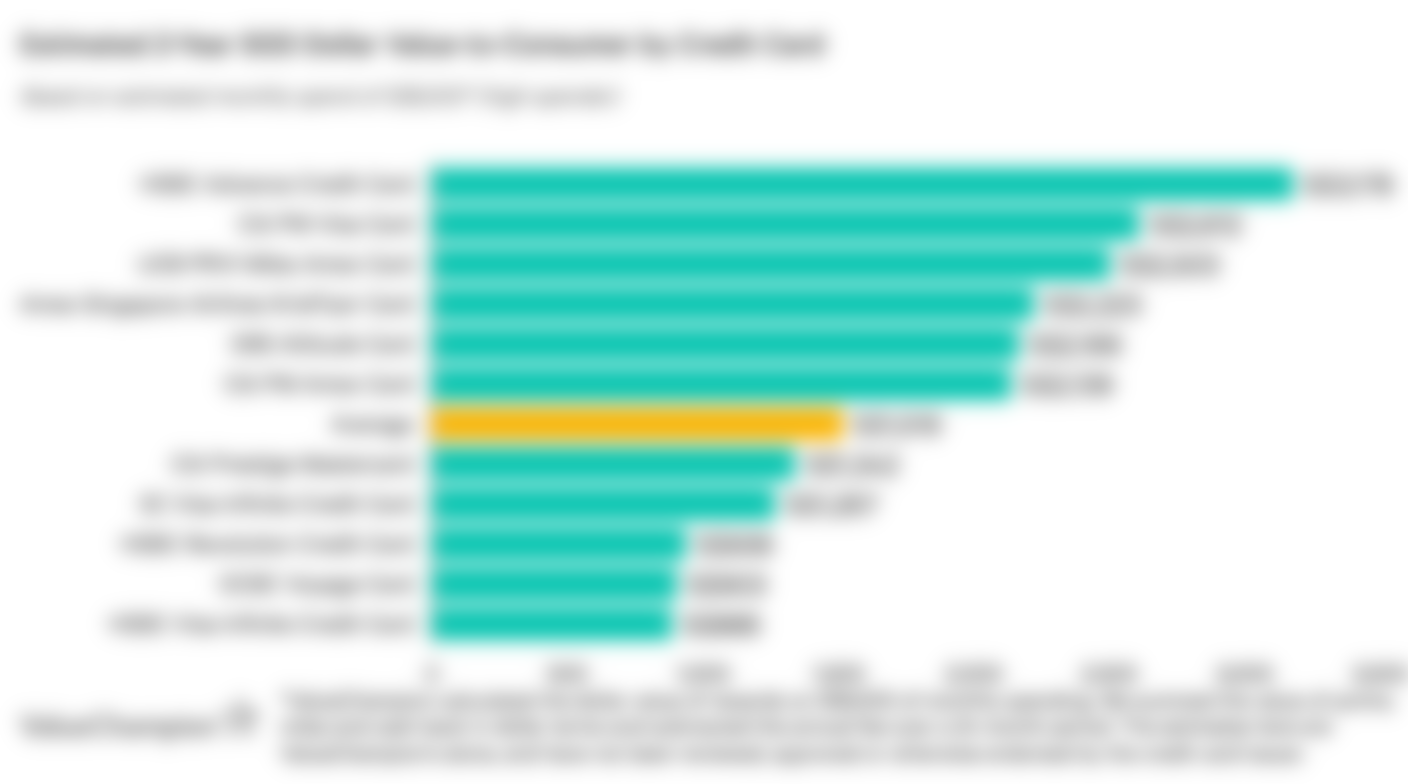 SC Visa Infinite Card v. UOB PRVI Miles American Express Card
Above-average spenders who prioritise rapid miles accumulation may be interested in UOB PRVI Amex Miles Card's top rates of 1.4 miles per S$1 local spend, 2.4 miles overseas, and 10 miles with major airlines and hotels. While perks are minimal–primarily travel insurance and airport transfers–cardholders spending S$4,200/month can not only avoid the S$256.8 annual fee, but also earn 20,000 annual renewal miles as well. SC Visa Infinite may be better for frequent travellers seeking convenience as it has a few extra perks, in addition to high rewards rates.
SC Visa Infinite Card v. Citi Prestige MasterCard
While SC Visa Infinite Card offers travel privileges, Citi Prestige MasterCard provides next-level luxury with unlimited lounge access, free limo transfers, free green fee rounds, and hotel booking extensions–in addition to top rewards rates of 1.3 miles per S$1 local spend and 2 miles overseas. The card's S$535 fee is offset by 25,000 welcome miles and 25,000 annual renewal miles (worth S$250 each). Citi Prestige Card is great for consumers seeking luxury perks; SC Visa Infinite Card may be better for businessmen who value transport benefits and rewards on taxes.
SC Visa Infinite Card v. OCBC Voyage Card
OCBC Voyage Card's flexibility in miles redemption makes it ideal for consumers with irregular travel schedules and those who shift between local and overseas spending. With minimal processing time and no blackout dates, cardholders are free to redeem miles and travel whenever they'd like–and can enjoy benefits like free travel insurance, airport lounge access, and limo transfers along the way. Cardholders also earn 1.2 miles per S$1 local spend, 1.6 miles on local dining, and 2.3 miles overseas. The S$488 fee is non-waivable, but is offset annually by 15,000 renewal miles (worth S$150). This card is great for travellers valuing flexibility, while SC Visa Infinite Card is better for those with frequent overseas spend.