Credit Cards
Everything You Need to Know About Credit Card 0% Interest Instalment Plans
Get the Best Credit Cards in Singapore
{"applyCallToAction":"Learn More","defaultSelectedItem":"","description":"","formType":"credit-cards","title":"Get the Best Credit Cards in Singapore","options":[{"label":"Rewards","url":"https:\/\/www.valuechampion.sg\/best-rewards-credit-cards","value":"rewards"},{"label":"Cashback","url":"https:\/\/www.valuechampion.sg\/best-cashback-credit-cards","value":"cashback"},{"label":"Miles","url":"https:\/\/www.valuechampion.sg\/best-travel-credit-cards","value":"miles"},{"label":"Promotions","url":"https:\/\/www.valuechampion.sg\/best-credit-cards-promotion-and-bonus","value":"promotions"},{"label":"No Annual Fee","url":"https:\/\/www.valuechampion.sg\/best-no-fee-credit-cards","value":"no-annual-fee"},{"label":"Petrol","url":"https:\/\/www.valuechampion.sg\/best-petrol-credit-cards","value":"petrol"},{"label":"Overseas Spending","url":"https:\/\/www.valuechampion.sg\/best-credit-cards-overseas-spending","value":"overseas-spending"},{"label":"Grab Rides","url":"https:\/\/www.valuechampion.sg\/best-credit-cards-grab-rides","value":"grab-rides"},{"label":"Shopping","url":"https:\/\/www.valuechampion.sg\/best-shopping-credit-cards","value":"shopping"},{"label":"EZ-Link","url":"https:\/\/www.valuechampion.sg\/best-ez-reload-credit-cards","value":"ez-link"},{"label":"Student","url":"https:\/\/www.valuechampion.sg\/best-student-credit-cards","value":"student"}]}
If you're a big shopper, you may already have experience with credit card instalment plans. However, for those who are less familiar, these instalment plans offer cardholders a relatively easy way to make large purchases and then pay them back over time. While this may be attractive, it's important to understand just how such plans work and the fees and expectations often involved. We've provided a detailed analysis of just how credit card instalment plans work in the guide below.
Table of Contents:
How To Make A Purchase On Your Card's Instalment Plan
Many merchants offer their own instalment payment plans. However, these plans may not always have the most attractive terms. To ensure that your purchase is made on your credit card's plan instead you may have to take a few extra steps upfront. Some card plans, for example, may require you to apply for the plan prior to making a purchase. You may need to fill out an actual application and wait for approval, though it's often also possible to simply call-in and make your request.
The method above can be quite tedious and requires consumers to think ahead. People who shop spontaneously may find themselves at a disadvantage. Fortunately, most credit card plans are far more flexible. In some cases, cardholders can simply clarify with the merchant that they'd like to use their card's instalment plan at the point-of-purchase. Other card plans allow consumers to call-in after their transaction (within a specified time frame) and ask for their purchase to be split retroactively. Finally, the most flexible cards–like OCBC Cashflo–allow cardholders to set up a standing threshold. All purchases equal to or higher than the threshold amount will be automatically split into instalments without any further action required by the consumer.
OCBC Cashflo Credit Card Instalment Plan
| Specified Trigger | Instalment Period |
| --- | --- |
| S$100-S$999 | 3 months |
| S$1,000+ | 6 months |
Clearly, credit card instalment plans can vary quite a bit. Take care to either review the terms and conditions associated with the plan (try googling the bank, the plan's name and "terms and conditions" if you're having trouble locating details on the site itself) or call the bank directly with questions.
Setting Up Instalment Amounts & Duration of Payments
Credit card instalment plans also vary significantly in terms of how instalment payments are structured. In almost all cases, cardholders must hit a minimum spend amount in order to qualify for their card's plan. However, this minimum is different from one bank to the next. Minimum transaction sizes range from S$100–S$500+, which is quite dramatic. Those who make smaller purchases are ineligible for the plan, which can be frustrating especially when minimums are at the higher end.
Minimum Qualifying Transaction Amounts for Select Credit Card Instalment Plans
| Credit Card Instalment Plan | Minimum Qualifying Transaction |
| --- | --- |
| DBS My Preferred Payment Plan | S$100 |
| OCBC Cashflo Card Plan | S$100 |
| CIMB 0% i.Plan | S$500 |
| HSBC Instalment Purchase Plan | S$500 |
| Standard Chartered EasyPay Plan | S$500 |
| UOB SmartPay Plan | S$500 |
The amount billed per instalment is based on the total transaction size and the plan tenure. Tenure itself is often tied to the transaction size. For example, transactions of S$100–S$500 might be eligible for 3 or 6 month tenures, while transactions of S$500+ might be eligible for additional 12 or 24 month tenures. Overall, most credit card plans offer instalment tenures of 3, 6, 12 or 24 months. Very few offer tenures beyond the 2 year mark.
Interest Rates, Transaction Fees & Rewards Terms
The best credit card instalment plans are clearly advertised as interest-free–always look for such options, as there's no real need to pay more than you need to. This is especially true because even plans that are interest-free are not necessarily no-fee. Most credit card plans actually charge a transaction fee equal to 3%–5% of the total purchase amount. Given purchases made on such plans are typically quite large, this fee can add up rather quickly. It's also important to point out that in most cases, purchases made on an instalment plan are ineligible for rewards. In this case, it's easy to pay a fee without any offset from earned cashback or miles.
Not all card plans have the same features, however, so consumers can experience a variety of outcomes. If a plan charges a transaction fee and does not offer rewards, cardholders will experience a nett loss by using the plan. If a plan charges a transaction fee and does offer rewards, consumers still typically will lose out, as the base rate at which plan purchases earn (about 0.30% cashback)–is usually lower than the plan fees (3%-5%). Some card plans, like that offered by DBS, do not reward plan purchases but waive transaction fees. This results in a nett neutral–neither loss nor gain. Finally, OCBC Cashflo stands out by being one of the only cards that rewards plan purchases while also waiving transaction fees–resulting in a nett gain.
Nett Financial Outcome Based on 0% Interest Instalment Plan Features
Transaction Fee
No Transaction Fee
Rewards In-Eligible
Nett Loss
Nett Neutral

DBS My Preferred Payment Plan
HSBC Instalment Purchase Plan

Rewards Eligible
Nett Loss

CIMB 0% i.Plan
Standard Chartered EasyPay Plan

Nett Gain
While DBS My Preferred Payment Plan technically has a transaction fee, this fee has been promotionally waived for over a year
Making Payments–Schedule Adherence, Late Penalties & Returns
When a cardholder makes a purchase on a credit card instalment plan, the bank pays the merchant on the cardholder's behalf. The cardholder must then pay the bank back, with each instalment (plus the transaction fee) applied to the monthly card statement. It's incredibly important to adhere to the instalment payment schedule–if the monthly payment is not made in full when due, the cardholder may need to pay finance charges, interest and additional fees on outstanding amounts (at the prevailing rate established in the cardmember agreement). Interest and fees can add up quickly and prove quite costly, making it even more difficult to stay on track.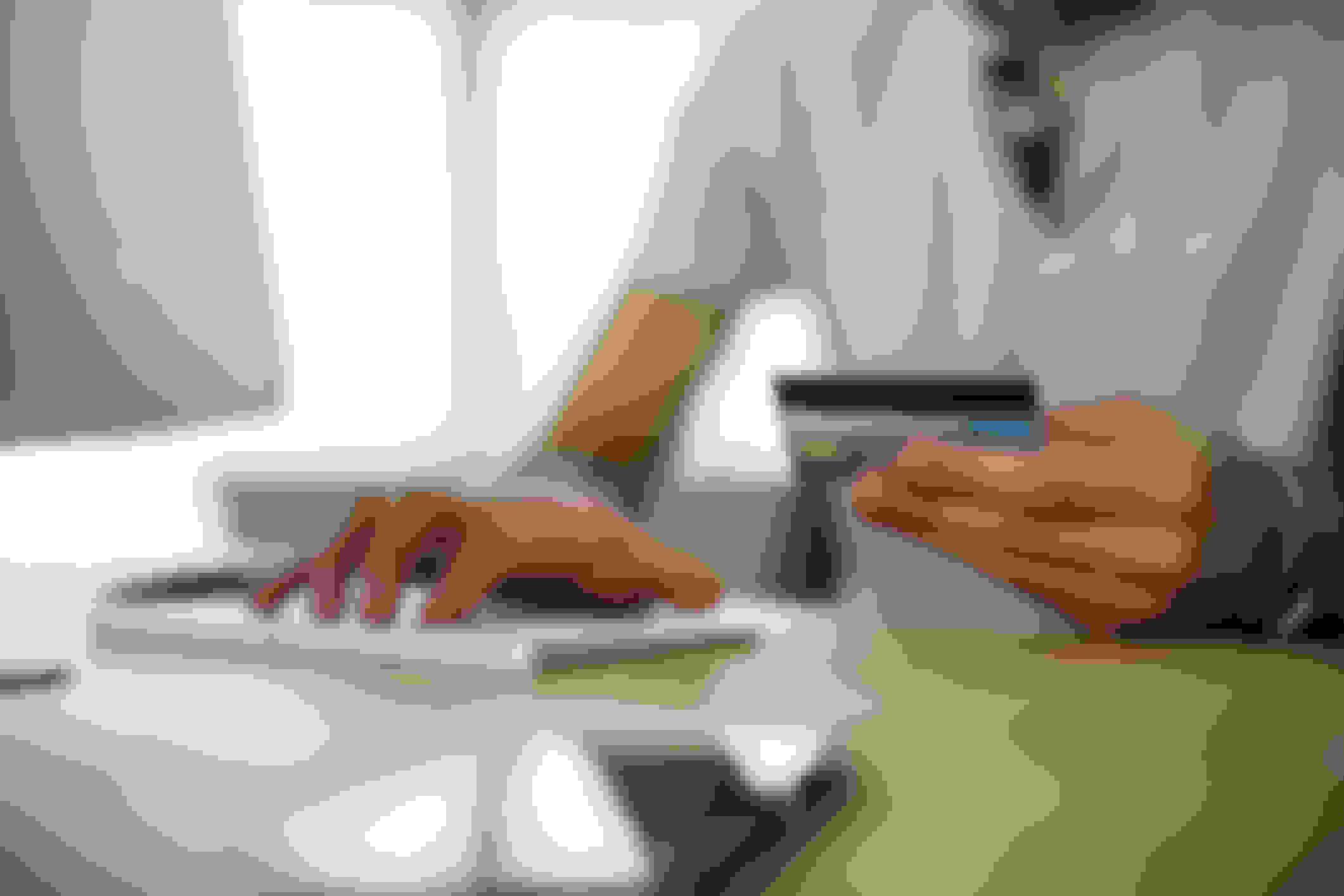 Cardholders are also penalised for paying off their balance early. Those who want to cancel–perhaps because they've opted to return the item–will need to pay the remaining transaction amount in full, plus corresponding transaction fees and an early cancellation fee (typically S$50–S$100+). Consumers also must pay the balance as well as these fees if they decide to close their credit card account. Essentially, cardholders need to adhere to their payment schedule without variation in order to avoid added fees.
Conclusion
Ultimately, if you're making a big purchase, credit card instalment plans offer a relatively convenient way to turn your transaction into manageable, smaller payments. However, when choosing a plan, make sure you read the fine print and understand potential fees and penalties. Also, while it's tempting to make large purchases knowing you can pay them back in instalments, only opt for a plan if you can reliably meet the payment schedule. After all, using a credit card instalment plan should make your life easier, rather than introducing extra cost and hassle.
Read More: