Credit Cards
Which Music Streaming Service Offers the Most Value?
Streaming services provide a low-cost way to enjoy all of your favorite music. But which platform should you choose?
Music streaming is becoming a way of life. In our fast-paced society where convenience is highly valued, music streams faster and relinquishes the need to store tracks on devices. Projections suggest that the music streaming industry will generate $12.4 billion in revenue and reach a user-base of 1.1 billion by the end of 2020. With such global market penetration, it is no wonder that international music streaming providers and regional players are all rushing to provide this trending service. But how can consumers ensure that they choose the service that affords them the most value?
Benefits of Using Music Streaming Services
Music streaming enables unlimited access to a range of music at a low cost. When comparing a monthly subscription for a music streaming service, which grants access to thousands of music tracks, with buying an album that contains merely 10-20 songs, it is clear that investing in a streaming service can be a more economical choice. Music streaming also offers the option of customising personal playlists that contain songs of your choice. The tracks can be played online or offline and the list can be edited to your preference at any time. It is easy to download top hits and even old songs that may be difficult to find in elsewhere.
Comparing 5 Music Streaming Services in Singapore
Multiple music streaming services are now extending their offerings to Singapore. Many offer competitive subscription prices and a range of features, some of which are difficult to distinguish. To decide which provider gives you more bang for your buck, we've compared Apple Music, Spotify, Tidal, Deezer and KKBox.
Apple Music: one of the most popular music streaming providers, offers over 50 million songs. Apple Music is available in 100 countries and has 60 million subscribers around the world.
Spotify: the most well-known music streaming provider with a global presence. Spotify is the pioneer of the industry and it has the highest number of subscribers in the world.
Tidal: one of the largest music libraries and offers the first global streaming service with high fidelity sound and high definition video quality.
Deezer: a French-based online music streaming service was launched in 2007 and is now available in 180 countries. Considered a smaller player in the music streaming world, it has 7 million paid subscribers but is backed by a highly competitive library size and technology.
KKBox: leading digital music platform in Asia, has received $104 million investment fund from Singapore's GIC in 2014. KKBox is also known for having a huge collection of Asian pop.
Comparing Music Libraries
There are two easy ways to compare content between providers: the size of the music library or the library that offers the music that you want.

If you are a music enthusiast with interest across multiple genres, a provider like Tidal with the biggest library may be an ideal choice. However, if you have a very specific taste for music, selecting a provider that offers your preferred choice of music may be a better consideration. For example, if you prefer Asian songs, a provider like KKBox may be a better match since it has a wider range of Mandarin pop, K-Pop, J-Tracks, Cantopop & Malay hits. It is good to note that some artists may not choose to market their songs through music streaming services because they tend to generate low pay-outs. Before you subscribe to any music streaming services, do make sure that your favourite artists are on the provider's music library to avoid disappointment.
Subscription Fees
If you intend to sign up for a subscription, then we suggest looking at the total cost over 12 months. For example, while each platform's monthly subscription fees are similar, each service offers different deals for new customers. Our research suggests that Spotify offers the cheapest subscription fee, followed by Apple Music and Deezer. You might also want to consider deals offered to existing customers of other services. For example, Singtel customers get a 20% discount to Deezer; the best price when compared to all the music providers. Additionally, DBS (S$ 94.80/year), UOB (S$118.80/year) and HSBC (first month free) customers are offered discounts through KKBox.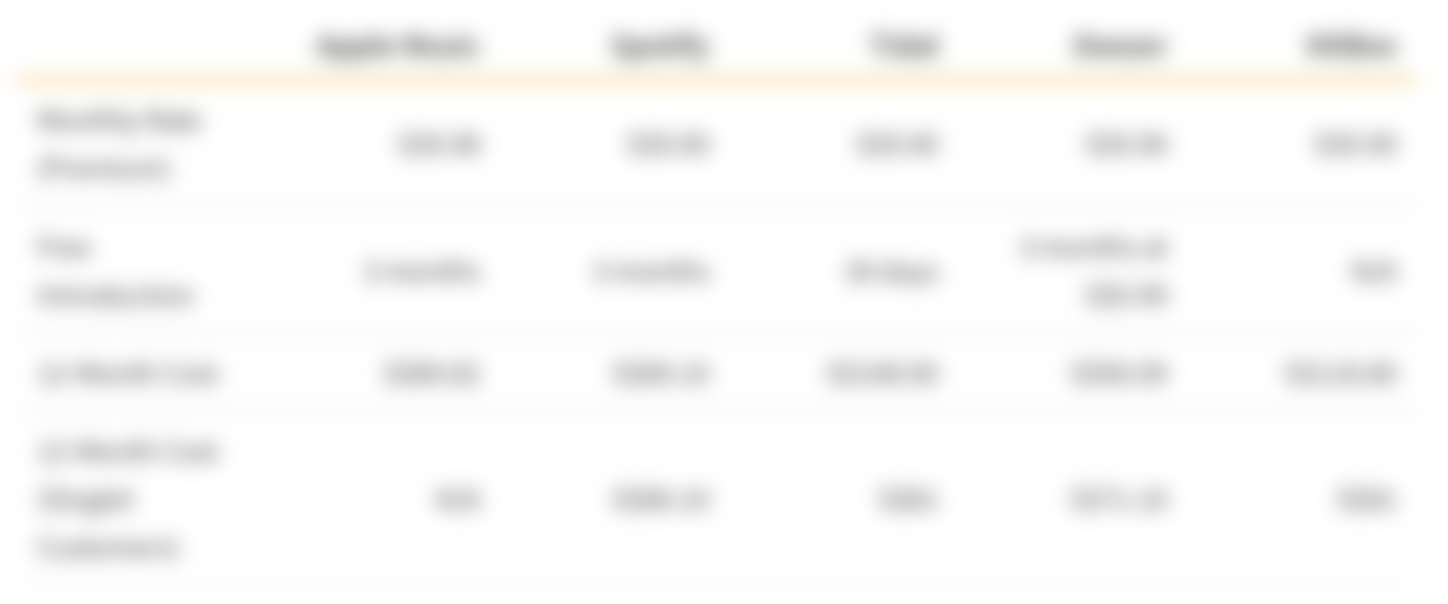 Audio Quality
The service providers offer similar audio quality, which is on par with the industry standard. Even though Apple Music streams at 256kbps, it is not necessarily inferior to those streaming at 320 kbps because Apple Music uses the AAC format which achieves better sound quality than MP3.

Note that even if the music track is streaming at 320kbps, the audio quality is still not as clear as playing from an original album. However, most users will not be able to tell the difference unless they are serious audiophiles. If you are picky about audio quality, selecting a high-fidelity music streaming plan (see table on Tidal and Deezer below) will offer a more satisfying experience.

Jumping on the Music Streaming Bandwagon
If you love music on-the-go, music streaming would be a great option that can help you gain access to unlimited music entertainment and keep you abreast of the latest music trends. Compared to previous decades, the price of enjoying music has significantly decreased, thanks to the advancement of technology. For example, buying a music CD of twenty-five tracks costs S$36; the same amount can buy nearly four months of streaming subscription from any of the mentioned music providers and gain access to thousands of songs each month! To ensure that you can maximize the benefits of music streaming, we suggest comparing services by content libraries, music quality, prices and any applicable discounts.