Credit Cards
Which Credit Cards & Savings Accounts Pair the Best?
Choosing an ideal credit card and savings account pairing can both maximise your cashback rewards and boost your interest rate. Of the options available, which best suits you?
Both rewards credit cards and savings accounts offer consumers great ways to save–whether by offsetting the next month's statement or by actively putting money away for future use. When paired, these financial tools can become even more powerful. While there are several options available, we've identified the best combinations below. These pairings allow the average consumer to maximise both their interest rates and cashback earnings.
UOB One Savings Account + UOB One Credit Card
Not everyone is interested in complex tracking or engaging with multiple banking products just to earn a reasonable return. One of the best features about the UOB One Savings Account + Credit Card pairing, then, is each product's simplicity. UOB One Account bases its interest rates on the consumer's current balance size, whether or not they're crediting a S$2k+/month salary, and if they're spending S$500+/month with an eligible UOB credit card. Despite this remarkably straightforward nature, it's possible to earn up to an effective 2.44% p.a. interest rate–one of the highest on the market.
UOB One, UOB YOLO and UOB Lady's credit cards all qualify for the above criteria, but UOB One Credit Card is the best match for the average consumer. Like its corresponding savings account, UOB One Card is quite simple. By maintaining S$2k/month spend for 3 months, you'll earn a 5% flat rebate on all of your spend–that's equal to S$100/month cashback. This flat rebate system means as long as you keep a steady budget, you don't need to worry about tracking your spend categories.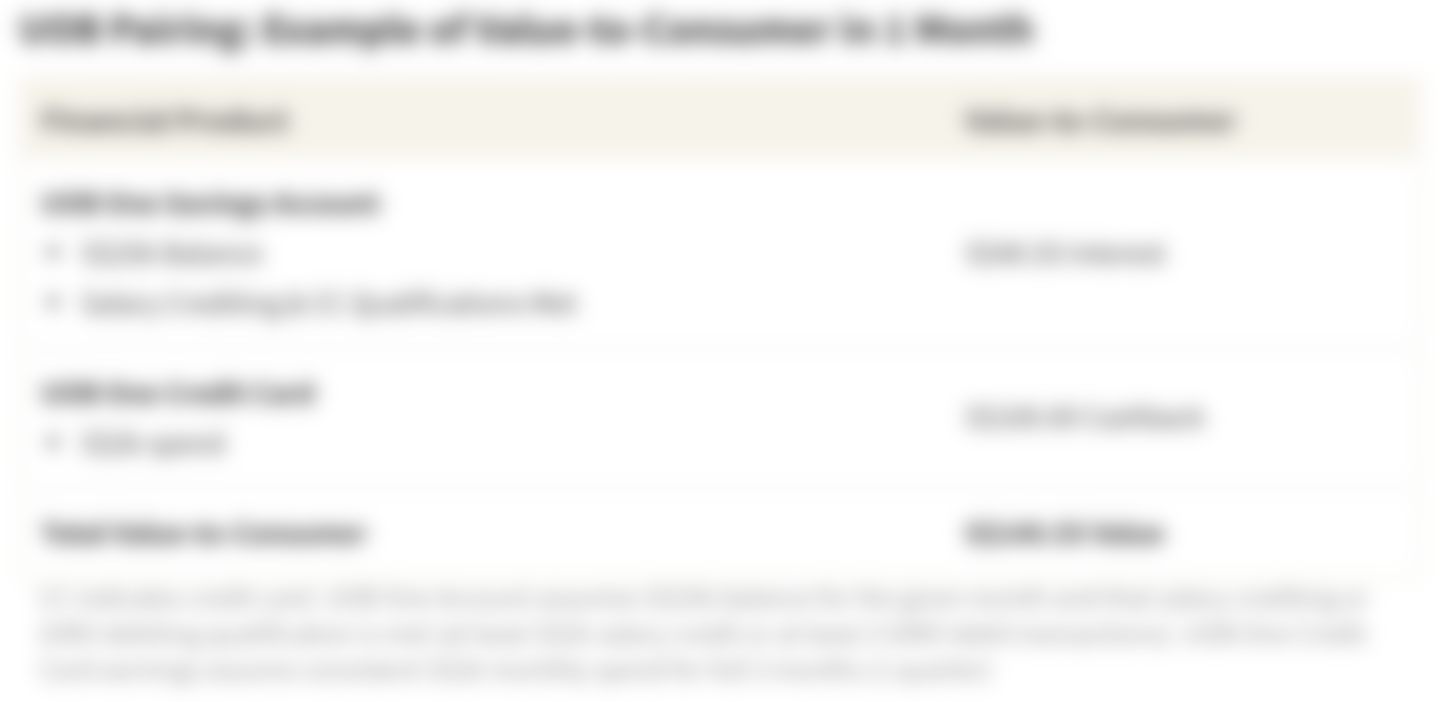 Together, UOB One Account and UOB One Card are a true powerhouse. An average consumer with a S$25k savings balance, who credits their salary and charges S$2k/month, will earn an estimated S$40.55 in interest and an additional S$100 in cash rebate per month–adding up to an impressive value-to-consumer of S$140.55. Few alternative pairings live up to this sum.
DBS Multiplier Account + POSB Everyday Card
Savings accounts and credit cards that are a bit more complex still have merit–the DBS Multiplier Savings Account and POSB Everyday Credit Card pairing offers a great example. This combination is best fit to financially-savvy individuals who don't mind tracking several banking products, different types of spend categories, and specific merchants eligible for rewards. To start, DBS Multiplier Account bases interest rates on a matrix of product use, salary crediting, balance size, and size/volume of monthly transactions. While the intersection of factors can become a bit complicated, it's possible to earn an effective 3.65% p.a. interest–the highest on the market.
One of the product categories qualifying for boosted interest is spending with any DBS or POSB credit card. Comparing the various options available, POSB Everyday Card is likely the best pairing option for the average consumer. Cardholders earn a 8% rebate on online food delivery, 5% on groceries, 3% on dining, shopping and personal spend, and 1% on recurring bills – which altogether offers great coverage, but is often limited to select merchants. Each spend category has a cashback cap of S$15 per month have high–or completely lack–earnings caps. Overall, an average consumer with a well-rounded, S$2,000/month budget might expect to earn S$90-S$100 in cashback.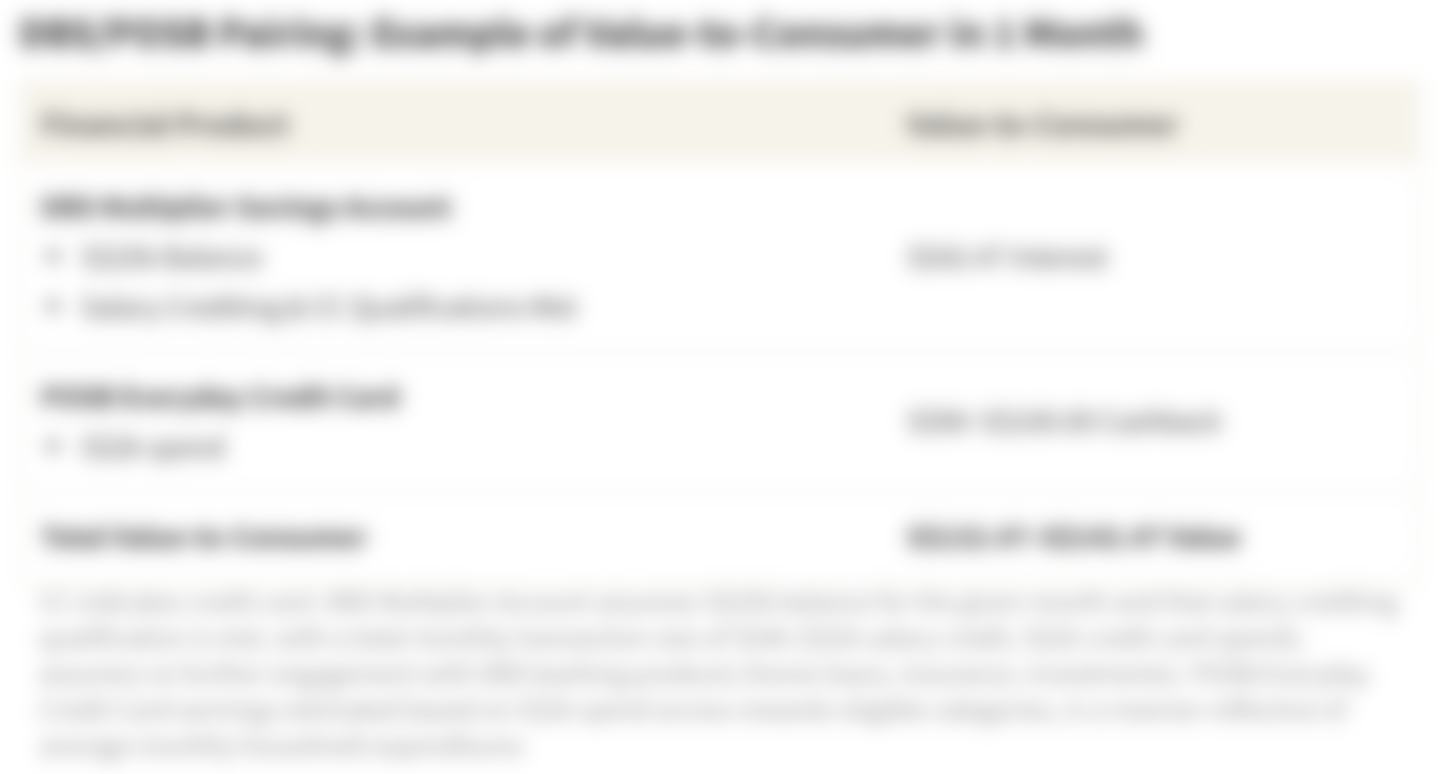 Combining earnings from both DBS Multiplier and POSB Everyday Card produces an impressive final sum. Following the criteria explored above (S$25k balance, salary crediting and S$2k monthly spend), it's possible to achieve an approximate S$130+ in value in one month. It's worth mentioning, however, that frequent travellers seeking miles rewards may want to consider DBS Altitude Visa Card instead.
OCBC 360 Account + OCBC 365 Credit Card
If you're somewhere in the mix–willing to track a few categories and products, but hoping to avoid the most complicated rewards structures–there's still a great pairing available. OCBC 360 Savings Account comes across as a bit complicated (rates are boosted for engaging with OCBC banking products, making consistent deposits, salary crediting and more) but it greatly rewards those who simply spend with select OCBC credit cards.
The best option, in this case, is arguably OCBC 365 Card, which rewards a wide range of categories–6% rebate on dining, 3% on groceries, land transport, bills & more–all without merchant restrictions. Cardholders can earn up to S$80/month, and can avoid paying an annual fee with just S$10k annual spend.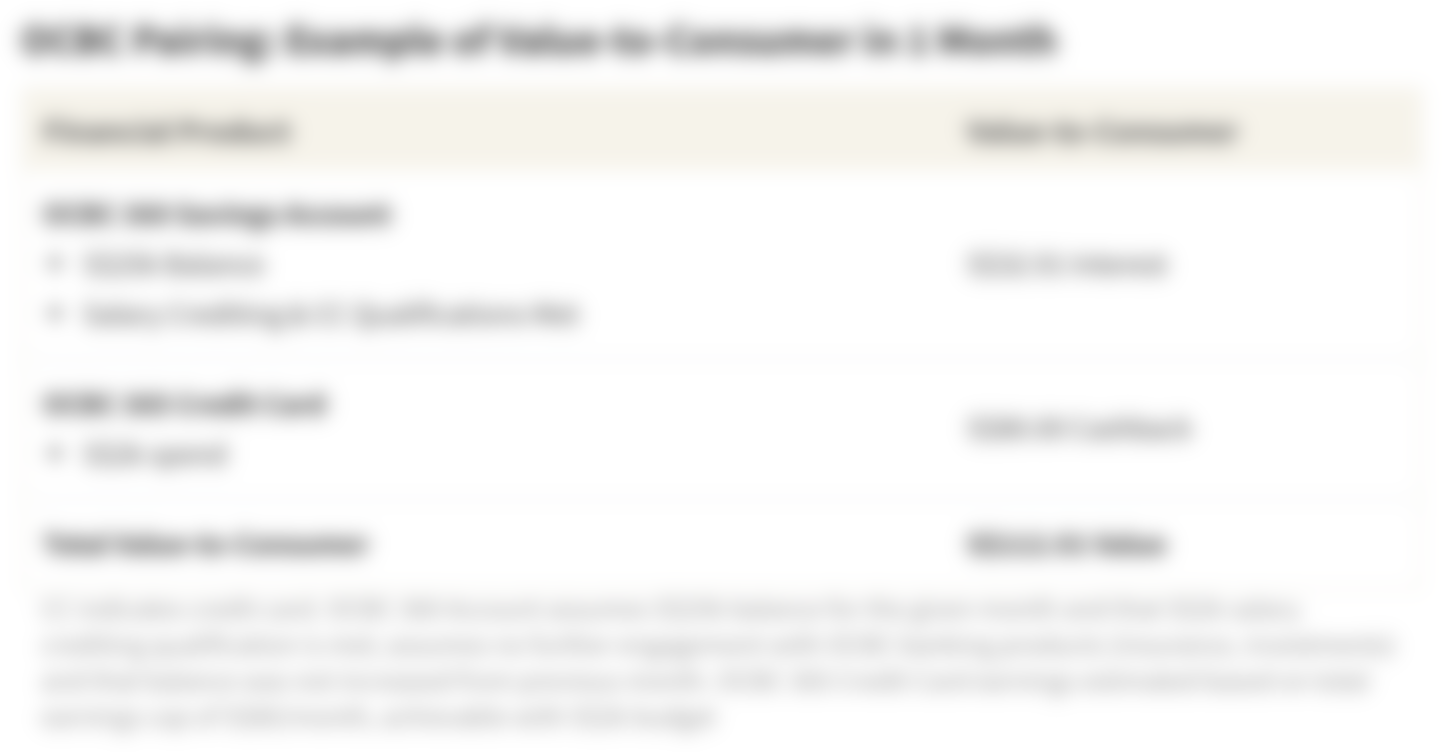 At a S$25k balance, with salary crediting and S$2k credit card spend, it's possible to earn S$32.91 in interest in one month with OCBC 360 Account. Paired with the maximum earnings available with OCBC 365 Card, it's possible to enjoy a total value of S$112.91.
Researching Products & Understanding Rewards
While carefully pairing a savings account and credit card can optimise value earned, it's important to keep in mind that every savings account and every credit card have unique benefits tailored to unique needs. Some savings accounts reward increased product engagement (paying home loan instalments, for example), while others boost rates for people who consistently grow their balance size. Credit cards vary in terms of the spend categories they reward, as well as by the rewards type offered (cashback, points, or miles). Ultimately, before opting for a suggested combination, it's worth exploring the products individually to see which best suit your spending and saving behaviour.
It's also worth pointing out that, while cashback rewards and interest earnings both provide value, they are applied quite differently. Cashback is often automatically applied to offset the next month's credit card statement. Interest, on the other hand, is typically left within the account to grow the balance.