UOB YOLO Card: Does It Live Up To The Hype?
UOB YOLO Card: Does It Live Up To The Hype?
Best Entertainment Rebate Card for Social Young Adults
Good for
Young consumers with social, outgoing lifestyles
Individuals who regularly spend at least S$600/month
People who spend on food, fashion & travel online
Bad for
People who mostly spend on essentials (ie groceries, bills)
Individuals who prefer a no-fee card
UOB YOLO–"You Only Live Once"–Card rewards young adults with social lifestyles who spend much of their budget on weekend dining & entertainment. Cardholders earn up to 8% rebate in both of these categories as well as on Grab and hotels & land packages booked through UOB Travel (3% weekdays). Spend on online travel & fashion spend also earns at 3%–a higher than that offered by key competitors. While there's a S$600 minimum spend requirement, earnings can reach up to S$60/month (S$720/year). In addition, cardholders enjoy promotions tailored to young adults, including nightlife privileges & 1-for-1 dining deals. For those seeking high rewards for social spend, UOB YOLO Card is an excellent option.
Pros
Cons

8%/3% cashback on dining, entertainment, Grab & UOB Travel (wknd/wkday)
3% cashback on online travel & online fashion retail
Deals & discounts w/ local cinemas, clubs & restaurants
Promotion: New and existing cardholders will get S$20 cash upon approval

Annual fee waived only 1st yr
High min. monthly spend of S$600
Relatively low cashback cap of S$60/mo
Low 0.3% cashback rate for general spend
Doesn't reward essentials like groceries, petrol, or bills
What Makes UOB YOLO Card Stand Out
UOB YOLO Card is an excellent cashback option for frequent online shoppers and young adults with a social lifestyle. Cardholders earn 8% cashback on Grab, dining, entertainment, and hotels & land packages booked via UOB Travel on weekends (which is one of the highest in the market) and 3% for such spend during the week. Consumers earn 3% cashback on online fashion and other online travel spend all days of the week, plus 0.3% on general retail. Those who book on select partner sites like Expedia can further boost savings on online travel spend, while socialites can take advantage of local restaurant, club and cinema discounts.
| Spend Category | Rewards Rate |
| --- | --- |
| Grab, Dining, Entertainment, Select UOB Travel (Weekend) | 8.0% |
| Grab, Dining, Entertainment, Select UOB Travel (Weekday) | 3.0% |
| Online Fashion Retail & Online Travel Bookings | 3.0% |
| General Spend | 0.3% |
* With select merchants
In order to access these rates, however, cardholders must spend at least S$600 per month. This spend requirement is quite manageable for the average young adult who spends at least S$1,000 per month, especially as the card rewards common social expenses. Even though the card's annual fee of S$192.6 is only waived the 1st year, the cost averages out to only S$16.05 per month, which can be easily recouped through cashback.
UOB YOLO Card may be less beneficial to families seeking rewards for spend on essentials or those who spend closer to S$2,000 per month. While the card offers privileges like 1-1 drink matches at bars, complimentary bottles at nightclubs, and annual Halloween parties, it does not reward groceries, petrol, utilities, recurring bills, or health and wellness purchases. Also, consumers who spend at least S$2,000 month can nearly double their cashback with UOB One Card.
Ultimately UOB YOLO Card is a great way for young consumers to maximise rewards for social expenditures after meeting a reasonable minimum spend. For those who often shop online, enjoy eating out and experiencing weekend nightlife, and take Grab instead of driving, UOB YOLO Card is definitely worth considering.
How Does UOB YOLO Card Rewards Program Work?
Use our quick and easy-to-read guide below to learn how you you can redeem UOB YOLO Card rewards.
Every 1 dollar of cashback earned is equal to S$1
Cashback is credited to the cardholder's account monthly
Cashback expires 2 calendar years from the month in which it was earned
Cashback is automatically forfeited and is non-transferable when an account is closed
UOB YOLO Card Rewards Exclusions
Some credit card expenditures are ineligible for earning rewards. We identify these exclusions below.
All Installment Payment Plans, SmartPay, SMART$ transactions (unless otherwise stated), cash advances, charges and fees imposed by UOB, balance and/or fund transfers, trading related transactions (including but not limited to websites for trading of shares and cryptocurrency), unposted/voided/disputed/reversed transactions; any other transactions which the Bank may exclude from time to time
All NETS and NETS-related transactions; any payment to prepaid accounts, including top-ups; transactions made with accounts including (but not limited to) EZ-Link, Flashpay, MoneyBookers, OANDA, PayPal, Plus500, Saxo Cap Markets, Skrill, Transitlink, IG Markets
Any payments to member financial institutions, government institutions & services; charitable or religious organisations; educational institutions/schools; insurance payments; any gambling related transactions
UOB YOLO Card's Features and Benefits:
Details & Benefits
Annual Fee
S$192.6, Waived for 1 year
Annual Income Requirement
S$30,000 for locals, S$40,000 for foreigners
Card Details

8% / 3% cashback on Grab, dining & entertainment & select UOB Travel (wknd/wkday)
3% cashback on online fashion retail & online travel bookings
0.3% cashback on general spend
1-1 Dining deals, Nightclub promos, fashion & travel discounts
Promotion:
New and existing cardholders will get S$20 cash upon approval
How does UOB YOLO Card Compare Against Other Cards?
Read our comparisons of UOB YOLO Card with other cards and learn what makes each card unique in their own way. We compare and contrast each card to highlight its uniqueness to help you identify the card that you need.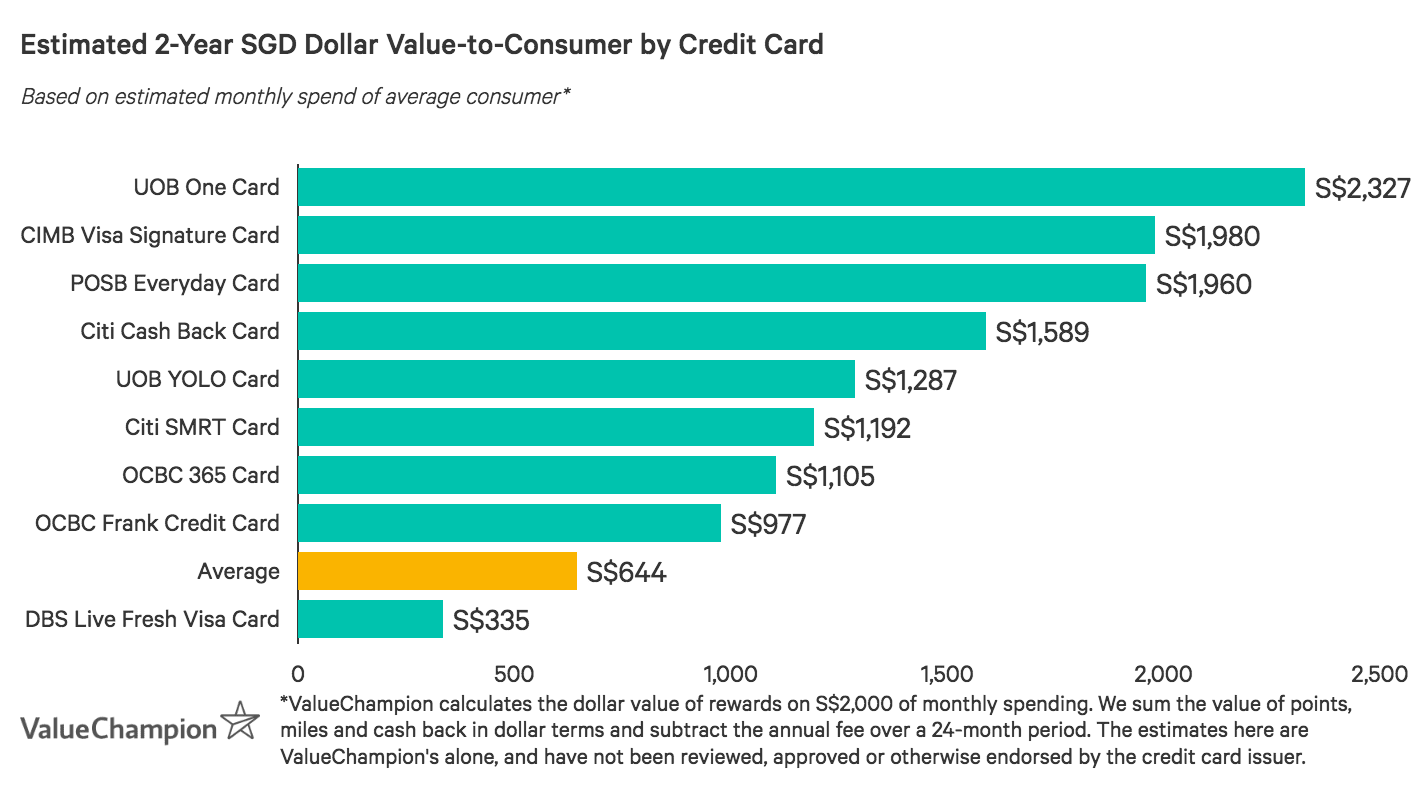 UOB YOLO Card v. UOB One Card
Consumers who consistently spend at least S$2,000 month can maximise cashback with UOB One Card. Cardholders earn cashback based on tiers of monthly spend, with S$2,000/month for 3 consecutive months earning S$300 quarterly cashback–averaging to S$100/month, compared to S$60 for UOB YOLO Card. The card is also flexible, with nearly all spend counting towards reaching a rebate tier.
Despite this simplicity, spending even a dollar below S$2,000 drops cardholders' rewards potential to S$33/month (with spend below S$1,000 earning only S$17/month). Therefore, consumers who spend more than S$600/month but less than S$2,000/month would earn far more in cashback from UOB YOLO Card than with UOB One Card.
UOB YOLO Card v. OCBC Frank Card
Mid-to-lower spenders looking for no-fee cashback on online shopping and entertainment might be interested in OCBC Frank Card. OCBC Frank Card rewards online shopping and mobile pay with 6% cashback and entertainment with 5% cashback, capped at S$60/month after a minimum spend of S$400. While qualifying spend is lower, OCBC Frank Card's rewards rates are also lower than UOB YOLO Card's–so it's easier to access cashback, but it takes more time to accrue rewards.
On the other hand, OCBC Frank Card's annual fee of S$80 is waived for 2 years, then subsequently with each annual spend of S$10,000–which is reasonable for most consumers. UOB YOLO Card's annual fee of S$192.6 is waived only 1 year, making the card a bit more expensive. OCBC Frank Card may be a better fit for consumers who would like to avoid an annual fee and who may not reliably spend S$600/month.
UOB YOLO Card v. OCBC 365 Card
OCBC 365 Card is a well-rounded cashback card for consumers seeking no-fee rewards on essentials (like utility bills) and leisure (like online travel bookings). Like UOB YOLO Card, OCBC 365 Card rewards dining and online food delivery (6%), private hire rides (3%), and online travel bookings (3%)–though at lower rates. It stands apart, however, by rewarding essentials like groceries (3%), petrol (up to 23%), and recurring bills (3%). And, while UOB YOLO Card has an S$192.6 annual fee waived only 1 year, OCBC 365 cardholders can avoid paying the S$192.6 fee with each annual spend of S$10,000.
OCBC 365 Card may not reward a social lifestyle as much as UOB YOLO Card, but it offers cashback for essentials missing from UOB YOLO Card's offerings and has an easily waivable annual fee. Young families or average spenders looking for a balanced card with no fee might consider OCBC 365 Card.
UOB YOLO Card v. Citi SMRT Card
Citi SMRT Card is a great card for young professionals seeking convenience and cashback on their commute. Both Citi SMRT Card and UOB YOLO Card appeal to average-to-lower-spenders and provide cashback tailored to younger lifestyles. For example, Citi SMRT Card has no minimum spend requirement and offers 5% cashback on coffee, fast food, and cineplex transactions, and 3% cashback for online shopping.
Citi SMRT Card, however, appeals more to young professionals than to individuals seeking 'YOLO' experiences. Cardholders enjoy all-in-one functionality and 2% cashback on Auto Top-Ups to support their commute, plus up to 14% in petrol discounts. They also earn 5% on groceries and 1% on select recurring bills through One Bill. Citi SMRT Card does not offer nightlife privileges or discounts. Young adults and average-to-lower-spenders who'd like accessible cashback that balances leisure and essentials, rather than focusing on entertainment and experiences, might consider Citi SMRT Card.
Comments and Questions